All The Cowboy Boot Outfit Inspiration You Could Ever Need
According to Dua Lipa, Rihanna, Emma Chamberlain, and more.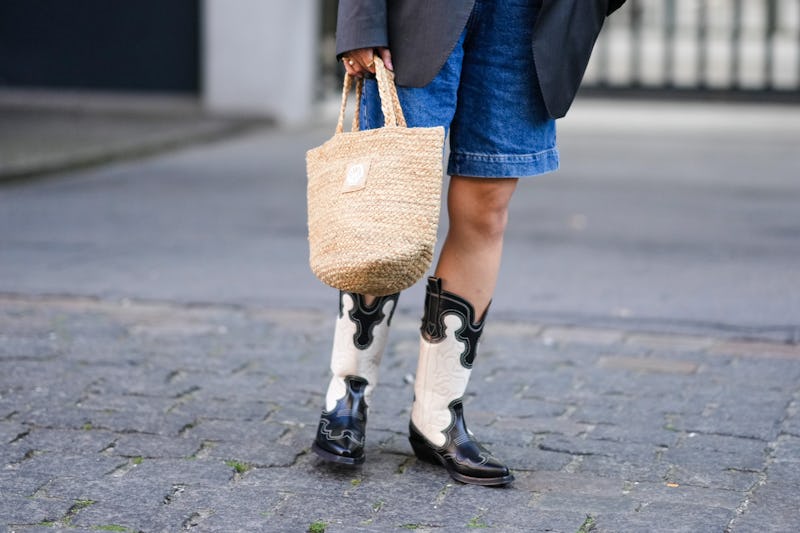 Getty
While cowboy boots were originally designed to be functional — with, uh, actual cowboys in mind — they're now something of a fashion staple. Though they've faded in and out of the zeitgeist in recent decades, Gen Z and millennials alike are taking hold of the western staple in 2022.
Over the years, we've seen cowboy boots appear on runways time and again. Ralph Lauren debuted the rugged silhouette as a part of a chic Westernwear collection in the late '70s. Almost 30 years later, Alexander McQueen sent pink and white high-heeled reincarnations with bold cut-outs down the catwalk for Givenchy's spring 1998 show. Since then, countless brands like Celine, Fendi, Isabel Marant, and Ganni have followed suit, releasing their own iterations of the classic style.
If you, like me, more pop culture than water, you probably remember a bevy of celebs (read: Selena Gomez, Rihanna, and Taylor Swift, to name just a few) who rocked them with skinny jeans, mini skirts, and sun dresses in the early aughts.
Now, the love for the Western style seems more alive than ever. Like many noughties trends that have had a resurgence, cowboy boots are popping up more and more — from TikTok to Instagram and of course, in the streets. The cowgirl aesthetic is in full swing, my friends.
For anyone looking to try the trend, I've done the research. Ahead, allow me to provide you with 10 different ways to wear cowboy boots, according to some of your favorite fashion girlies. Dress 'em up or down — it's hard to go wrong. Keep scrolling for the evidence.