Emily Ratajkowski Wore A Flower As A Shirt At The Loewe Fashion Show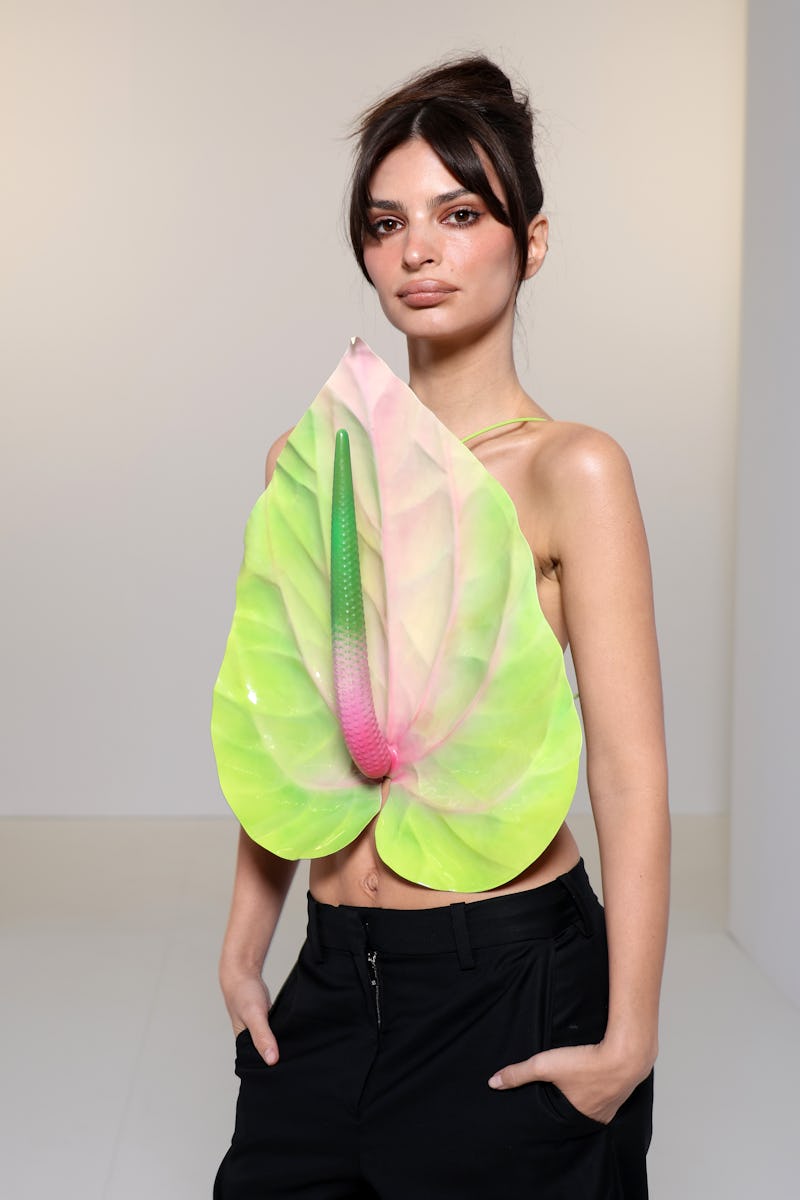 Pascal Le Segretain/Getty Images Entertainment/Getty Images
At Paris Couture Week, Kylie Jenner spawned endless memes for wearing a massive (faux) lion's head dress. And at Paris Fashion Week, model Emily Ratajkowski took a page out of Jenner's playbook, wearing a statement organism of her own: a giant Anthurium flower.
Attending the Loewe show on Friday, the model stepped out in a buzzy look lifted straight from the label's Spring 2023 collection. Forgoing an actual shirt, Ratajkowski donned a giant green and pink Anthurium (also known as the laceleaf, flamingo flower, or Hawaiian love plant — a little botany 101) that covered her entire torso. Attached to her frame via thin, lime green straps, her back was left bare.
The leafage was so lifelike, it had a two-tone, 3D spadix (the stick-like part) jutting out. Since the top half of her outfit was clearly super busy, Ratajkowski kept the rest of her look simple. She stayed true to the runway styling, paring the faux foliage with nondescript black trousers that hung past her belly button. The Inamorata founder styled her hair in a top bun with messy-on-purpose bangs framing her face.
Here's the original look from the runway. The Spring 2023 collection featured Anthurium flowers on dresses, tops, and even shoes.
And this is how Ratajkowski styled hers just today.
A work of art.