Essie's Most Iconic Red Nail Polish Is Finally Back, Just In Time For Summer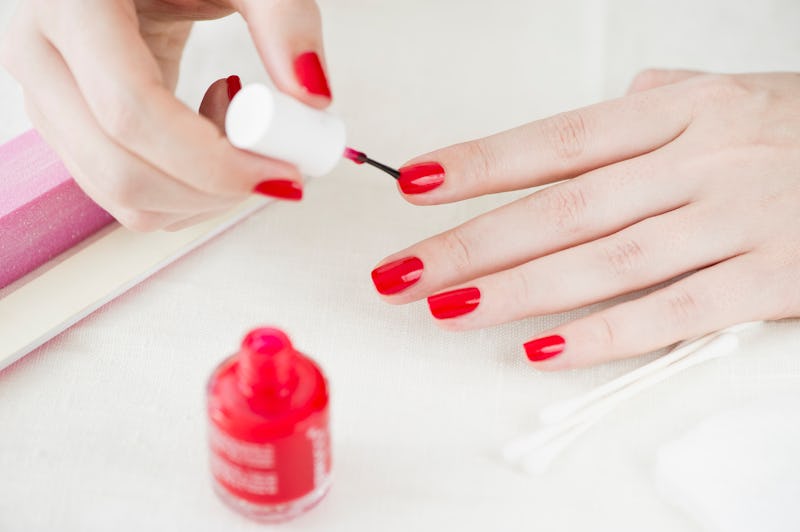 Getty Images/ Tetra Images
There are few nail polish shades that become so popular as to have name recognition among manicure aficionados. One such polish that achieved it-color status is a fiery red by Essie that — much to fans' dismay — suddenly retired in 2017. Well, amazing news: Essie's Clambake is back just in time for summer.
According to Essie, Clambake — its vibrant orange-red polish — has been the most requested shade on social media since it was retired a few years ago. And it's going to be back on the shelves for a limited time: Starting today, you can snag Clambake for its standard $9 in CVS aisles. It'll be available until May 29th, after which it will go back to becoming a rarified beauty product.
The success of Clambake started when the shade was released some time in the 2010s, but summer 2017 is when it hit a meteoric peak. Beauty publications like Into The Gloss and The Strategist wrote about its omnipresence on chic fingernails everywhere, and then Clambake mysteriously disappeared, leaving behind a trail of orange-hued broken hearts.
For the last few years, you could've tried your hand at color matching an approximate dupe or searched the annals of Ebay and other reselling websites in the hopes of snagging the original shade. Now, you no longer need to.
As with any enigmatic success, pinpointing what makes Clambake so universally adored is hard to do. Perhaps it has to do with the shade being both red and orange, or how it's almost a classic red but with a surprising, youthful twist. Whatever the reason, Essie's it-color certainly has a special je ne sais quoi — so you might want to hit up your local drugstore ASAP.