Here's What The Sold Out Fenty Perfume Smells Like
An honest review while you wait for the restock.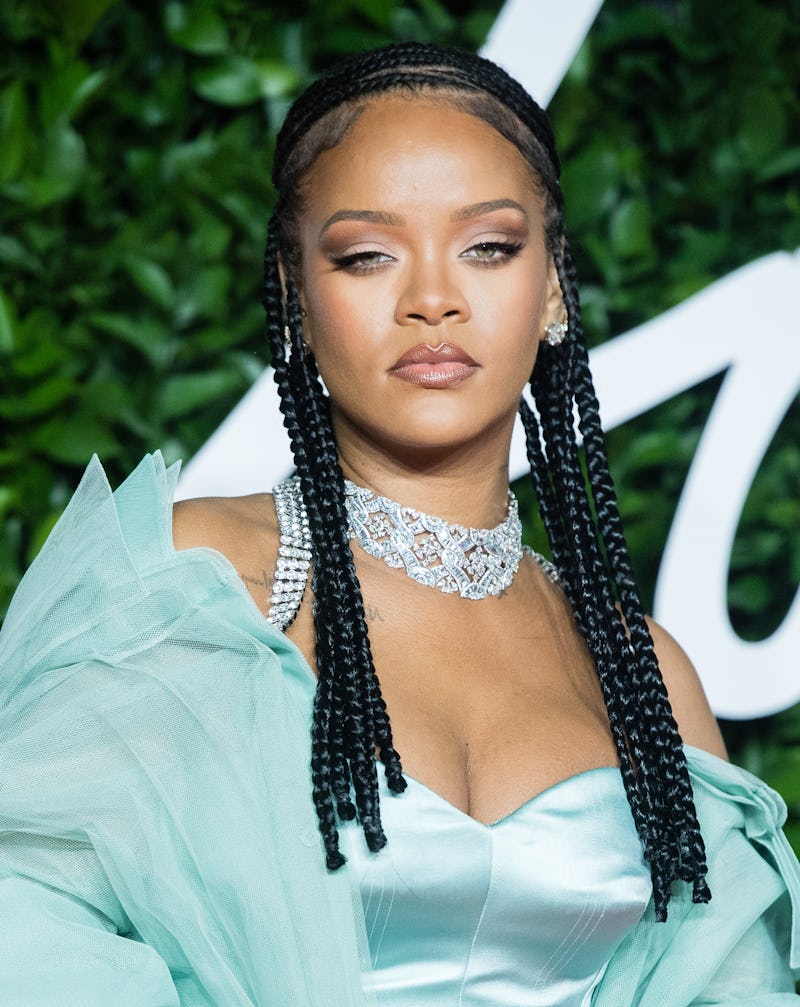 Samir Hussein/WireImage/Getty Images
Rumors of a possible Fenty Beauty fragrance have been swirling for years, and when the brand (and RiRi herself) finally dropped the highly-anticipated Fenty Eau de Parfum today, it sold out in mere hours. Missed out? There appears to be a waitlist, so here's an honest review of the scent while you wait for the next drop.
Fenty's perfume is billed as a "spicy and sweet" unisex fragrance, and the scent includes a mix of magnolia, musk, tangerine, blueberry, Bulgarian rose absolute, geranium, and patchouli — a combination of notes inspired by "distinct memories and places Rihanna cherishes," according to a press release. The bottle design (which comes housed in the chicest bright blue box), has a curved silhouette in a translucent amber-brown shade.
According to Bustle's senior beauty editor Erin Stovall, the fragrance itself definitely leans on the sweeter side (you can thank the fruity notes for that), but the musk adds a light, powdery smell that keeps it from being cloying. "Three good spritzes left a subtle scent that wasn't too overpowering or strong."
As for senior lifestyle & beauty editor Rachel Lapidos? "My initial reaction to smelling the Fenty fragrance was damn, this is nice," she said. "I'm not well-versed in perfume notes, but I'd say it has sweet, rich, and somewhat earthy undertones. But perhaps my husband's unsolicited comment will give you a better read — when he saw me hours after I spritzed the Fenty perfume onto my skin, he said 'You smell really good.' And he never comments on my fragrance, so I'm counting it as yet another win for Rihanna."
Given the hype surrounding Fenty Beauty (and the fact that a lot of its drops sell out almost immediately), it's not entirely surprising that the new fragrance was quickly snatched up shortly after it went on sale today. Fans, naturally, are devastated, taking to platforms like Twitter to express their disappointment.
The singer and beauty mogul is clearly enjoying the well-deserved fruits of her labor: To celebrate the monumental occasion, the star today posted an iconic carousel on her Instagram feed. In it, she's eating caviar in a hotel bed wearing sunglasses, a hoodie, and braids. "How I woke up after #FENTYPARFUM sold out this morning!!!" she captioned. Actual #goals.
Between the instant success of her new fragrance, her recent status as an official billionaire (Forbes estimated her worth at $1.7 billion, much of which comes from Fenty Beauty), and her relationship with A$AP Rocky, RiRi is living her absolute best life these days.
Fenty Eau de Parfum ($120 for 2.5 oz) will be available at fentybeauty.com. No word yet on the exact timing of the restock — watch this space.
This article was originally published on