Rihanna's Love Story With A$AP Rocky Continues With The Birth Of Their First Child
In a rare interview, A$AP Rocky said he hopes to raise "open-minded children" with Rihanna.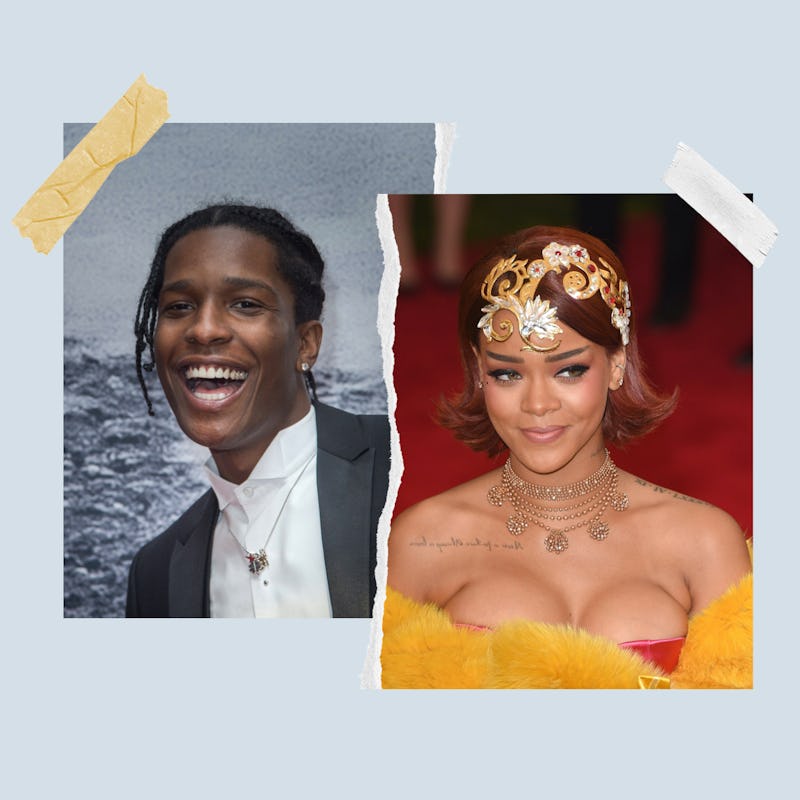 Karwai Tang/Stephane Cardinale/Corbis Entertainment/Getty Images
First comes friendship, then comes love, then comes the baby carriage. On Jan. 31, it was revealed that Rihanna and A$AP Rocky are expecting their first child together. The couple made their bundle of joy very apparent in photos published by PEOPLE. The photos show them walking around New York's Harlem neighborhood in the snow with Rihanna's baby bump on full display. Her pregnancy marks the biggest landmark in her relationship with the rapper, who she has now been dating for nearly two years, even though Rocky only confirmed their relationship in May 2021. However, their connection actually goes back over a decade.
In June 2021, just a month after confirming his romance with Rihanna, A$AP Rocky opened up again about his relationship at the Tribeca Film Festival premiere of his documentary, Stockholm Syndrome. Rihanna made an appearance in the project, but he said her support for his endeavors was even more valuable to him. "[It's] important having that support in real life, you know?" Rocky told Entertainment Tonight on the red carpet. "It's amazing and I'm honestly truly blessed, for real."
Out of respect for Rihanna, A$AP kept most details about their relationship to himself, including when they first started dating. However, their relationship timeline shows that their connection goes way back, proving friendship is the true foundation of their romance.
2012: Collaborations
Rihanna and Rocky's friendship dates back almost a decade, but back then, they kept things strictly business. In September, he was featured on a remix of Rihanna's 2012 hit "Cockiness (Love It)" and even performed the track with her at that year's MTV Video Music Awards.
2013: Touring Together
A$AP served as the opening act on the U.S. dates of Rihanna's Diamonds World Tour in 2013, setting the foundation for their romantic cross-country road trip seven years later. Later that year, Rihanna returned the favor and appeared in his "Fashion Killa" music video, a very fitting moment considering how influential they both are in the fashion world. You can just feel the chemistry oozing on-camera.
2018-2019: Fashion Events
While the pair didn't truly reunite professionally or personally since touring together, they still kept things friendly at public events. In 2018, Rihanna and Rocky sat together at Virgil Abloh's debut Louis Vuitton menswear show — and looked tres chic, as per usual. The next year, they posed together on the red carpet at the British Fashion Awards. They were truly building a reputation as fashion's hottest couple even before they became a couple.
2020: Dating Rumors Heat Up
Rumors spread that Rihanna was dating A$AP Rocky back in February 2020, when they were seen out in New York City together. However, E! was quick to deny the reports. "She wants to be single and isn't going to jump into something," a source told the outlet. "She's hanging out with A$AP Rocky, but she is not dating him. They have a long history and she's just having fun." While they may not have been official then, it didn't take long for that to happen. PEOPLE confirmed that the pair was in fact dating in November, after they were spotted having dinner in New York yet again.
Before their relationship was officially confirmed, A$AP reunited with Rihanna professionally in July 2020, when she cast him in her Fenty Skin campaign. In a video with GQ to promote the line, Rocky opened up about working with Riri, saying the best and hardest part was trying to stay professional around her and not goof off. "This sh*t is comedy," he said. "The hardest part is not having too much fun. You just forget that it's still work at the end of the day." Get you someone who can both work hard and play hard.
2021: A$AP Confirmed They're Dating
In May 2021, Rocky told GQ finally confirmed he was dating Rihanna, calling her "the love of my life" and "my lady." During the interview, the "Fashion Killa" singer made it clear that he wants to go the distance with the pop icon (and who wouldn't? It's Rihanna!). And as soon as writer Samuel Hine brought up Rihanna's name to the 32-year-old entertainer, A$AP started "beaming like a teenager whose crush just accepted his prom invite."
The interview only got more revealing from there, with A$AP explaining that his relationship with Rihanna "amounts to probably, like, a million of the other ones." He also said that there's something special about this relationship that he hasn't experienced in the past. "I think when you know, you know," he said. "She's the One."
The rapper went on to share details about trip they went on last summer. Because neither of them could go on tour because of the state of the world, Rih and Rocky rented a tour bus and drove across the U.S., stopping in Texas, Tennessee, and some national parks. "I met myself," he said about the trip. "Being able to drive and do a tour without feeling like it was an occupation or an obligated job agreement, I feel like that experience is like none other."
January 2022: Rihanna Is Pregnant
On Jan. 31, Rihanna debuted her baby bump, adorned with colorful jewels and a gold cross, while walking with the rapper in New York's Harlem neighborhood, where he grew up, on a dreamy snow day. This marks the first child for both the singer and her boyfriend. It's not known how far along Rihanna is in her pregnancy or when her bundle of joy is expected to arrive.
February 2022: Riri & Rocky Take Fashion Week
At the end of February, Rihanna and A$AP Rocky flew to Europe and completely stole fashion week across two cities. The couple made a surprise appearance at Gucci's fall/winter 2022 show in Milan on Feb. 25, completely stole the show, with Rihanna donning a latex crop-top, lavender fur coat, and metal headdress as her choice of maternity wear.
Just a couple days later, they flew to Paris for Off-White's fall/winter 2022 show on Feb. 28, which marked the late Virgil Abloh's final collection for the brand. Riri confirmed her status as the most stylish pregnant woman alive at the show, wearing a leather minidress and a shearling coat. The next day, Rihanna showed up to Dior's runway show in a black see-through ensemble, and even addressed a fan who yelled that she was late as the singer was entering. "No sh*t," she hilariously responded.
Throughout their Fashion Week outings, A$AP looked like a supportive partner every step of the way, always standing by her side. The only person who could ever maybe top Rihanna's taste in fashion would be their upcoming bundle of joy.
May 2022: Rihanna Gives Birth
Rihanna and A$AP Rocky became parents on May 13, when they reportedly welcomed their first child, a baby boy, in Los Angeles. The couple has not publicly confirmed their new addition, and the newborn's name has yet to be revealed.
Before their baby's reported birth, A$AP unveiled his new music video for "D.M.B." on May 5, co-starring none other than his famous girlfriend. In the video, Rihanna chills on a fire escape with her beau in a neon fur coat and gets in plenty of PDA before the couple pretend to walk down the aisle, sparking marriage and engagement rumors in real life. Riri dons a sheer red veil that Rocky uncovers, like a typical groom, before he flashes a grill that reads "Marry Me," which she responds to with her own grill that says "I Do."
Later that month, in an interview with Dazed published on May 30, Rocky gave rare comments on his relationship with Riri, acknowledging just how stylish they are and insisting it comes to them organically. "We happen to look good together naturally," he said. "You know, it would take a lot of work to have us forcefully match before we leave the house. Sometimes we match to a T, or we just wear the same clothes. If I buy a shirt that she likes, I expect to get it stolen… but then I gotta steal it back."
The rapper then gushed about his time with Rihanna in her home country of Barbados, revealing that he also has familial ties to the country and calling it "one of the most surreal experiences I've encountered in my lifetime," before opening up about the type of father he wants to be. "I will always remind my children to never lose their imagination, even as adults, no matter what," he said. "I actually love to watch cartoons – I've watched like, Teletubbies, Blue's Clues, Yo Gabba Gabba, Peppa Pig and Baby Shark. I hope to raise open-minded children, not people who discriminate. And I'm not trying to describe a saint, but realistically, I just want a cool child with cool parents."
This article was originally published on