In Major Beauty News, These Pro-Favorite Brow & Lash Serums Are *Finally* On Sale
Snag them while you can, because they're bound to sell out fast.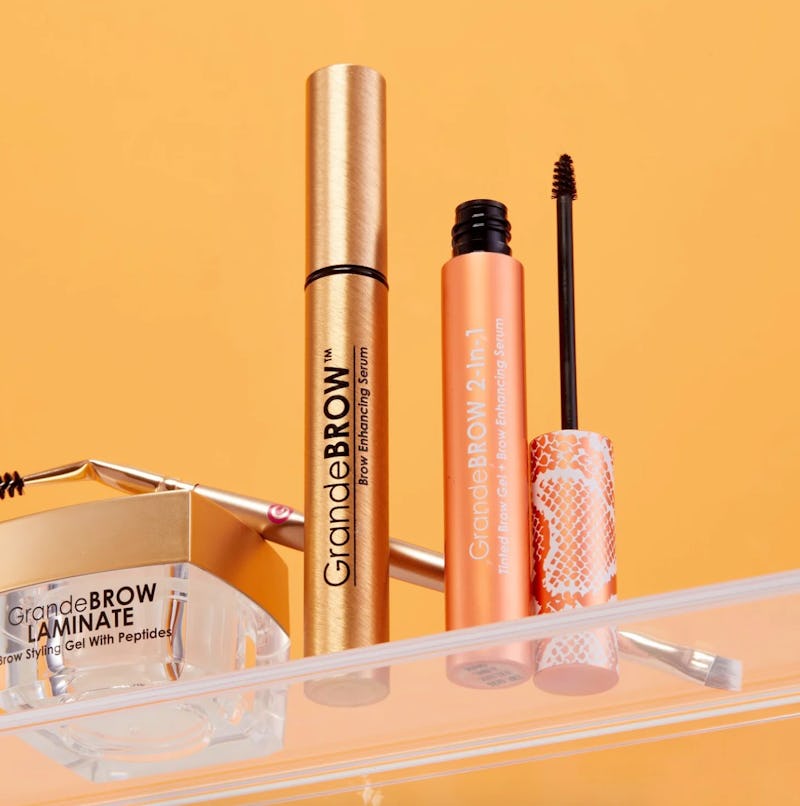 Grande Cosmetics
We may receive a portion of sales if you purchase a product through a link in this article.
It's that time of year again — the thrice-yearly Sephora Insider Beauty Sale. Starting on April 14 for Rouge members and April 18 for VIB and Insider members, you can save between 10% and 20% on all your favorite products and even take the opportunity to try something new. Insiders receive 10% off, VIBs receive 15% off, and Rouge members get a whopping 20% off, making this the perfect time to try out Grande Cosmetics' best-selling lash and brow products, which rarely go on sale.
Used (and loved) by celebs like Jennifer Aniston, Hailey Bieber, and Selena Gomez, Grande Cosmetics makes some of the most innovative and effective brow products on the market. They're the number-one brand for lash and brown serums in the U.S. according to NPD, and they've sold over 10 million tubes of their lash serum since its launch in 2008. And their brow products, including their recently launched GrandeBROW-LAMINATE, will help you achieve some of 2023's hottest brow trends — read on to discover how.
Grande Cosmetics has a brow (and lash) product for whatever kind of look you're going for, from a full face to a "no-makeup" makeup look. And, best of all, their products are all infused with hair-boosting ingredients to help with your long-term brow and lash health. While the brand's line is quite diverse — it also includes makeup, hair products, and lip treatments — they're best known for their brow and lash products, which countless celebs and beauty experts swear by. To help get you started in your Sephora Beauty Insider Sale journey, here are a handful of Grande Cosmetics' top sellers worth adding to your cart.
GrandeBROW Brow Enhancing Serum
The GrandeBROW Brow Enhancing Serum helps promote stronger, fuller-looking brows with ingredients like amino acids, hyaluronic acid, and vitamin E. Whether you accidentally over-plucked while trying out last year's brow trends, are restoring your brow health after bleaching them, or just want to fill in any sparse areas of your arches, grab Grande's best-selling brow serum to see quick results. The brand notes that you'll start to see improvement after six to eight weeks of once-daily application, but will reach maximum enhancement at 16 weeks, at which point you can start applying the serum every other day. In a 16-week consumer study, 91% of users saw thicker-looking brows — and 100% saw fuller-looking brows.
GrandeBROW 2-In-1 Tinted Brow Gel + Brow Enhancing Serum
Take the Brow Enhancing Serum and make it makeup — now you have the GrandeBROW 2-In-1 Tinted Brow Gel + Serum. This product delivers the color and hold of a brow gel, but with the brown-enhancing benefits of a serum. The gel comes in four different colors (including auburn) and tints and shapes your brows while giving them a full, fluffy appearance. But the benefits don't stop there. The addition of nutrient-rich castor oil, which purportedly promotes eyebrow and lash growth, along with vitamin E and beet root extract, help with eyebrow fullness in the long term, too.
GrandeBROW-LAMINATE Brow Styling Gel
Prefer to sculpt your brows with precision? Try the newly launched GrandeBROW-LAMINATE Brow Styling Gel for hold that'll last for up to 12 hours. This brow styling gel in a pot gives you the laminated brow look at home for a fraction of professional prices, and hold brows in place all day long while conditioning with peptides. The clear gel works with all skin tones and comes with their Dual-Ended Pro Brow Styler Brush, which has an angled mini spoolie on one side (to apply the product) and an angled brush on the other end (for precise brow styling). The resulting look leaves brows conditioned, fluffed up, and in place all day without feeling stiff or sticky.
This article was originally published on