Here Are The Tricks To Strengthen & Grow Your Dry, Brittle Nails That Actually Work, According To Dermatologists
10 easy steps for restoring your nails (and cuticles) to their healthiest state.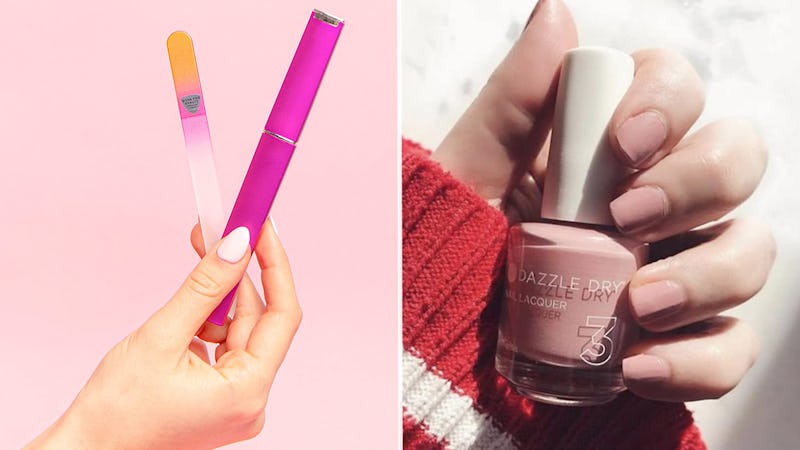 We may receive a portion of sales if you purchase a product through a link in this article.
If you're noticing that your nails are breaking more frequently and are accompanied by dry cuticles and a generally brittle appearance, it's time to learn how to strengthen your nails. "Think of a brittle nail that has a tendency to break as analogous to overly processed hair that frizzes and has ends that split," dermatologist Dana Stern explains to Bustle. "We condition and protect our hair to avoid these issues. To avoid future broken nails, you need to begin taking care of your nails and using effective products." Unsurprisingly, there's no single cure-all product, but some of the tricks for strengthening and growing out dry, brittle nails include advice you've probably heard before. "If you are someone who gets manicures or pedicures often, the chemicals used to clean nails and adhere nail prosthetics can damage the health of the nails," says dermatologist Brendan Camp, who names chemicals like formaldehyde, formalin, methylene glycol, and methyl methacrylate as common culprits. Dr. Stern adds that even some at-home products marketed as nail strengtheners can contain these harmful ingredients, so you'll always want to scan the ingredients list to be sure. And, when it comes to moisturizing products and cuticle oils, you'll want to look for emollients like sunflower seed oil, jojoba oil, and shea butter.
The Experts
Dr. Brendan Camp, M.D., is a double board-certified dermatologist and dermatopathologist practicing with MDCS Dermatology: Medical Dermatology & Cosmetic Surgery in New York. Dr. Camp's expertise includes medical conditions like acne, eczema, and skin cancer, as well as cosmetic treatments. He has been published in the Journal of the American Academy of Dermatology, the Journal of Cutaneous Pathology, and the Journal of Clinical Oncology.
Dr. Dana Stern, M.D., is a board-certified dermatologist and assistant clinical professor of dermatology at the Mount Sinai Medical Center in New York City. An expert on the treatment of nail infections, inflammatory disease of the nail, cosmetic issues related to nail disease, and surgical nail procedures, Dr. Stern has been published in the Journal of the American Academy of Dermatology and the Archives of Dermatology. She is the founder of Dr. Dana Stern Dermatology in New York, as well as a line of nail care products.
What's Causing Dry Nails In The First Place?
Dr. Stern explains that there are two broad categories that contribute to brittle nails, the first being factors that are typically beyond your control — i.e., genetics, aging, and medical conditions. The second category, environmental factors, is where you can really make a difference. "Prolonged exposure to water removes natural oils in skin and nails," Dr. Camp says of a common environmental cause. "When the nails are not protected or the oils are not replaced, the nails become dry and brittle and are more susceptible to splitting or cracking." Dr. Stern adds that nails absorb even more water than skin. "When water is constantly moving in and out of the nail, it puts tremendous strain on the delicate onychocytes (nail cells), and can result in weakening, softening, and breakage," she says, suggesting that you wear gloves (ideally, cotton-lined rubber gloves) during prolonged exposure to water (such as when you're washing the dishes).
Another common contributor to nail damage that you can control is exposure to chemicals in the products you use. As previously mentioned, formaldehyde is the biggest offender, according to Dr. Stern. "Formaldehyde will initially harden the nail; however, with time, the nail becomes paradoxically brittle and is at risk of lifting or separating off of the nail bed," she explains, noting that formaldehyde can even cause allergic reactions resulting in irritated and swollen skin around the nail. "There is also significant concern that these ingredients are carcinogenic," Dr. Stern adds.
Finally, one environmental factor that you have less control over is the weather (this is why you may have noticed your nails are more brittle during the extreme temperatures of winter). This is when you'll want to incorporate more moisturizing products into your routine, even if you're wearing nail polish, as both Dr. Camp and Dr. Stern share that these products are still helpful (and can even help your polish to last longer).
How Long Will It Take Your Nails To Recover?
If you're curious as to how long you'll have to commit to your new routine before you start to see results, Dr. Camp notes that it takes the fingernails six to 10 months to grow out. "As a result, nail treatments should be used for at least three to four months before deciding if they are helpful or not," he says. Dr. Stern adds that you could see improvement sooner (or later) depending on the current state of your nails. "Nail damage can really range, so it will depend on the level of damage and what product you are using."
How To Strengthen Dry, Brittle Nails
According to the derms, here are the products to use (and the ones to give up) to help strengthen and grow out dry, brittle nails:
1. Ditch The Emery Board
If you're using a cardboard emery board to shape your nails, you're setting yourself up for nails that split. "Traditional emery boards are too abrasive for natural nails and can cause microscopic tears at the tip of the nail that lead to breakage, damage, and premature polish chipping," shares Dr. Stern. But that doesn't mean you should just reach for any crystal or glass nail file. Dr. Stern, who has developed her own glass nail file, says that you'll need a non-abrasive glass file created for natural nails (she even shared a magnified image of what your nails look like after filing with an emery board versus a glass file, and the difference is pretty major). Bona Fide Beauty's Glass Nail File uses handcrafted glass that was designed to seal the nail's essential keratin layers as you file (rather than cause tears), leaving your nails feeling smoother and making them more resistant to breaking. One more bonus of switching to a glass file: it's more hygienic because you can clean the file with soap and water.
2. Use Acetone-Free Nail Polish Remover
In addition to formaldehyde, acetone — which you'll find in most nail polish removers — is another chemical that can be secretly wrecking your nails. "All removers contain solvents like acetone, alcohol, ethyl acetate, and butyl acetate," Dr. Stern says, noting these are drying to the nails. "Acetone polish removers are more drying and dehydrating to the nail," she continues, adding that those acetone soaks required for removing gel polish are especially damaging. To minimize the dryness and brittleness that occurs when using nail polish remover, Dr. Stern says to look for acetone-free formulas with moisturizing ingredients like Ella+Mila's Soy Nail Polish Remover. The vegan and cruelty-free formula is free from acetone, acetate, and alcohol, and it's infused with vitamin E to help bring back some of that moisture to your nails. The soy-based remover comes in both an unscented and lavender-scented version, depending on your preference.
3. Don't Cut Your Cuticles
If you trim your cuticles at home or get it done at the salon, you're causing damage to your nails (and worse, leaving yourself vulnerable to infection). "The cuticle is the nail's natural protective seal," shares Dr. Stern. "You cannot have a healthy nail without a healthy, intact cuticle." In a perfect world, you would leave your cuticles entirely untouched. But if you absolutely need to, avoid cutting the cuticles and gently (big emphasis on gently here) use a tool like Tweezerman's Dual Sided Pushy to push your cuticles back. The stainless steel tool makes it easy to push your cuticles back without scratching the surface of your nail, plus, it's easy to disinfect in between uses.
4. Use A Sanitizer That Contains Moisturizing Ingredients
If you religiously reach for your hand sanitizer when you're out running errands (hi, same), Dr. Stern says this could be one of the reasons why your nails (and probably your hands, too) feel dry. "Hand sanitizers are alcohol-based and cause significant dehydration to both the nail and cuticle barrier," she shares. While you can't avoid the alcohol (that's what kills the germs, after all), you can find a sanitizer that's less drying. Dove's Nourishing Hand Sanitizer is my personal go-to because it's formulated with ingredients like glycerin and soybean oil to help prevent dry, cracked hands and cuticles. It's also PETA-certified cruelty-free, vegan, and comes in a pack of six so you can keep one in every bag.
5. Add A Cuticle Oil Into Your Routine
Bustle beauty editor Adeline Duff swears by this cruelty-free and vegan oil that was designed to be used on your nails and cuticles. Jason's Tea Tree Nail Saver is formulated with certified-organic ingredients like sesame seed oil, safflower seed oil, and soybean oil to help strengthen nails and prevent hangnails by providing much-needed moisture. Plus, it contains tea tree oil, which is thought to be antibacterial. You can apply this daily, even if your nails have polish on them — just be sure that you don't apply the oil immediately before painting your nails as it can prevent the polish from sticking properly.
6. ...Or A Cuticle Serum
Another moisturizing option that can help strengthen and grow your nails, ISDIN's Si-Nails is a serum with a built-in brush that's perfect for mess-free application (making this a particularly handy choice for on-the-go use). In addition to castor oil and hyaluronic acid, the nail strengthener is formulated with something called pistacia lentiscus gum, a resin obtained from the mastic tree. "Its active components stimulate the synthesis of hard keratins and keratin-associated proteins, increasing nail thickness and strength," Dr. Stern says of one of her favorite ingredients for healthy nails.
7. Invest In A Strengthening System
For a serious nail care overhaul, Dr. Stern created her Dr. Dana Nail Renewal System. The three-step kit was designed for at-home use and is formulated with ingredients that were selected based on scientific evidence. "This kit is loaded with super hydrating botanicals and free of artificial fragrance, dyes, parabens, alcohol, and formaldehyde," Dr. Stern says of the system, which only needs to be used once each week. You'll need to apply this on polish-free nails, using the glycolic prep wand as the first step. "Glycolic acid breaks down disulfide bonds of nail keratin, which results in increased nail hydration," Dr. Stern explains. "Glycolic acid is also considered to be a humectant, i.e., it helps to hold onto moisture." After exfoliating, you'll want to use the kit's buffing wand, and finish up with the hydrating gel wand (the latter is formulated with that pistacia lentiscus gum mentioned earlier). "It's perfect for brittle, weak nails, peeling, ridged nails, post-gel damage, or if you simply want a healthy-looking shine without having to go to the salon," Dr. Stern says.
8. Moisturize Your Nails Regularly
Dr. Camp recommends thick, ointment-based moisturizers for your nails, cuticles, and hands, explaining that they help to trap more moisture. Elon's Lanolin-Rich Nail Conditioner is one of his top picks, which was created to help strengthen and grow nails by preventing cracking, splitting, and peeling. "It contains lanolin, which helps soften and moisturize the nail, as well as maintain the health of the cuticle," Dr. Camp says. The cream can be rubbed into your nails two to four times daily, and it's packaged in a tiny tube that's convenient for on-the-go use and traveling.
9. ...And Your Hands
Another recommendation from Dr. Camp, Cutemol Emollient Cream is moisturizing enough for even the driest of hands (and skin conditions like eczema and psoriasis). The super-rich formula contains ingredients like mineral oil, beeswax, and lanolin to lock in moisture and create a barrier over the skin that prevents moisture loss and keeps out external irritants. Not only was this designed to be used on dry hands and cuticles, but it can also be used to moisturize dry feet and cracked heels.
10. Use Formaldehyde-Free Nail Polish
You don't have to entirely give up nail polish to help strengthen and grow out your nails — you just have to be more mindful about the polishes you're using. For at-home manicures, Dazzle Dry has created a four-step manicure system that's free from ingredients like formaldehyde, formaldehyde resin, toluene, DBP, camphor, nitrocellulose, and TPHP, but still provides you with high-performance polish (I can also personally attest that if you follow every step in the system, your manicure will last for more than a week before it starts chipping). The Dazzle Dry Mini Kits are a great way to try the system out, as it comes complete with your nail prep, base coat, polish, top coat, and the brand's Revive formula that helps bring your polish and top coat back to life when it starts to get too thick. With 46 shades currently available on Amazon, you can choose from a range of bright neon polishes, soft pastels, and sheer neutrals.
Experts:
Dr. Brendan Camp, M.D., double board-certified dermatologist and dermatopathologist practicing with MDCS Dermatology: Medical Dermatology & Cosmetic Surgery in New York.
Dr. Dana Stern, M.D., board-certified dermatologist and founder of Dr. Dana Stern Dermatology.