The 4 Golden Rules For Exfoliating Sensitive Skin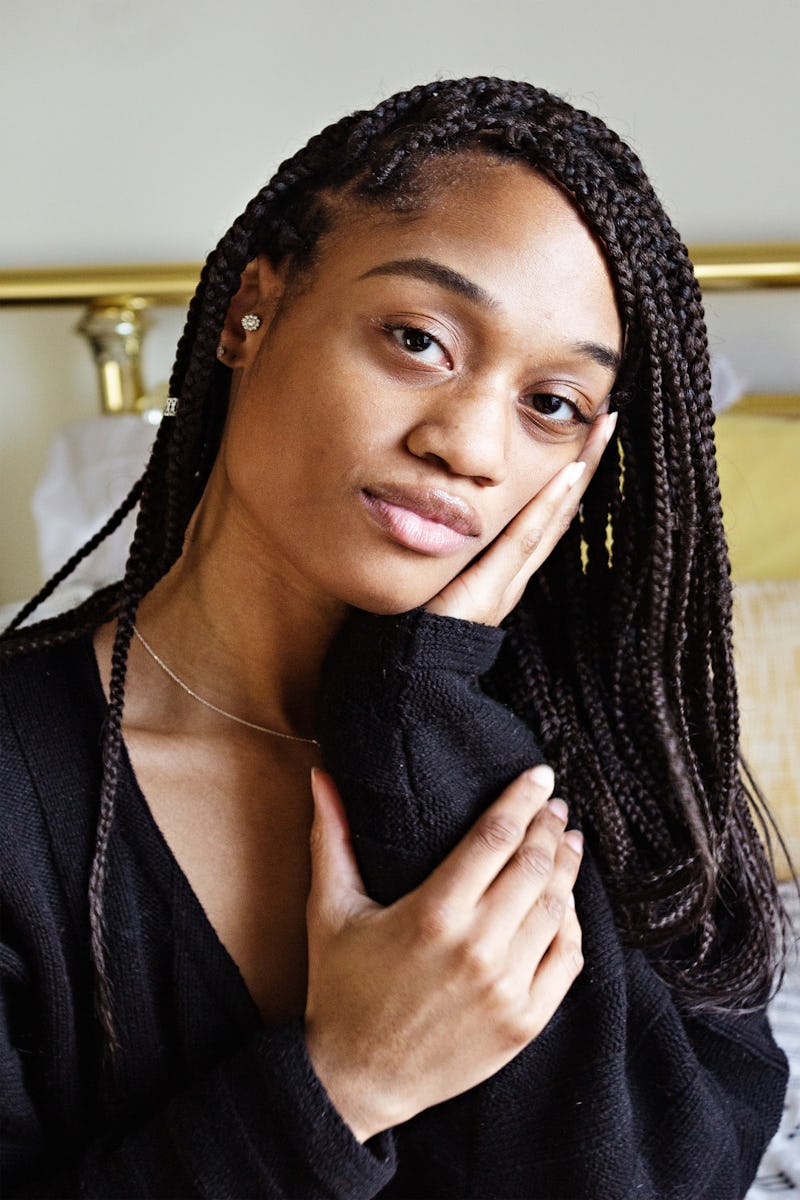 Getty Images/Dahyembi Joi / 500px
If you have skin that's easily irritated, then you're probably already wary of introducing new products into your routine. One wrong move can set off an inflammatory chain reaction, resulting in redness, a breakout, or worse. Learning how to properly exfoliate sensitive skin can be a delicate balancing act, so it's important to proceed with caution and take advice from the pros.
"Sensitive skin has special needs and should always be approached with a gentle, non-irritating method," says celebrity esthetician and founder of an eponymous skin care line, Renee Rouleau.
As a refresher, regular exfoliation is useful for sloughing off dead skin cells, clearing clogged pores, and removing excess oil. But, according to Rouleau, sensitive skin types should be extra-careful with this part of their routine: "Breakouts [in this skin type] are easily triggered by trauma caused by excessive or inappropriate exfoliating," she tells Bustle. When done incorrectly, your exfoliation habits can "set off an inflammation cascade," which often results in pimples, tightness, and dry skin. It can even contribute to your skin aging faster, Rouleau adds.
Between the advent of maskne and rising spring temperatures, though, your skin is likely to get more congested — which does call for exfoliation to keep your complexion healthy. "During the hot and humid summer months, oil and sweat are produced in excess," says Rouleau.
Before you grab any exfoliant off the shelves, experts share four golden rules to keep in mind when exfoliating sensitive skin. And, when in doubt, it always helps to consult a dermatologist.
We only include products that have been independently selected by Bustle's editorial team. However, we may receive a portion of sales if you purchase a product through a link in this article.
1. Start Slow And Use Soothing Ingredients
If your skin's sensitive, the last thing you should do is reach for all of the exfoliating acids you can get your hands on. "If you're breakout-prone and already have clogged pores, be aware that active ingredients like exfoliating acids or retinoids can cause an initial purging," says Rouleau. Purging is what can happen when a product — usually one that contains the active ingredients Rouleau mentioned — brings active blemishes to the surface as your skin cell turnover speeds up (but tends to go away once your skin gets used to the ingredient).
So, if you plan on incorporating a chemical exfoliant into your daily routine, start slow. "I would start [by using it] once a week," says Dr. Morgan Rabach, MD, a dermatologist at LM Medical in New York City. "And if that is too much with the rest of your regimen, start every two weeks and gently increase as tolerated."
Rouleau says you should also look for products that have a balancing and soothing ingredient in the formula to help prevent irritation, like chamomile, sea whip extract, azulene, and white tea.
If you prefer exfoliating with a face scrub, Rouleau recommends one with jojoba beads for a gentle option. "At a microscopic level, jojoba beads are polished, round, and smooth," she says. "This means they will buff away dead cells without scratching the skin."
2. Know What To Avoid
The higher the percentage of acids in your product, the higher the chances are of irritating your skin. Rabach says a good rule of thumb is to use chemical exfoliant-based products that have within 2 to 5% alpha or beta-hydroxy acids. Anything more than 5% will be too much for sensitive skin, according to Rabach.
You should also steer clear of certain physical exfoliating methods, like loofahs, exfoliating gloves, brushes, or sponges, says Rabach. "These are more prone to rubbing too much skin off [and] causing irritation and tears," she says.
Be sure to read product labels on other products within your routine to avoid other common culprits. "People with sensitive skin should avoid products formulated with foaming sulfates, synthetic dyes, high concentrations of synthetic oils, and synthetic fragrances (sometimes listed as parfum)," says Rouleau, noting these can cause dryness and irritation.
3. Learn To Make The Most Of Certain Tools
Besides feeling like an at-home spa sesh, it can be beneficial to use a facial steamer. "Face steamers do not 'open' or clean out pores, but they do soften trapped, hardened oil," says Rouleau. The combination of heat and moisture allows blockages in your skin to be more easily removed without added stress or damage to your complexion. If you're going to try one, Rouleau suggests using it just once a week.
"Ultrasonic exfoliation is also very effective for clearing out clogged pores," adds Rouleau. These devices use ultrasonic waves to penetrate the skin for gentle exfoliation. "When the blade [of the tool] is angled and used in crevices such as in the chin or sides of the nose, you can remove dirt, old oil, and even blackheads." The end result is softer, cleaner, and more glowing skin. Sensitive skin types should only use this device once a week. Though Rouleau notes it's best to see a professional for an ultrasonic or steaming treatment, but there are at-home devices you can turn to — just use them carefully and delicately, and cut back if you start to see any adverse reactions.
4. Don't Exfoliate Too Often
More is not better when it comes to exfoliating your skin. Rouleau says an exfoliating toner, for instance, should only be used four to five days a week. "It's important to understand that all skin types require protective cells on the surface to keep it functioning in a healthy way," she says. "Constantly stripping off layers of invisible skin cells is destructive to the integrity of the skin."
If you do over-exfoliate and damage your skin barrier, Rouleau says to take a break from all exfoliants for two weeks. Once your skin is feeling repaired you can begin to slowly reintroduce them into your routine.
As far as at-home exfoliating treatments like face masks or beauty tools, it's best to spread out use. According to Rabach, you should really only be using these every one or two weeks depending on what your skin can tolerate.
Studies referenced:
Del Rosso, J. (2008). Retinoid-Induced Flaring in Patients with Acne Vulgaris: Does It Really Exist? The Journal of Clinical and Aesthetic Dermatology. https://www.ncbi.nlm.nih.gov/pmc/articles/PMC2989803/
Kornhauser, A. (2009). The Effects of Topically Applied Glycolic Acid and Salicylic Acid on Ultraviolet Radiation-Induced Erythema, DNA Damage and Sunburn Cell Formation in Human Skin. Journal of Dermatological Science. https://www.ncbi.nlm.nih.gov/pmc/articles/PMC2791365/#:~:text=Results,in%20any%20of%20these%20biomarkers.
Lucas, V. (2014). Utility of High-Frequency Ultrasound: Moving Beyond the Surface to Detect Changes in Skin Integrity. Plastic Surgical Nursing. https://journals.lww.com/psnjournalonline/Abstract/2014/01000/Utility_of_High_Frequency_Ultrasound__Moving.12.aspx
Rodan, K. (2016). Skincare Bootcamp: The Evolving Role of Skincare. International Open Access Journal of the American Society of Plastic Surgeons. https://www.ncbi.nlm.nih.gov/pmc/articles/PMC5172479/
Tang, S-C. (2018). Dual Effects of Alpha-Hydroxy Acids on the Skin. Molecules. https://www.ncbi.nlm.nih.gov/pmc/articles/PMC6017965/
Zhuang, Y. (2014). Inflammaging in Skin and Other Tissues - The Roles of Complement System and Macrophage. https://www.ncbi.nlm.nih.gov/pmc/articles/PMC4082166/
Experts:
Renée Rouleau, celebrity esthetician and founder of Renée Rouleau Skincare.
Dr. Morgan Rabach, MD, a dermatologist at LM Medical in NYC