The Secret To Making Your Nails Dry Faster, According To Experts
Because you don't have all day.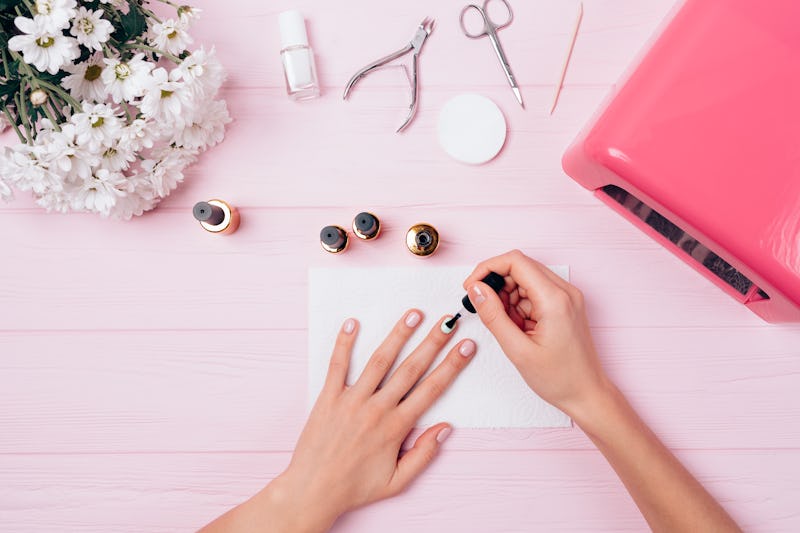 Shutterstock
Doing your nails at home can sometimes seem easier in theory than it is in practice. Case in point? Since you're not sitting at a hand drier after your mani like you do in a salon, it's just so easy to get sidetracked by, say grabbing a Le Croix or picking up a TV remote. And this often leads to a disaster in the form of a smudged mani. To aid with the process, two experts offer their insight on how to make nail polish dry faster.
Typically, you should wait a minimum of 10 to 15 minutes to allow your nails to dry before touching anything, says Jessica Tong, celebrity manicurist and Smith & Cult brand ambassador. But it can take about an hour for the polish to really set, which means you should be careful with your hands to prevent smudging for at least 60 minutes after painting. A smooth mani is worth it, which is why Tong encourages you to listen to a podcast, read, breathe — whatever it takes to keep your nails away from other surfaces.
If you're hoping to speed up the dry time, there are a few methods you can turn to. Also, it helps to stay on top of your overall nail health: "Keeping your nails healthy will allow for polish to go on smoother and last longer," says Dr. Dana Stern, MD, a board-certified dermatologist who specializes in nail health. That calls for a well-rounded diet featuring nail-boosting foods (think leafy greens, nuts, and eggs), collagen supplements, and regularly using a cuticle cream. As for the speedy hacks? Keep scrolling for the time-saving intel.
We only include products that have been independently selected by Bustle's editorial team. However, we may receive a portion of sales if you purchase a product through a link in this article.
1. Prep Your Nails
The easiest thing you can do: Start your mani with a proper foundation. Tong says it's key to make sure your nail beds are dry before you begin painting. "I like to wipe away moisture and oil from the nail with rubbing alcohol first," she tells Bustle.
Buffing them and evening out the surface is also important. "The nail is like a canvas, so surface irregularities are going to disrupt the application of an even coat and thus compromise dry time," says Stern. Smoothing things out will result in, well, more smooth sailing with your mani.
2. Pick A Quick-Drying Nail Polish
This might seem like a no brainer, but it really makes a difference when you pick a quick-drying formula. "The best way to get polish to dry fast is to use products that are formulated specifically for this purpose," says Stern. "While some polishes are formulated for longer wear or higher gloss, dry time will largely depend on the formulation of the polish and top coat." Just look for nail polish colors (and top coats) that indicate they give you a quick-dry mani.
3. Apply Thin Coats
Another hack for a quicker polish dry time? Abide by a less-is-more policy. "Applying the polishes in thin coats is key," says Tong, who explains that thin coats dry faster — which means your entire manicure will ultimately dry faster, too. Stern also suggests using less coats if you're super-rushed. "If you need to get going, consider fewer polish coats as fewer coats will dry quicker," she tells Bustle.
4. Use Drying Drops & Quick-Dry Top Coats
The final step in your manicure can help ensure your nails are dry and prepped for the day ahead. "I always use a quick-dry top coat and drying drops," says Tong says, who recommends the Seche Vite top coat and Zoya's drops for the job. The top coat is applied like a regular nail polish to seal your mani in, while the drops are more of a speed-dry booster you can add to your nails after all your layers have been painted. "These products typically contain silicones that evaporate quickly and remove the solvents within the polish, therefore speeding up the drying process," says Stern. Follow these tricks and you'll be well on your way to popping open a can of sparkling water without wrecking your mani artwork.
Experts:
Jessica Tong, celebrity manicurist and Smith & Cult brand ambassador.
Dr. Dana Stern, M.D., board-certified dermatologist who specializes in nail health