Huda Beauty #FauxFilter Luminous Matte Concealer Review: Results, Photos
The smoothing, crease-proof concealer is my new holy grail.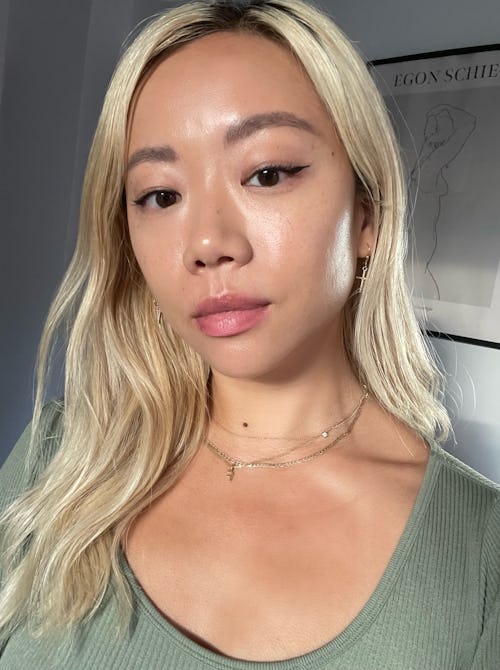 I rely on concealer these days more than I rely on most people in my life. It's there for me in the morning after one too many tequila sodas; when watching Sing 2 on the plane coincides with the start of my period; when my skin decides to revert to its acne-prone teenage state for literally no reason. And so, when I had the chance to test-drive Huda Kattan's brand-new #FauxFilter Luminous Matte Liquid Concealer before anyone else, I immediately made plans for a night out in which I know my skin (and myself) would be in desperate need of concealer the morning after (as in, I would be hungover). I know — I'm dedicated!
I've been a fan of Huda and her products since she first started Huda Beauty, my favorites from her line being her eye shadow palettes (the pigments are just so good — shoutout the Mercury Retrograde palette) and her #FauxFilter Foundation when I'm looking for a full-coverage finish. I had high hopes for this new concealer, which took over three years to formulate and promises a creamy, crease-proof, blurring finish. With all my favorite beauty buzzwords ringing in my ear, I put Huda's new #FauxFilter to the test.
We at Bustle only include products that have been independently selected by our editors. We may receive a portion of sales if you purchase a product through a link in this article.
Fast Facts
Price: $29
Best for: Providing a smoothing, creaseless filter effect on your skin IRL.
Your rating: 4.8/5
Clean/Cruelty-Free? Yes
What we like: Feels weightless, unique liquid-to-velvet formula, makes pores disappear.
What we don't like: Looked a little shiny by mid-day in T-Zone
My Skin
But first, let me tell you about my skin. We love her, but she's temperamental and lately has been showing signs of aging — under-eye bags and sneaky wrinkles are creeping up where none existed before. It's fine. It's life. I am grappling with it maturely and moving on (can't you tell?). Add that on top of the fact that my skin is naturally oily and my pores are as attention-grabbing as Prince Louis at the Queen's Jubilee, and you can see why concealer is such an important part of my beauty routine.
The Product
Fans of Huda Beauty will know that the #FauxFilter Luminous Matte Concealer is not, in fact, Huda's first concealer. Her first concealer was called Overachiever and boasted a high-pigment, super-matte finish. Huda, transparent queen that she is, told Bustle that her team and her may have overdone it a bit with that formulation, as some people said it ended up creasing. And so, for over three years, she's been working on a newer, better concealer — which is where #FauxFilter comes in (there's also a #FauxFilter Foundation that already exists, which was also reformulated).
Huda's new concealer promises to "move with your skin," while delivering a medium to full-coverage finish. It's infused with vitamin E and sweet almond oil for skin care benefits and to soothe the under-eye area — but, to be honest, there are a lot of concealers on the market that make similar claims. So what really sets this newcomer apart in the overflowing concealer sea? Well, first of all, it's developed by Huda herself, which automatically gives it legitimacy. Keep in mind she's someone who practically pioneered the full-face beat, but in recent years has also preached the importance of a good base and healthy skin (see: her skin care line Wishful, which launched in 2020). There's a reason why Huda Beauty was deemed one of the most popular beauty brands of the past year, and why Huda's following is so huge (a casual 50 mil, NBD) and trusting of her every word. The buzz around this concealer has been building for weeks ever since someone leaked the launch of it on IG (which she smartly turned into a marketing move). But would it live up to the hype? My thirsty, tired skin was about to find out.
#FauxFilter Conceaer Before/After
The Results
I woke up with a pounding headache and parched skin the day I tested out the concealer, thanks to the excess amount of champagne I had consumed the night before (for the sake of this story, obviously). Thus, I had a perfect canvas to see if this concealer could erase all wrongs — in short, it did. I used shade 3.5N, which was a near-perfect match for my skin tone, and applied it to my under-eyes, around my nose where my pores are the most noticeable, on my forehead, and my chin. I liked the thicker doe-foot applicator, but the first thing I noticed was how smooth the formula was. I've tried many liquid concealers, and this one outshines all the others for gliding on and blending in so seamlessly, while still magically delivering enough coverage to actually conceal my uneven skin texture. I used my fingers to pat it in at first, and was instantly amazed. The formula, which was lighter than I was expecting, appeared to melt into my skin, like some sort of magical second skin. It reminded me of when you accidentally drop your ice cream onto the pavement on a hot summer day, except less sad — that instant melting of liquid onto a solid surface, leaving a smooth, blurred, velvety finish behind. You know that spray-on tint you can get at the drugstore that smooths out discoloration and leaves your legs looking airbrushed? This was like that, except for your face and in a tiny tube. I used a dampened beauty sponge to blend it in even more, which only further gave it a filtered IRL effect. There was no caking, dryness, or creasing — just a smooth, soft finish. My loud, overdramatic pores were nowhere to be seen.
As for longevity, my skin did look a bit shiny after a few hours — I didn't wear foundation or powder, and only had this concealer on to test its wear. But I have supremely oily skin in my T-zone, so I still count it a win that my skin hadn't transformed entirely into an oil slick. In fact, I actually prefer a dewier finish for my base. But if you're looking for a super-matte finish, you might just want to finish off with a dusting of loose powder. The smooth, hydrated finish of this concealer also makes it perfect for the under-eyes, so if you're looking specifically for an under-eye concealer that provides enough coverage to actually cover dark circles without caking or creasing, this is a perfect option.
Worth It?
At $29 dollars, I would absolutely say this concealer is worth it. Yes, it's pricier than what you'd find at the drugstore, but around the same price as some of the other cult-favorite concealers on the market whose ranks I predict it'll soon join. It feels like every year, a new concealer comes along that promises a new, innovative formula, and 99% of the time it ends up feeling like something that already exists on the market. This one from Huda is truly unique. I don't even get excited about concealer (call me a grumpy, jaded beauty editor, which wouldn't be a lie), but I get genuinely excited to use this new product because of how unique the formula is — the blurring, liquid-to-velvet formula is just so good.
TL;DR
Huda Beauty's new #FauxFilter Luminous Matte Concealer features a unique, smoothing formula that acts like a filter for your skin IRL. You should buy it.