A Dupe For Jennifer Aniston's Favorite Facial Roller Is $15 For Prime Day
Reap the skin de-puffing benefits for less.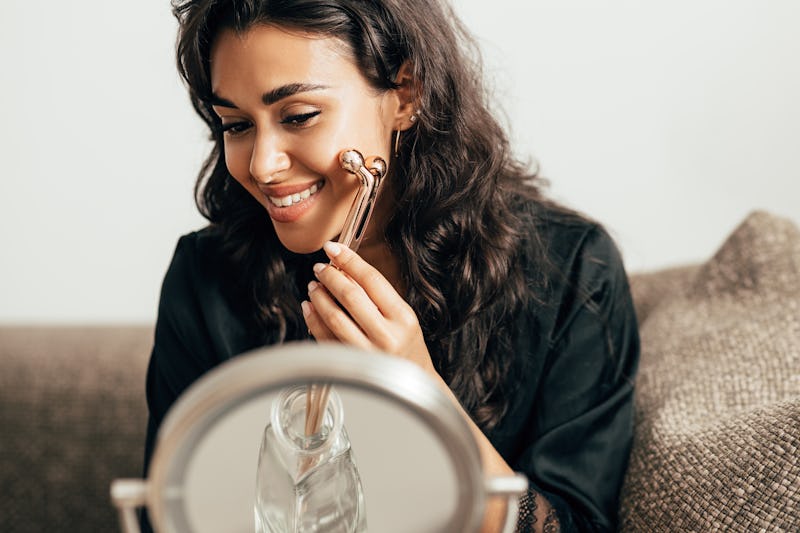 Artem Varnitsin / EyeEm/EyeEm/Getty Images
If you peek at stars doing their at-home beauty routines or prepping for red carpet events, there's a high probability you'll see a handful massaging their skin with the Jillian Dempsey Gold Bar. But you don't have to shell out $195 for the 24-karat gold face-sculpting stick, because there's a $15 dupe that delivers similar results.
Dempsey's skin care tool is a product within the burgeoning category of vibrating facial rollers. The shelfie-worthy massager has a serious celebrity cult following — the ageless Jennifer Aniston, for one, name-dropped it as one of her favorite beauty tools in an InStyle interview. It's also a mainstay in other radiant complexioned stars' routines, including Cara Delevingne, Alicia Keys, and Gwyneth Paltrow (just to name a few). But $200 can be a steep price to pay when you just want to experiment with a beauty product — which is when you take a cue from Tracee Ellis Ross and buy a Jillian Dempsey Gold Bar dupe: the Yeamon Golden Pulse Roller, which costs a fraction of the price.
While the gold standard (sorry) is Dempsey's version of the roller, this facial wand will bring you the same glow-boosting benefits of other vibrating face tools — that means de-puffing your face, prepping your skin to absorb more of your products, and relaxing tension. And, in even better news, the Jillian Dempsey Gold Bar dupe happens to currently be discounted from its typical $19 price tag: This Amazon Prime Day, which has only just begun June 21 (and lasts for 48 hours), the Yaemon roller rings in at a cool $15.
This face-sculpting roller is on sale until 11:59 a.m. PT June 22, so be sure to add to your cart ASAP.