Twitter Thinks Laura Dern's Oscars Dress Looks Like Bjork's Infamous Swan Gown
Here are all the best reactions to her feathered skirt.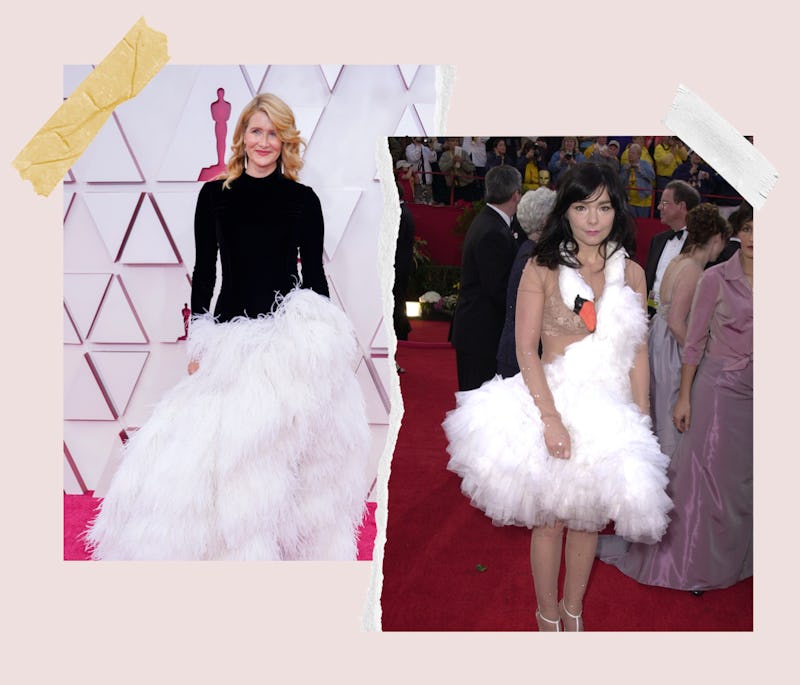 Getty Images/ Pool / Pool; Steve Granitz / Contributor
No one has forgotten about Björk's iconic swan dress from the 2001 Academy Awards. It isn't the same eclectic getup, but judging by the many reactions on Twitter, Laura Dern's 2021 Oscars dress — complete with white feathers — is quickly being compared to its avian predecessor.
Dern, who took home an Oscar last year for her role in A Marriage Story, showed up to the 93rd annual Academy Awards red carpet in a two-part Oscar de la Renta gown: the upper half a black turtleneck, the bottom a full white ostrich-feather skirt. Though it isn't paired with a bird head draped around her neck, the billowing plumage of Dern's hem is reminiscent of the infamous swan dress, which Icelandic singer Björk rocked 20 years ago. And Twitter has taken note — countless memes and side-by-side comparisons are saying Dern's Oscars ensemble is a nod to the still-talked-about red carpet moment.
But the swan dress isn't the only thing people are comparing Dern's gown to. Some say the skirt quills are reminiscent of Fifi from Beauty and the Beast (aka Lumiere's girlfriend). Other memes compare the dress to Moira Rose of Schitt's Creek fame, as the eclectic character, played by Catherine O'Hara, is known for her outlandish fashions. Plenty of Twitter reactions also note that Dern's Oscars dress is perfect for cleaning their apartments, and countless memes show a straight-up ostrich with captions nodding to the actor's skirt.
Love it or hate it, Dern's gown has certainly given viewers something to talk about — TBD on whether it'll maintain the same notoriety of Bjork's getup.
Imagine how meta it would be if the Icelandic musician actually made a surprise appearance in this manner...
Though the swan gown lives on in its infamy, this Twitter user thinks Dern's de la Renta dress is proof the fashion gods have come around to accepting the feathery trend.
The 2021 Oscars does not fall on Halloween, but this meme is adamant that Dern has dressed up as this Disney character.
Yet another comparison of Dern to Fifi — it makes you wonder whether the actor is going to try putting her skirt to practical use after the awards show...
The black top... the dramatic feather skirt... the blonde ringlets — there's no denying Dern is very Moira Rose here.
A more obscure take on Dern's gown of choice? The goat leggings from the 1987 masterpiece Dragnet, which starred a young Tom Hanks and Dan Aykroyd.
Dern starred in a Star Wars movie, but it wasn't the one that had the Wampa — so there's no way she stole the creature's white fur from the set, even if it appears as though she did.
The perfect slogan for Dern's getup: "Big Babette Energy."
Is anyone else getting the urge to feather dust rn?
Perhaps someone could turn Dern's feather skirt into an ostrich-like art piece when Oscars night is over.
One Twitter user thinks Dern totally copied Bjork's famous fashion moment.
This meme pays a nod to Bjork's swan dress via a Hannah Montana episode in which Miley Cyrus parodied the gown.
Yet another comparison to the feather duster.