Every Look You'll Want To Steal From Moira Rose On 'Schitt's Creek'
Your style icon of the past six years.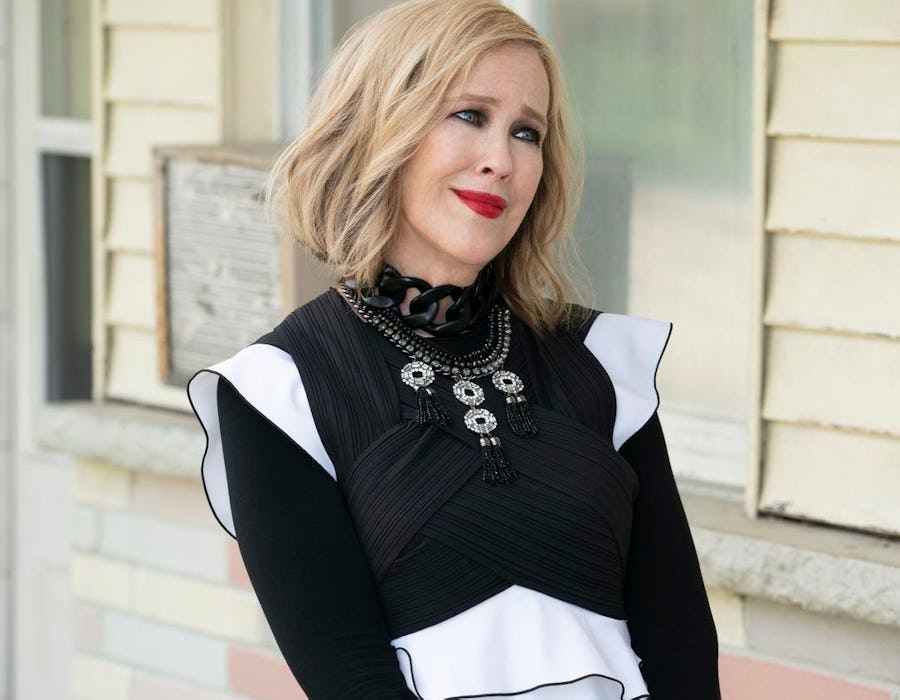 Netflix/Schitt's Creek
Every single character on the Netflix comedy has their own unique sense of style. But it is, arguably, Moira Rose's style on Schitt's Creek that takes the cake when it comes to looks that wow.
Though all four of the main characters grapple with their newfound reality, pulled away from their previous lavish lifestyle, it's Moira whose style remains largely unchanged. It's just as elevated as you can imagine it was during a time when her schedule was packed with ladies lunches, cocktail parties, and spa treatments.
Moira's closet consists of mostly black—with some white mixed in. And when she deviated from that color palette — wearing a nude-colored red carpet gown — there was a specific hidden meaning behind that style choice.
Her style walks the fine line between tailored and edgy and, of course, her wig collection is seemingly endless. She layers like a pro, be it with bodysuits, skinny leather pants and tunics, or jewels upon jewels. Though it's truly impossible to narrow down her collection of couture looks to just a few, you can find some of her best looks of all three seasons below.
There's no time like Fall to attempt to incorporate Moira's signature looks into your wardrobe. Scroll through some of her most memorable outfits below.