Lauren London Highlights Resilience In New Puma Collab
How the actress and entrepreneur is keeping LA in her heart.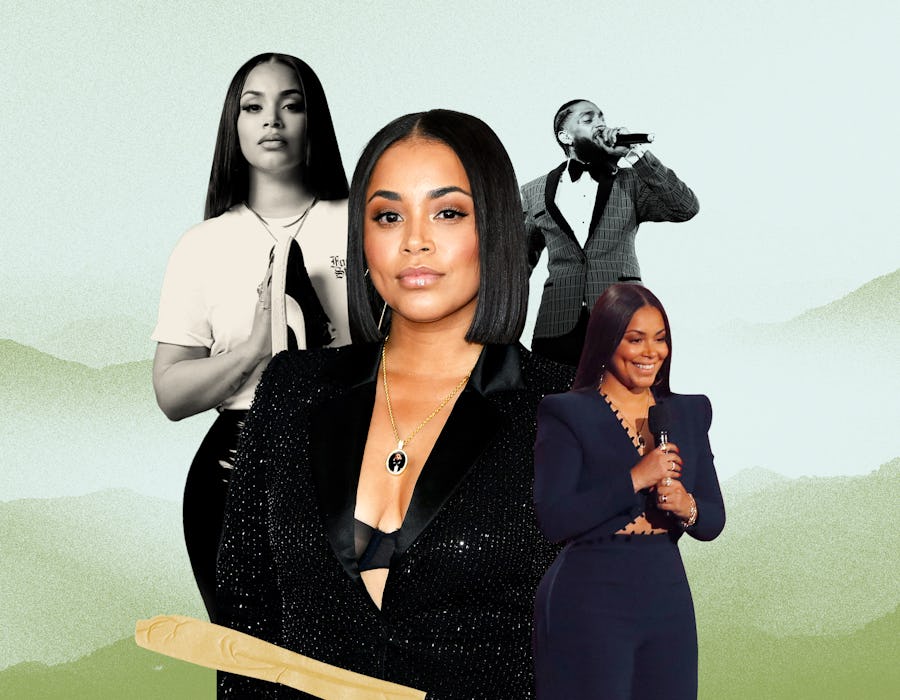 Lais Borges/Bustle; Getty Images
After the sudden and tragic death of her partner Nipsey Hussle, Lauren London has been the embodiment of strength. She represents this in her personal life, as well as her business ventures, using the sentiment as the theme of her numerous brand collaborations, such as The Marathon Clothing x Fear of God, and her collaboration with Puma, called "Forever Stronger."
London started working with the athleisure brand in 2019, with the "Forever Stronger" collaboration. The capsule collection dropped in June 2021 and quickly sold out its mantra-embossed tees and suede classics. Now, the line is back — a 2.0 version is shoppable now and includes hoodies, long sleeve tees, and kids T-shirts with the "Forever Stronger" logo.
Here, London gives Bustle a look into the inspiration behind the relaunch of Forever Stronger, her fashion idols, and the love for her city of Los Angeles.
What was the inspiration behind this collection?
This time I wanted to be more inclusive with children. That was really important for me because I feel my kids have showed me they're way more resilient than me. Their strength has inspired me. The original launch, my eldest son, wanted to wear it and couldn't because it wasn't in his sizes. This time around, I was like, I have to make something for kids.
I love the visuals represented the authenticity of LA, which we don't really see in media. How does LA — Crenshaw specifically — influence the collection?
I used the same photographer and director and I did the first launch. I decided to include people I know [who] have overcome adversity and shown their strength afterwards. My best friend's cousin is a woman from Los Angeles and she's included in this new campaign — she's overcome cancer. A friend of mine and her daughter is included and her daughter had heart surgery at two years old. I just wanted to include people outside of myself that have inspired me with their strength. They were all from LA as well. I just want to make sure that it's authentic to how I see the city and my experiences in LA.
There's such a beauty in strength and I think fashion is a sort of armor that we put on to go out and conquer the world. How have you used fashion as a form of strength?
I wear a lot of jewelry that have real gemstones, moonstone and amethyst. Just for my protection and for my energy, and always reminding me of what I need my intentions. I have all kinds of stones on me at all times — crystals that represent clarity, intuition, protection. I also call this affirmative wear. There's an affirmation or a mantra, because sometimes you need a reminder.
How can we keep the authenticity of hip hop in street wear when it's becoming so heavily commodified?
It's really important that we pay homage and be very clear on our inspiration. Lil' Kim is a fashion icon, Misa Hylton, Mary J. [Blige] — I think always paying respect to those women that have really changed fashion in hip hop. Keeping it authentic is really just [paying] respect to the ones before us who have shown us the fly stuff.
Who are some hip hop icons that have influenced your personal style?
Mary J. Blige, Lauren Hill, Erykah Badu, Lil' Kim, Aaliyah, Mariah Carey — these are women that I looked up to growing up, loving their style. Just even to this day, I always look back on their fashion moments and get inspired.
This interview has been edited and condensed for clarity.
Puma X Lauren London Forever Stronger II