The 5 Least Damaging Artificial Nails, According To A Celebrity Nail Tech
Expert advice on how to choose a nail style for your life and vibe.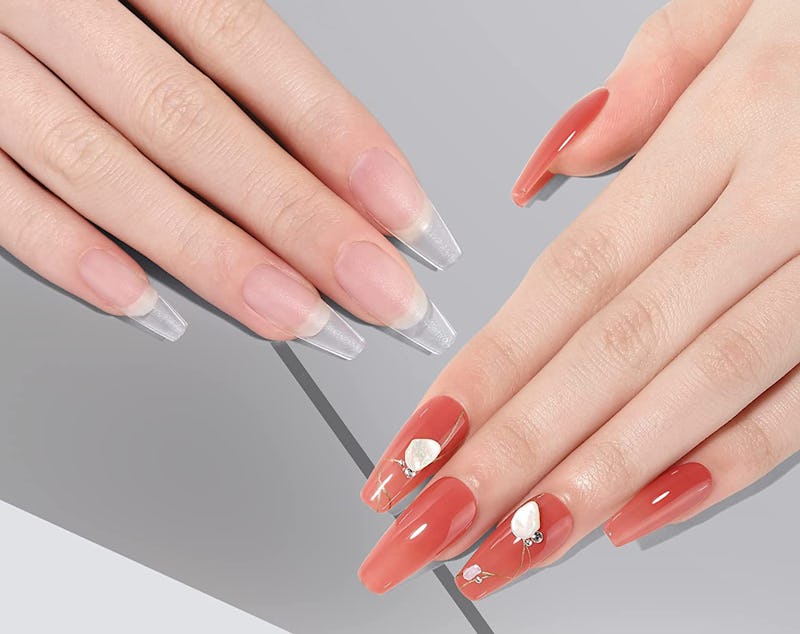 Amazon
We may receive a portion of sales if you purchase a product through a link in this article.
For some, artificial nails are so much more than a manicure style — they're an outlet for self-expression. That said, if not maintained correctly, acrylic or gel tips can weaken and damage the real nail underneath. Luckily, the least damaging artificial nails will be applied and removed with care, and they'll be the right shape and length for your style and life.
The Expert
Aaliyah Smith, also known as NailBiz, is a Las Vegas-based nail technician with over 15 years of experience. Her clients have included celebrities like Nicki Minaj, Chrisette Michele, and Antonio Tarver.
What To Look For In Less-Damaging Artificial Nails
According to Smith, no one material or shape is more damaging than another. Instead, it's all about the process: "Any artificial enhancements can be damaging to the nail plate if not applied or taken off properly," Smith wrote in an email to Bustle, but tech advancements are here to help. For example, Smith's number-one recommendation is applied using a soft gel glue alongside an LED light, and it can be soaked off after a few weeks to minimize damage. However, acrylic nails can be more long-lasting while press-on ones are the easiest to apply (though the drawback is that they don't last as long).
However, damage doesn't just happen when you're applying or removing your nails. Your real nails are much more likely to become damaged if your artificial ones take a beating on a regular basis. Those who use their hands often for work, chores, or hobbies should choose a "low-maintenance" shape and length, like "short to medium" and "square or round," adds Smith. If you use your hands less, more dramatic styles like medium-to-long coffin and stiletto nails should be fine.
Finally, if your nails are already damaged, consider using a nail strengthener in between applications, and always be sure to follow directions when applying or removing fake nails.
Shop The Best Fake Nails That Don't Damage Your Real Nails
In a hurry? Here are the top picks for non-damaging artificial nails. (Most sets will require a UV nail lamp and nail glue, and recommended options can be found below each product.)
1. The Expert-Recommended Artificial Nails
"My favorite is Apres Gel X enhancements," Smith wrote. Made from gel themselves, they press on "using a soft gel and an LED light," which makes them last a super long time — some reviewers say longer than three weeks. That said, to avoid damage, Smith recommends a "soak-off in pure acetone" after two. According to Smith, "the nails are strong and durable." The medium-length coffin set shown above is one of the more popular options, and each box contains 10 different sizes, 50 clear tips in each size. However, the brand offers many different shapes and lengths to suit your lifestyle.
One reviewer wrote: "I LOVE these nails! The nails are strong and last a long time. I use builder gel-like glue and it works so well. Easy to use. Easy to file (if needed). I am obsessed and won't be going back to any other brand."
Material: gel | Recommended glue: Apres Nail Gel-X Kit | Shape: coffin | Length: medium | Included sizes: 0 - 9 (10 sizes) |
2. A Budget, Fan-Favorite Gel Nail Extensions Set
Like Smith's recommended brand above, these soft gel nail tips are made from a flexible gel material, which (when combined with a gel glue) cures underneath a UV lamp in under a minute. Reviewers also note the thin back edge and the thicker front edge for comfortable wear, and the textured matte base, which better adheres to the nail's surface without the need for filing. These tips also come in a large range of shapes and sizes.
One reviewer wrote: "These are my alternatives to Apres Gel X tips and they are substantially more comfortable and affordable. Even so, they last just as long [...] as Apres. They also come matte/rough like so you can skip buffing the inside of the nail before applying if you'd like."
Material: gel | Recommended glue: Modelones 4 in 1 Nail Glue Gel and Nail Prep Dehydrate Kit (UV lamp required) | Shape: stiletto | Length: long | Included sizes: 0 - 9 (10 sizes) |
3. These Long-Lasting Acrylic Nails
"If you're looking for a more long-term enhancement, I would suggest an acrylic nail," Smith wrote. These ABS acrylic nails have more than 55,000 reviews and an overall 4.5-star rating. They come in a huge range of shapes and lengths, but you can cut and file them to suit your preferred style. The brand makes an accompanying glue kit (which includes gel glue and an ultra-portable LED lamp) that aims to make your artificial nails last up to 28 days, but dissolves in acetone without causing too much damage.
One reviewer wrote: "This nail kit is exactly what I hoped it would be. [...] They hold up extremely well and look exactly like they would if I'd had them done at a salon but for 1/8 of the cost and, since they're just glue-on (glue not included) and not acrylic or dip, they don't damage my real nails. I'm obsessed!"
Material: ABS acrylic | Recommended glue: BTArtbox Gel Nail Glue Kit | Shape: coffin | Length: long | Included sizes: 0 - 9 (10 sizes) |
4. The Best Short Acrylic Nails
As previously discussed, those who use their hands on a regular basis should opt for shorter artificial nails if they're looking to minimize damage. Made from lightweight ABS material, these short square nail tips are great for uniform, salon-quality manicures that don't get in the way. The matte, frosted design adheres to your natural nail without the need for damaging filing, and according to reviewers, they "last a long time" but are "easy to soak off."
One reviewer wrote: "I needed to find some shorter nails to be able to do my online work with. These are so good for the price and come with lots of tips! I've used these on myself and multiple other people and they're very sturdy! Also love the pre-etching on the inside of the nail, it's very convenient."
Material: ABS acrylic | Recommended glue: Beetles Gel Polish 2 in 1 Nail Glue and Base Gel Kit (UV lamp required)| Shape: square | Length: short | Included sizes: 0 - 9 (10 sizes) |
5. The Best Press-On Nails
"If you're looking for a quick wow factor for a night out on the town with the girls, I would suggest a press-on nail," Smith wrote. Kiss Everlasting press-on nails are fan-favorites with over 40,000 reviews and a number-one best-selling status. For one, since they press right on with the included glue, they apply in mere minutes without the need for an LED lamp. For another, they're waterproof and smudge-resistant for up to a week of chip-free wear. Finally, they come with a free mini file and a manicure stick, and if you don't love the short French tips, Kiss makes plenty of other colors and designs.
One reviewer wrote: "I love how strong these are. They are long enough to be pretty, but short enough to be practical. [...] The pink gel glue that comes included is great — really strong, but it doesn't damage the nail beneath."
Material: acrylic | Recommended glue: included | Shape: square | Length: short | Included sizes: n/a |