Everything To Know About Louis Vuitton's Neverfull Tote Bag
For the last few weeks, the beloved carryall has been causing a stir on TikTok.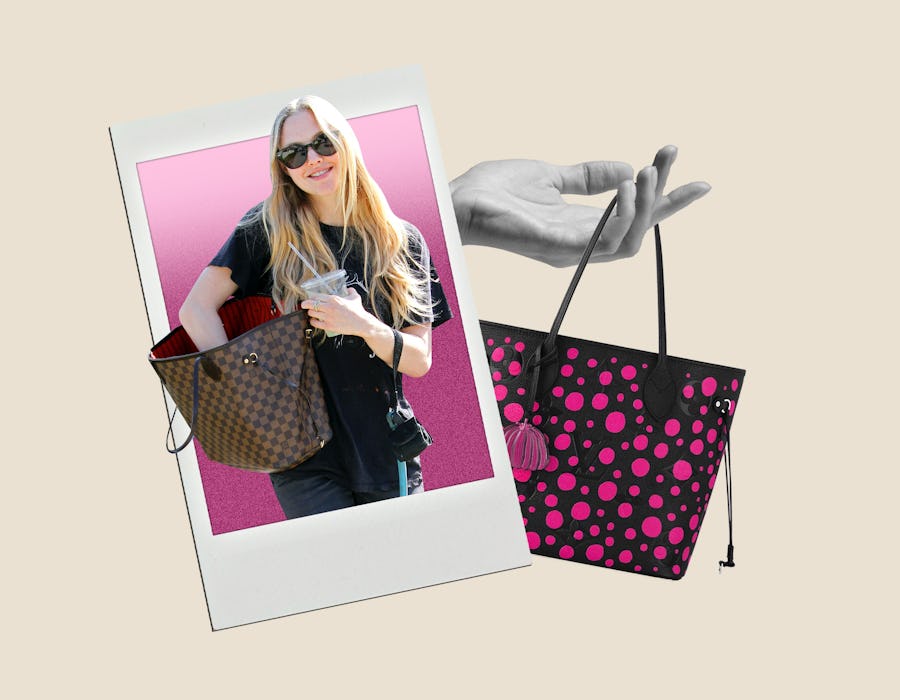 Secure The Bag
We may receive a portion of sales if you purchase a product through a link in this article.
For ludicrously capacious bag enthusiasts, the Louis Vuitton Neverfull has been a longtime favorite. It's one of the Parisian brand's most beloved styles, in part because it can transition from an everyday purse to a TSA-approved personal item.
The style was initially launched in 2007, designed by the brand's former director of leather goods, Nicholas Knightly. The Neverfull, which was originally intended as a seasonal beach bag, comes in three sizes: the small or the PM ("Petit Modele"), the medium or the MM ("Moyen Modele"), and the large or the GM ("Grand Modele"), all of which are mostly made of cowhide leather.
It's been released in several prints over the years, including the classics — like the monogram, the Damier, and the Monogram Empriente — as well as limited editions, like this year's Yayoi Kusama drop. The bag is also reversible. Shoppers can select the color of the canvas lining — beige, peony pink, or cherry red — and lug the bag inside out, with the lining's striped pattern visible. According to Sotheby's, it can take up to 45 hours to make one bag.
As its name suggests, you'd be hard-pressed to actually fill the trapezoidal tote to the brim — or surpass its weight limit. The GM size is designed to carry a whopping 200 pounds. As for the price, a small Neverfull starts at $1,960, and limited edition versions can sell for up to $3,650.
Naturally, fans of Louis Vuitton have long embraced the roomy tote. Among its devotees are countless A-listers, including Diane Kruger, Mindy Kaling, and Amanda Seyfried. Jet-setters like Reese Witherspoon and Sofia Vergara have both been spotted touting the carryall in airports.
Ignat/Bauer-Griffin/GC Images/Getty Images
Chinchilla/Bauer-Griffin/GC Images/Getty Images
Raymond Hall/GC Images/Getty Images
Jean Baptiste Lacroix/WireImage/Getty Images
Over the past couple of weeks, rumors about the future of the Neverfull have been swirling on fashion TikTok. Though some speculated the bag is being discontinued when the classic Neverfull suddenly disappeared from the US website, luxury reseller FASHIONPHILE, says there's a new waitlist policy for the classic bag instead. Sotheby's reports that, once a person on the waitlist is notified of the bag's availability, they'll have 24 hours to complete the purchase before it goes to the next person.
For those eyeing the classics, expect the bag to appear on the resale market more regularly. And don't worry, limited edition prints aren't affected by this new rule and are still available to buy in stores and online as we speak.