How To Get Your Hands On Manolo Blahnik's Latest Birkenstock Collab In The UK
Carrie Bradshaw, eat your heart out.
by Vivian Iroanya and Rachel Mantock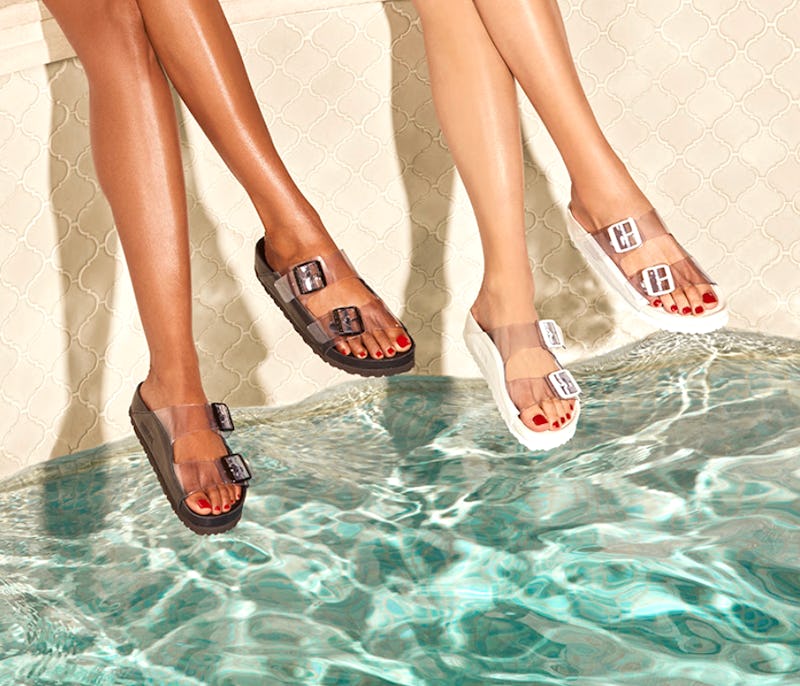 Manolo Blahnik x Birkenstock
Following the likes of Jil Sander, Dior, and Valentino, Manolo Blahnik is the latest major fashion house to join Birkenstock's comfortable footwear roster. And there's nothing we like more than a well-executed fashion collaboration. Speaking to Harper's Bazaar about the stylish union, Mr. Blahnik said: "Aesthetically, we [Manolos and Birkenstocks] may look different, but fundamentally we have the same values: exquisite fit, craftsmanship, and comfort are the most important parts of both of our shoe-making design and production. I wanted to make something that can be worn casually, but also that I think would look fabulous with a ball gown, a sort of dressed-up Birkenstock."
The first Manolo Blahnik x Birkenstock drop featured the classic Arizona sandals and Boston clogs merged with Blahnik's glamorous craftsmanship. The collab included a six-piece footwear line made of velvet rendered in shades of blue, fuchsia, or classic black leather, with a redesigned buckle embellished with crystals.
Manolo Blahnik x Birkenstock Collab: Drop 2
Now, a second drop of the well-received collaboration has arrived, with fans who missed out on round one being given another opportunity to get their hands on the goods.
Polka dots patterns explode onto the scene this time around, with neutral black and white tones. A new Birkenstock style created by Manola Blahnik, the Rodra sandal (like Arizona style classics, but with crossover straps) features low pile, lightly fluffed white fabric, covered in black dots, with black rubber soles, covered in white dots. The popular Boston clogs by Birkenstock will get the same makeover design, too.
The classic, '70s inspired Arizona sandals have also been transformed, with clear, PVC straps, and coloured buckles that match the soles, with black and white options. Built for laid back, poolside lounging in the sun.
Where Can You Buy The Manolo Blahnik x Birkenstock Collab?
The latest Manolo Blahnik x Birkenstock drop is available to buy online at 1774. Alternatively, can head directly to Manolo Blanhik GB . The clear PVC sandals are priced at £330, while the polka dot designs will cost you £370.
This article was originally published on