Mielle Organics' Founder, Monique Rodriguez, Spoke The Brand Into Existence
The CEO shares her story.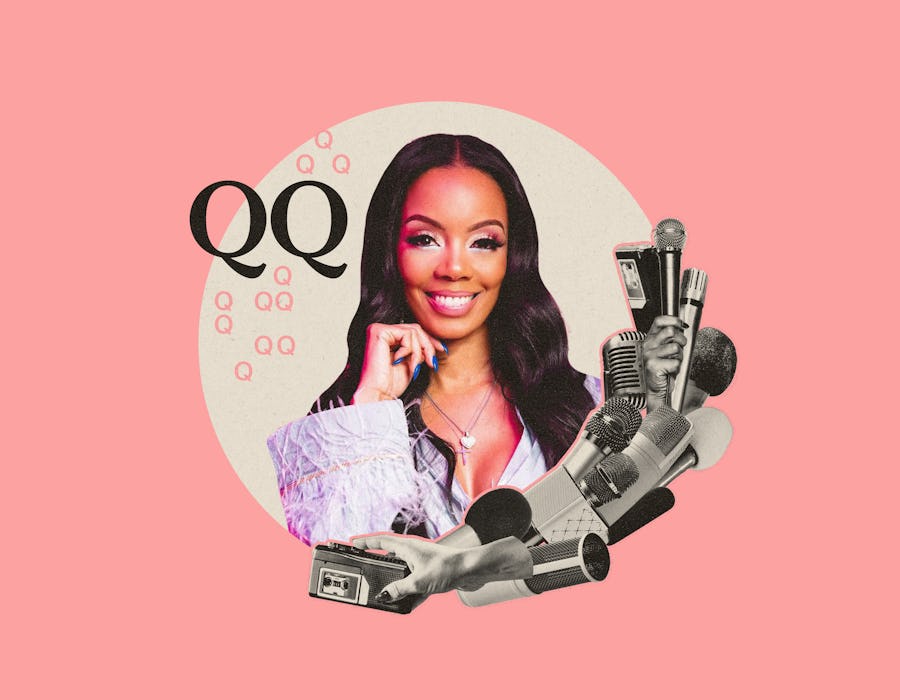 In Bustle's Quick Question, we ask women leaders all about advice — from the best guidance they've ever gotten to what they're still figuring out. Here, Monique Rodriguez, founder and CEO of Mielle Organics, shares her entrepreneurship journey, advice for young businesswomen, and more.
Whether you stroll through Target's beauty aisles or BeautyTok, you've likely been introduced to Mielle Organics' viral hair care products.
What you may not know, however, is that the buzzy brand is backed by a registered nurse turned entrepreneur by the name of Monique Rodriguez. And though her career has twisted and turned since her time within the world of healthcare, she's still managed to help people in her own unique way.
"I worked as a registered nurse and did that for eight and a half years before stepping out on faith and creating Mielle," Rodriguez tells Bustle. Faith has proved vital through her journey thus far, but she's made sure to complement that belief in God's plan with a lot of education, research, and a strong plan of her own.
Below, she shares her path to becoming a CEO and advice for young Black entrepreneurs who want to take up space in the industry.
Starting from the beginning of your journey, what led you to create Mielle?
I started the brand out of necessity, and a love and passion for the beauty and hair care space. Mielle is also a brand that was birthed out of pain. In 2013, I suffered a tragic loss of my son when I was eight months pregnant. That pain catapulted me into my purpose.
Number one, that was developing my relationship with God spiritually, and I had the vision to go on social media and talk about my passion, and that was hair care. It was a creative outlet for me at the very beginning to express myself.
Being vulnerable and authentic quickly developed into a community of women that started to gravitate towards the information I was providing, and they started asking to buy the hair mixtures I was posting the recipes for on Instagram. That's when I felt that I was onto something. I saw that what I was doing was helping others, and it was very fulfilling.
At what point did you have the courage to leave nursing in order to pursue Mielle full-time?
Growing up, I didn't see entrepreneurs — let alone Black women — that were starting and operating a business. That was very foreign to me. I was raised in an environment where my mom always encouraged the nursing route. I became a nurse because that's what I was told to do, not because it was a fulfilling passion of mine.
With that being said, I was always very focused on entrepreneurship and trying to figure out what I could do to create income to get out of my nursing career.
"The day that I launched the brand, I actually typed up my resignation letter."
I had no idea that the brand would take off, but I just wanted to have a lot of faith and believe in myself and what I was doing. I also believe in speaking things into existence, so I hung that resignation letter and looked at it every single day for six months.
Obviously, you have to be smart and plan. I'm married, so we had two incomes, and I knew that if I quit my job, we would at least have one income to fall back on that was supporting our household.
Even though I gave myself six months to leave my job, I was able to leave nursing in five months after starting the company.
How did you educate yourself?
[In hindsight], a lot of my experience came from 'doing' — but in the beginning, I listened to a lot of podcasts, I read a lot of books, and I went to a lot of seminars that taught me how to brand and market. I went to women empowerment events, and any kind of training or classes that talked about branding and marketing.
What were some of the podcasts that added value on your journey?
I listened to How I Built This, Entrepreneur 2.0, Making The Entrepreneur, This Girl Means Business, Nerd Marketing — I'm actually listening to that now — Manifestation Babe, The Marie Forleo Podcast, Maxwell Leadership Podcast.
If you listen to other entrepreneurs and the interviews that they've done, you can learn a lot.
As a young business owner, what were your strong suits and what did you feel the need to outsource?
I run the company with my husband and we have two totally different skill sets where he's more on the business, operations, and finance end, and I'm more focused on product development, marketing, our event activations, anything that's PR-related.
I think that a smart business owner would be self aware enough to know what they're good at, and where they're weak to bring people on and complement those areas. It takes a lot of self-awareness, but also a lot of self-education.
What did it feel like to relinquish some of that control?
"It's okay to not know everything because you can't know everything."
You can spend a lot of wasteful time trying to be an expert at something you're not good at, and it's going to become more of a labor than a love.
When I first started the company, I would spend a lot of time trying to figure out how to do my own graphics; I'm not a graphic designer. If you hire someone, they can do a graphic in thirty minutes and you can easily post that. Meanwhile, you're able to focus on the things you're really good at that drive the business. I had to learn that early on.
How has Mielle's ability to scale changed since P&G acquired the company?
It has always been a dream of mine to scale my business and partner with a company like P&G, because my whole goal was to be a global brand, a household beauty name, and I understand that as a Black entrepreneur, we already have a lack of resources, a lack of expertise, a lack of capital, a lack of access to many things.
"I did not come from a wealthy family. I knew that in order for me to scale, I had to use other people's money."
When I think about partnership, I think of just that. I look for the scaling capabilities of increasing our distribution, having access to chemists — and African American chemists — being able to expand our brand awareness [and] increase our marketing share.
The partnership allows us to grow to a level that, quite frankly, we were not able to scale on our own. If you look at any successful entrepreneurs, they haven't done it alone.
How has your day-to-day changed? Has your office culture shifted at all?
We operate as a standalone independent subsidiary under P&G, which means that my husband and I are still continuing to run the company and I'm still staying on as CEO. For us, nothing changes — now we just have access to more resources.
What's next for the brand?
We are always working on new innovation for textured hair, but it is a priority to tap into different categories such as skin and body. More importantly, our customers are asking for it.
What's your advice for young entrepreneurs and women of color who want to create space for themselves in the industry?
One of my sayings is, "You cannot lead if you don't know how to serve."
I think when people get into entrepreneurship, they don't want to have a boss. I tell people, you're still going to have a boss. It may not be one boss, but thousands and millions of bosses — because your customers are your boss. How do you serve, and over-serve, your consumer?
You may have days where it may be dark, you may have days when you don't have income — what's going to drive you is that passion. Be obsessed with your consumer, always serve, and know that your purpose is bigger than yourself.
This interview has been edited and condensed for clarity.