Naomi Campbell's Skincare Routine Is Surprisingly Achievable
And involves a £10 face toner.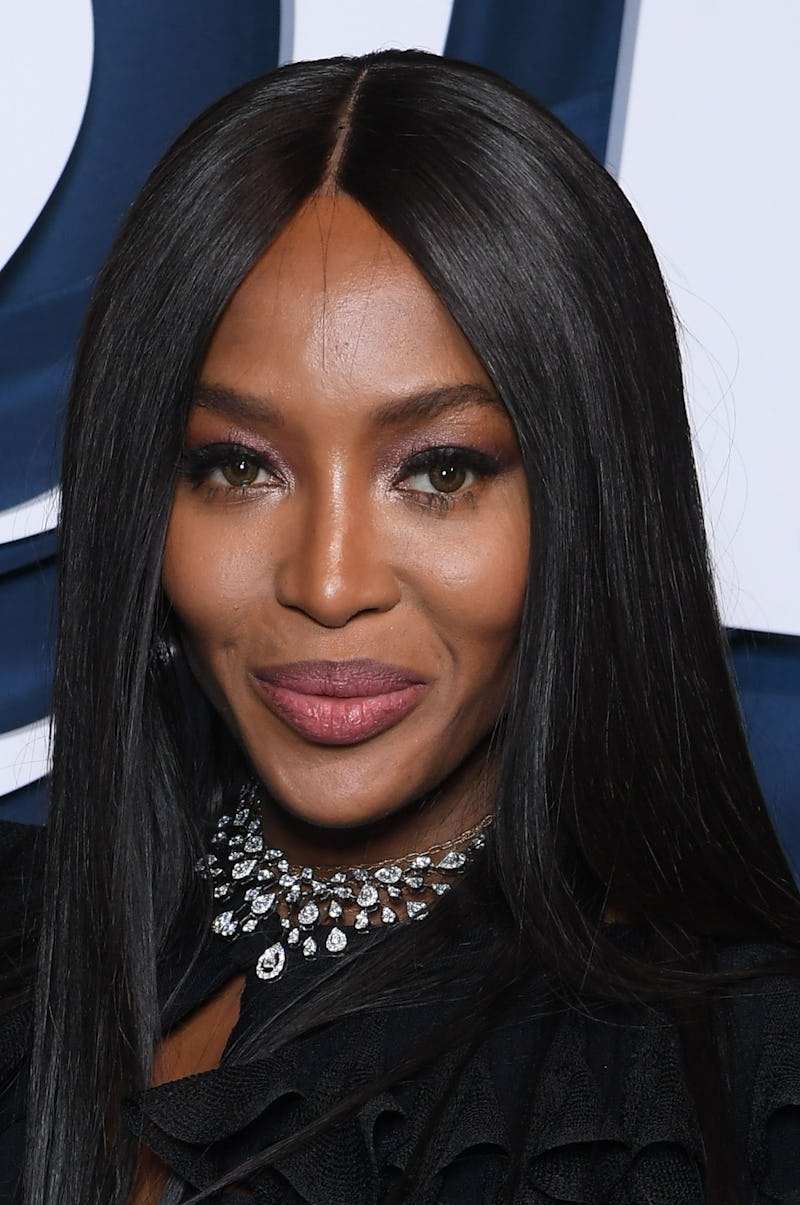 Stephane Cardinale - Corbis/Corbis Entertainment/Getty Images
Naomi Campbell has always been pretty private when it came to her skincare routine. However, last year she began to lift the lid on what keeps her looking so fresh. First, the supermodel shared some of her top secrets with Vogue, in a video that showcased her go-to beauty routine. And then Naomi Campbell revealed her night-time skincare routine for 2021 on her very own YouTube channel. I've broken it down so you can copy it in the hopes of getting skin as glorious as hers.
In the YouTube video, Campbell was joined by her friend, comedian Elsa Majimbo (who you may recognise from TikTok and Insta) to share her 2021 nighttime skincare routine in the early hours of Jan. 1, 2021 (6 a.m., to be exact). She talks Majimbo (and her followers) through the nightly regime, which consists of some top makeup-removing tips, plenty of masks, and the £10 zinc spray Naomi is known to love. The next morning, the pair get up to follow Naomi's morning-after routine, which focuses on re-hydration and sheet masking, sheet masking, sheet masking.
As mentioned, Campbell has previously been pretty tight-lipped about her routine, but, as 2021 goes on, she's been increasingly open about her top tips and insights. For example, during her recent home tour with Architectural Digest (at her luxury villa in Malindi, Kenya), Campbell revealed she does not sleep with air-con on, as she believes it gives her wrinkles. She explained: "I just love this room, it's just chilled. We have air conditioning. I don't personally sleep in air conditioning. I don't like it, it gives wrinkles, I believe."
If you want to know her in-depth nightly routine more, I've studied her January YouTube video in depth and laid out each step of this covetable routine for you, but it's totally worth watching the clip yourself for the full effect, too.
Now, do we dare to dream that one day we might have skin as amazing as Naomi's?
We only include products that have been independently selected by Bustle's editorial team. However, we may receive a portion of sales if you purchase a product through a link in this article.
This article was originally published on