GBBO Viewers Are Convinced Prue Leith's Necklace Looks Like A Sex Toy
And now we can't unsee it.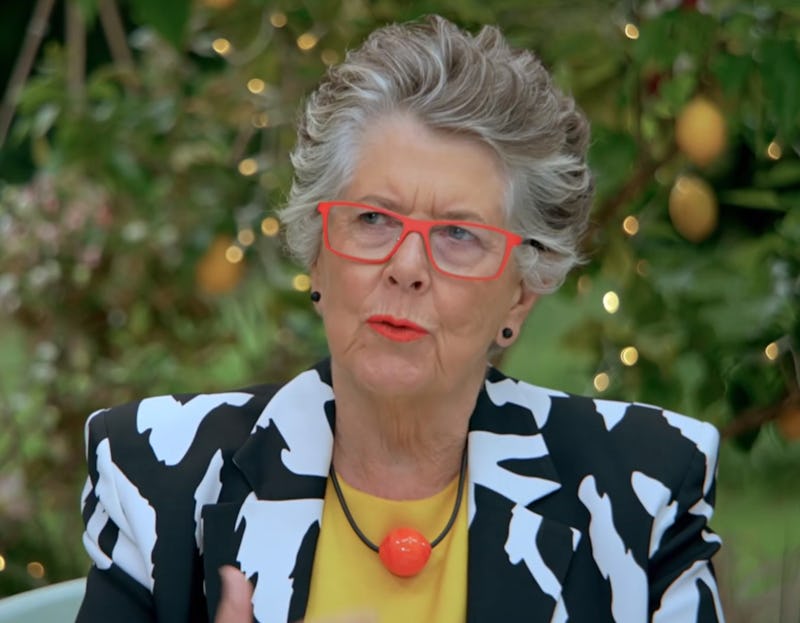 Channel 4
Channel 4's The Great British Bake Off returned on Sunday, March 19, with its special Stand Up To Cancer miniseries. As always, Twitter was flooded with reactions to the first batch of celebrities attempting to make all sorts of delicacies. From savoury pies to meringue showstoppers, there was no shortage of hilarity thanks to some major wins (and fails) in the kitchen. Friends star David Schwimmer surpassed expectations, taking home the Star Baker title and stealing the nation's heart with his wholesome personality. But viewers were also intrigued by judge Prue Leith's interesting choice of necklace.
Leith tends to favour eccentric choices, but this statement necklace especially caught viewers' eyes, with some noting on Twitter that it looked suspiciously like a sex toy. "Why is Prue wearing a ball gag?" one viewer quipped. "Great that Prue feels so accepted on #GBBO that she can wear her ball gag," another joked. Others related it to Red Nose Day, which occurred a couple days before the episode aired, but Celebrity Bake Off was filmed months in advance.
Leith has yet to acknowledge her hot topic necklace on social media. However, in a former personal essay she wrote on her blog, The Great British Bake Off judge shared why she has such a love for eccentric necklaces. "I've always been used to strong, bold colours," she said, adding that wearing "multi-coloured necklaces over a strong solid colour allows them to stand out and make a statement" which "often provides a talking point, too." It certainly did in this instance, just maybe not how she intended.