The Best Queen Elizabeth Looks Recreated On 'The Crown'
From her Coronation gown to her colorful coats and everything in between.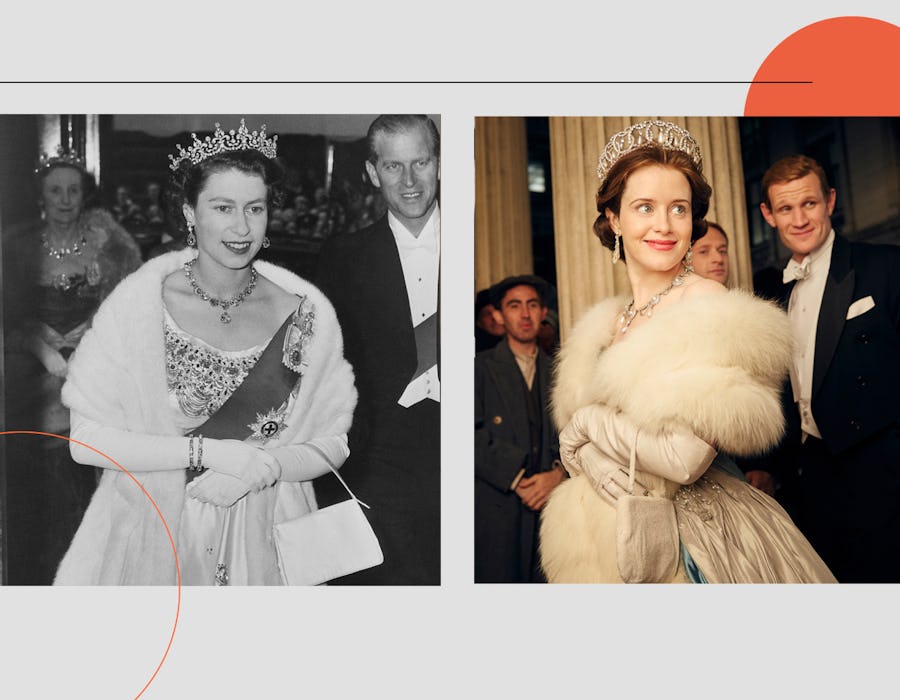 Getty Images. Netflix.
As Netflix prepares to premiere Season 4 of their hit series, The Crown, you can't help but look back at the royal fashion displayed in the previous three showings, worn by 2 separate actresses playing Queen Elizabeth II. Claire Foy took the helm for the first two, and Olivia Coleman for the third and impending fourth seasons. Throughout, there have been massive amounts of truly jaw-dropping jewels, but also full looks that are nearly indistinguishable from their originals.
With an eye toward authenticity, The Crown costume designers recreated everything from the Queen's wedding and Coronation gowns to silk dresses, mink stoles, and colorful coats for her public appearances. Over the course of the series, there were three designers bringing this sartorial history to life: Jane Petrie for season one, Michele Clapton for season two, and Amy Roberts for seasons three and four.
Already, Roberts is nailing the recreation of Princess Diana's style, outfitting actress Emma Corrin in looks that are remarkably similar to those worn by the late royal IRL. She pays this same attention to detail to Queen Elizabeth's looks, creating replicas that are eerily reminiscent of the original.
Looking ahead toward the upcoming season, take a trip down memory lane and reminisce over the best Queen Elizabeth II looks portrayed on-screen by Foy and Coleman.