Sarah Hyland's 2-Part Curly Hair Regimen Is Pretty Brilliant
The actor shares her beauty product MVPs.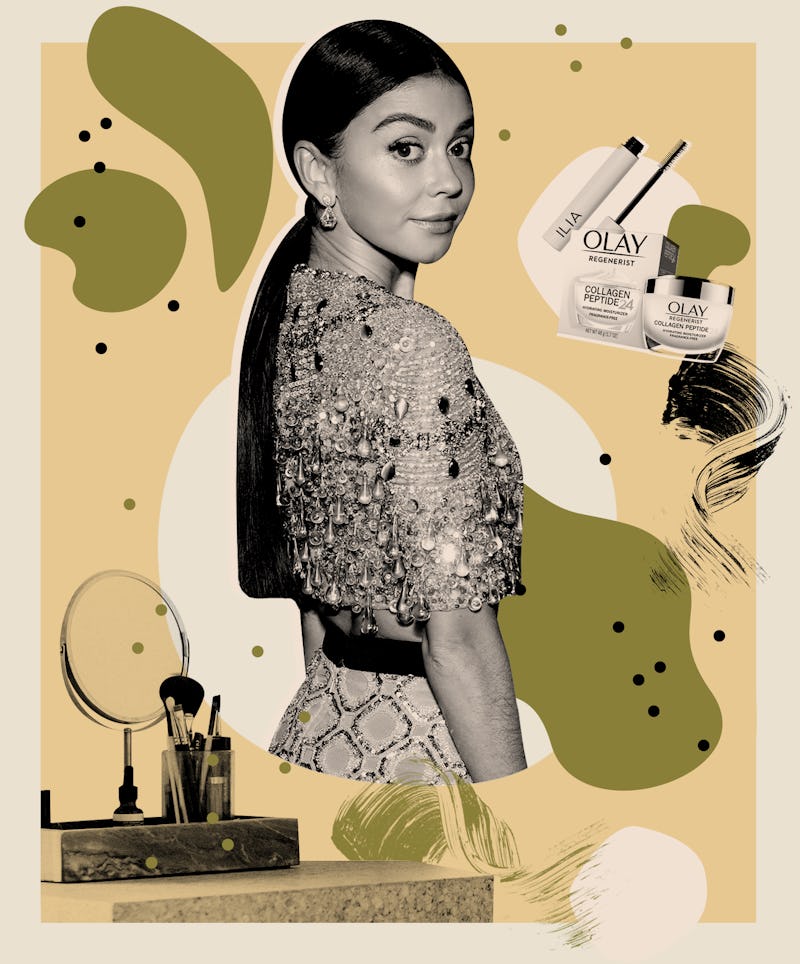 Rich Fury/CMT2020/Getty Images
In Bustle's Beauty Detail, we dive into the beauty bags of our favorite talents for intel on the rituals that keep them glowing and the MVPs (most valuable products) they can't live without. Here, Sarah Hyland tells Bustle about her favorite mascara, her curly hair styling secret, and the one skin care ingredient she started using this year.
Sarah Hyland just turned 30 this fall, which led to a skin care epiphany. "I just turned 30, so I was like, I need to get some retinol in my life," she tells me over the phone. "I definitely let go of my beauty routine at the start of quarantine just because I got really lazy, but then I was like, 'Wait, what am I doing? My skin is so dry, I'm starting to see wrinkles... this is crazy.' I realized I needed to get my sh*t together."
That's not to say the Modern Family star went from zero to a 12-step-skin care routine overnight. Hyland says she's all about using beauty products that pack a punch and tackle various concerns in just one bottle. "I stick to products that get more done, so you don't have to use a bunch of different products to get the look you want or the skin texture you want," she says. "I like just relying on a handful so [my routine] is super easy and fast." Hence, she turned to retinol, aka one of the most science-backed ingredients that does everything from fade dark spots to smooth fine lines.
As for the exact one she uses? Hyland loves the Olay Retinol 24 Night Serum, which she discovered through her partnership with the brand. Luckily enough, she's recently joined forces with them again as they introduce their new collagen and peptide line, which features a moisturizer that's become her newfound obsession. "It's amazing to put that on at night and let it do its work. My favorite type of work is done when I'm sleeping," she says of the serum and face cream combo.
Despite Hyland's affinity for a streamlined beauty regimen, she admits she has random bouts of drawn-out spa sessions in her bathroom. "There are days where I spend like 45 minutes just staring at my face and putting stuff on it," she says. Her overall approach to her routine? "I'm really about self-love and self-care. Um, and water," Hyland laughs, making a clear nod to the all-too-common claim many celebs make about how hydration is their secret for glowing skin.