The 14 Best Korean Beauty Products For Dry Skin
We only recommend products we love and that we think you will, too. We may receive a portion of sales from products purchased from this article, which was written by our Commerce team.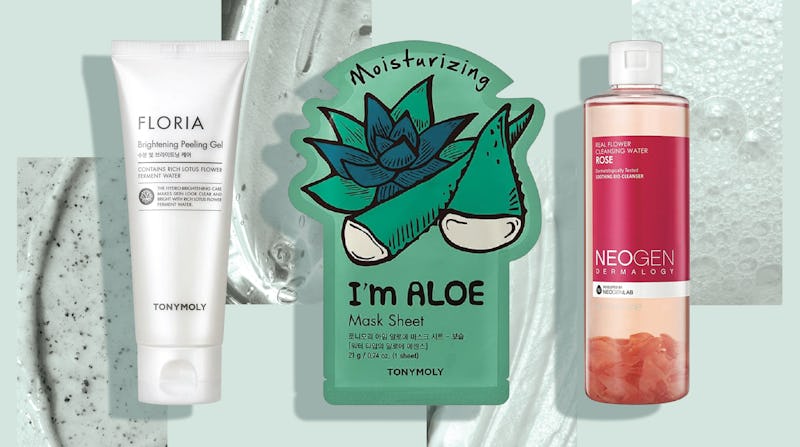 Bustle / Amazon
Many things could be contributing to your dry skin — a weakened barrier, hormonal changes, the weather, or even dehydration have all been known to cause dryness. Korean beauty, however, has pretty much taken an oath to knock out dry skin one scaly patch at a time. The best Korean skin-care products for dry skin aim to improve your skin's barrier function, so it can do a better job of keeping moisture in and irritants out, provide an instant boost of hydration and bounciness, and leave a thin, protective layer on the skin — think of this like a moat around the fortress that your skin's own barrier is meant to be.
You've probably heard about the 10-step Korean skin-care routine, and I won't blame you if that feels too much for you. But the reasoning behind this extensive regimen is that Korean beauty products are designed to work best when you layer them. And, you don't have to start using 10 products to see more hydrated skin, layering just a few of the right skin care products works amazingly well for treating dry skin.
Layering your skin care might sound like tricky business but is actually quite simple — you always want to apply your products from thinnest to thickest. To illustrate this a bit, imagine if you applied your night cream before your serum. Your serum might be filled to the brim with skin-loving ingredients, but it will have to make it through a hearty, viscous layer of cream before those ingredients even have a chance to reach your skin. But, if you apply your serum first, your night cream actually helps seal in your serum, preventing it from evaporating while you sleep.
While layering products is what gives Korean beauty routines their edge, this technique will be much more effective if you choose the right Korean beauty products for dry skin. After all, skin care is all about customizing a routine that works best for your skin's individual needs — and these 13 hydrating Korean skin care products are a great place to begin!
This article was originally published on