The 3 Best Foot Creams For Cracked Heels
We only recommend products we love and that we think you will, too. We may receive a portion of sales from products purchased from this article, which was written by our Commerce team.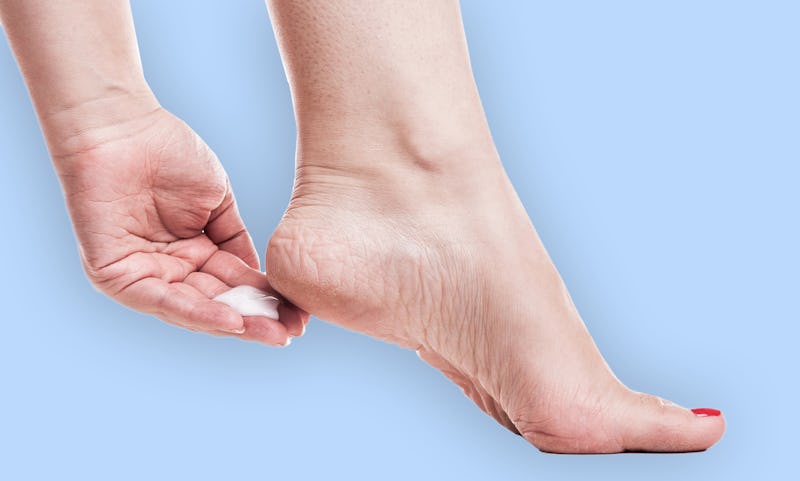 footlia/Ivan Traimak
Dry, cracked heels, are typically not a serious aliment, but when they go untreated they can start to become uncomfortable and even painful. Luckily, the best foot creams for cracked heels work by moisturizing your feet and creating a barrier to help prevent future moisture loss. By incorporating foot cream into your skin care routine, you can help heal your skin and reduce the appearance of painful, fissured heels.
However, foot creams are not all alike. Ingredients can vary from product to product and have a big impact on the item's overall effectiveness. Some formulas utilize high concentrations of humectants, like glycerin and allantoin, to attract and lock in moisture, while others use the derm-favorite ingredient urea to promote smoother, softer skin. Products with those ingredients will be particularly effective.
You may also want to consider a foot cream that harnesses botanically derived ingredients, like tea tree and peppermint oils, to refresh and pamper your feet naturally. And if you're dealing with extra-dry skin on the sole of your foot in addition to cracked heels, an exfoliating cream that removes dead skin from your feet might be the best option for you.
But that's a lot to consider. So, without further ado, here are the absolute best foot creams for dry, cracked heels, so you can say goodbye to painful feet for good.
Still looking for answers? We've got you covered.
What is the fastest way to heal cracked heels?
If you're one of 20% of adults in the US who experience cracked heels, it can be easy to want a quick fix. The best approach, however, is a multi-faceted one that you stick to over time. If you want to heal your cracks more quickly, you might want to use a few products. Find a foot cream or heel balm that you love, then pair that with moisturizing socks you can wear at night, and try to choose shoes that will protect your heels during the day.
Why do I get cracks on my heels?
Your heels are more likely to crack when the skin is not only dry, but is also put under pressure. According to the Mayo Clinic, there are a few additional factors that can make you more likely to get cracked heels, including wearing shoes that expose your heels (like sandals) and cold, dry winter weather.
What can I put on cracked heels?
There are a number of good remedies for cracked heels, and to some extent, it comes down to preference. Rich, thick moisturizers are always a good choice, while exfoliators can help slough away dead skin. Whatever you choose, it's important to stick to a routine and moisturize often to combat cracked heels.
This article was originally published on