The Best Probiotic Moisturizers, According To A Dermatologist
We only recommend products we love and that we think you will, too. We may receive a portion of sales from products purchased from this article, which was written by our Commerce team.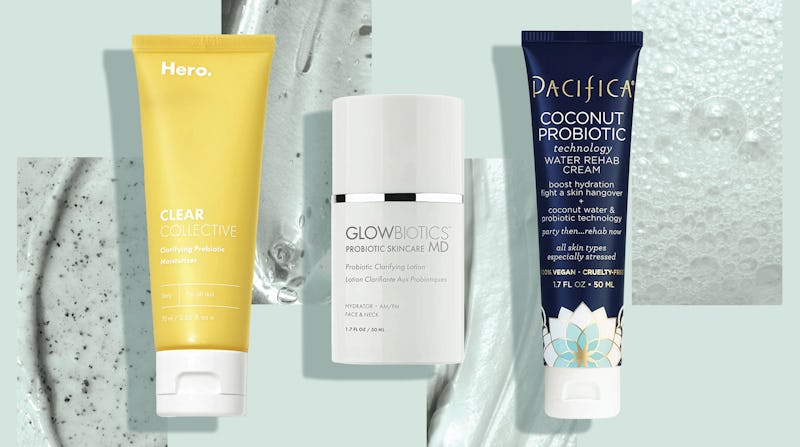 Bustle/Amazon
Whether you think the concept is cool or gross, bacteria in skin care products are so beneficial for your skin, for the same reason that the bacteria in fermented foods (like kombucha and kimchi) are beneficial for your gut. In both scenarios, probiotics swoop in to balance, diversify, and propagate the good bacteria already present in your body while warding off the bad. Not for nothing, applying topical probiotics can make your skin look glowier, bouncier, clearer, and — in the case of the best probiotic moisturizers in particular — feel deeply hydrated.
For a better understanding of probiotics' healing benefits, I spoke to Whitney Bowe, MD, a board-certified dermatologist and author of The Beauty of Dirty Skin: The Surprising Science of Looking and Feeling Radiant from the Inside Out. "We now know that our skin is covered with more than a trillion microscopic organisms," says Dr. Bowe. "When the balance of these microbes is off, something called 'dysbiosis,' we are prone to a number of inflammatory skin conditions including acne, rosacea, eczema and psoriasis. Not only is maintaining the delicate balance of these microbes critical to keeping inflammation in check, it also plays a key role in keeping skin healthy [and] hydrated."
Put simply, probiotics in skin care are microorganisms that mimic the functions of naturally occurring good bacteria already in your skin microbiome, thereby restoring that "delicate balance" Dr. Bowe talks about.
When looking for a probiotic moisturizer in particular, Dr. Bowe recommends not only seeking soothing and hydrating ingredients — like glycerin, hyaluronic acid, and squalane — but avoiding ingredients that "are potentially harming your microbiome, and undoing all the good that these ingredients might be doing for your skin health." For most people, that means steering clear of harsh surfactants like SLS (sodium laureth sulfate), drying alcohols, and topical antibacterials like triclosan, all of which can throw your microbiome out of whack.
The six best probiotic moisturizers here suit a range of skin types — including acne-prone skin and sensitive skin, both of which can especially benefit from probiotics' balancing effects — but they'll all give your skin the boost of hydration and bacteria it needs.
This article was originally published on