The 14 Best At-Home Chemical Peels, According To A Dermatologist
We only recommend products we love and that we think you will, too. We may receive a portion of sales from products purchased from this article, which was written by our Commerce team.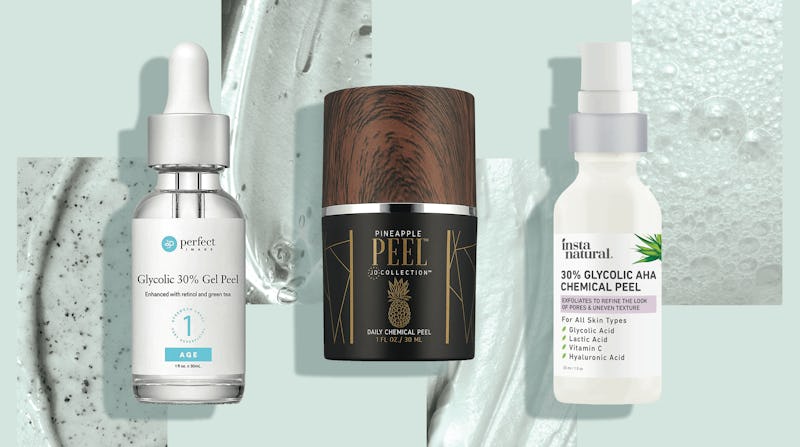 Amazon / Bustle
Designed to help shed dull layers of skin in favor of fresh skin cells, the chemical peel will rejuvenate your face and complexion — when used correctly. Luckily, the best at-home chemical peels are a fantastic way to reap the benefits of a chemical peel at an affordable price without needing to leave your home. So, we asked a dermatologist: What makes for a good at-home chemical peel?
Dr. Tsippora Shainhouse, a dermatologist in Beverly Hills, says when it comes to choosing an effective at-home chemical peel, stick to four ingredients:
"At-home peels are generally milder than professional-grade peels, but they do contain many of the same ingredients," says Dr. Shainhouse. She warns that an at-home peel is still a peel, and that they come with the risk of burns and irritation — especially if they aren't applied correctly or aren't suited for your particular skin type or condition.
Once the peel is off, protecting your freshly exfoliated skin is of the utmost importance. "Any peel will leave your skin more prone to UV damage and sunburn," cautions Dr. Shainhouse. She recommends using a mineral sunscreen with zinc oxide with at least SPF 30 for the week following your peel — since mineral formulas reduce the risk of irritation. She also recommends wearing a wide-brimmed sun protection hat for extra coverage.
Editor's note: Most experts advise you to consult with your dermatologist or doctor before attempting an at-home chemical peel. There are many potential side effects, some painful or dangerous, and someone versed in your personal skin needs will be able to help you find the best one for you.
The 14 best at-home chemical peels, below, each contain effective ingredients that leave skin brighter, clearer, and more even-toned. But, be sure to always read labels carefully and remove the peel immediately if you experience discomfort.
Still looking for answers? We've got you covered.
Can chemical peels be done at home?
While chemical peels can be done at home, you're at a much higher risk of painful or dangerous side effects without the supervision of a licensed dermatologist or dermatologic surgeon. So if you're doing an at-home chemical peel, you'll want to consult with your doctor or dermatologist first, and pay a lot of attention to the instructions of whatever at-home peel you use.
Beginners to at-home peels should perform a patch test on a small portion of their body not visible, waiting at least 48 hours to see how their skin reacts. Be sure to start slow. If you're new to peels, you'll want to leave the formula on your skin for less time (think seconds, not minutes), and space out when you perform your peels to give your skin plenty of time to heal.
What chemical peel is the strongest?
For the strongest chemical peels, you'll want to visit a dermatologist or dermatologic surgeon. Keep in mind, the strength of a chemical peel is reflected both by the percentage of active acids (AHA, BHA, lactic acid, etc.) in the formula, as well as the type of acids in the formula.
Word to the wise: The strongest chemical peels will be best for those who have tried gentler formulas first. Just because a chemical peel is stronger does not necessarily mean it will achieve your desired results better than a gentler peel. Your doctor or dermatologist can help you determine which peel is right for you.
How often should I get a chemical peel?
How often you can get a chemical peel depends on the strength of the formula, as well as your skin's reaction to it. For gentler peels, the American Academy of Dermatology (AAD) recommends waiting between two and five weeks in between peels. For medium-strength peels, the AAD recommends waiting between four and six weeks, so your skin can heal. Keep in mind, since reactions to chemical peels can vary widely, the best way to determine how often you should get a chemical peel is by consulting with your dermatologist.
This article was originally published on