The 7 Best Brushes For Frizzy Hair
We only recommend products we love and that we think you will, too. We may receive a portion of sales from products purchased from this article, which was written by our Commerce team.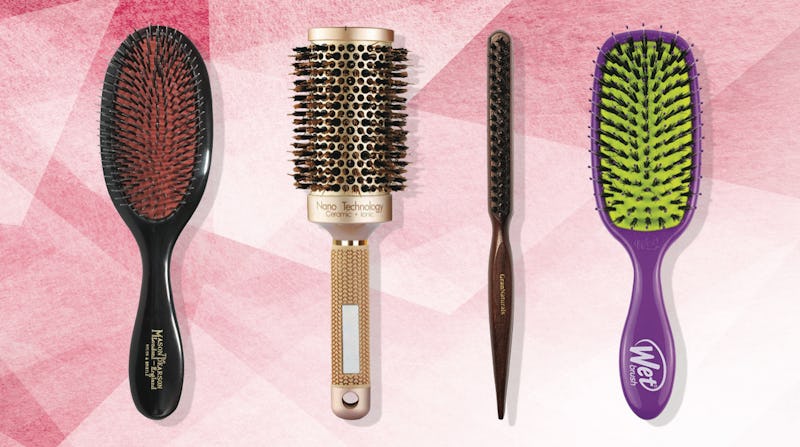 Bustle/Amazon
When you're trying to make your frizzy hair a bit smoother, the right brush can make all the difference. The best brushes for frizzy hair all have one key thing in common: They include both nylon and boar bristles to help restore moisture and enhance shine. Zeroing in on the proper shape and size to get, however, will depend on how you intend to use the brush, though some can serve multiple functions.
Bristles
Frizz is typically caused by a lack of moisture in your hair, and boar bristle brushes are considered to be one of the most reliable tools for combatting dryness. That's because, in addition to being gentle, they're basically the equivalent of a natural conditioning treatment since the bristles help redistribute the natural oils in your scalp throughout the rest of your 'do, so your hair is smoother and more moisturized. When boar bristles are combined with nylon, the brush head will offer a more solid grip for detangling frizzy hair with ease.
Brush Styles
The best brushes for frizzy hair can come in a number of styles, each of which has its own benefits. For daily brushing, look for a classic oval-shaped design with densely packed bristles that will glide through hair with ease.
The optimal teasing brush for those with frizz — for delicately combing back those baby hairs or creating definition at the edges — will have a similarly packed design, only the brush head will be much more narrow.
For blowdrying, a large paddle brush with a vented plate is great for smoothing and straightening out your hair, if that's the look you're going for. A round brush will also do wonders for a sleek blowout, but you'll get more bend and volume.
And though you typically want to avoid boar bristles when your hair is wet because they can cause breakage, there are now specially designed brushes for use on both wet and dry hair.
Shop The Best Brushes For Frizzy Hair
In a hurry? These are the best brushes for frizzy hair:
1. The Overall Best: Mason Pearson Handy Mixed Bristle Brush
2. A More Affordable Alternative: MISEL Professional Detangling Hair Brush
3. The Best Round Brush For Frizzy Hair: Care Me Round Brush
4. The Best Dual-Sided Edge Brush For Frizzy Hair: Camryn's BFF Gentle Edges Brush
5. The Best Paddle Brush For Frizzy Hair: Osensia Flexi Brush
6. The Best Wet Brush For Frizzy Hair: Wet Brush Shine Enhancer Hair Brush
7. The Best Teasing Brush For Frizzy Hair: GranNaturals Boar & Nylon Bristle Teasing Brush
With these considerations in mind, scroll on to find your perfect hair brush match.
This article was originally published on