What You Need To Do To Slow Your Hair Loss, According To Experts
We only recommend products we love and that we think you will, too. We may receive a portion of sales from products purchased from this article, which was written by our Commerce team.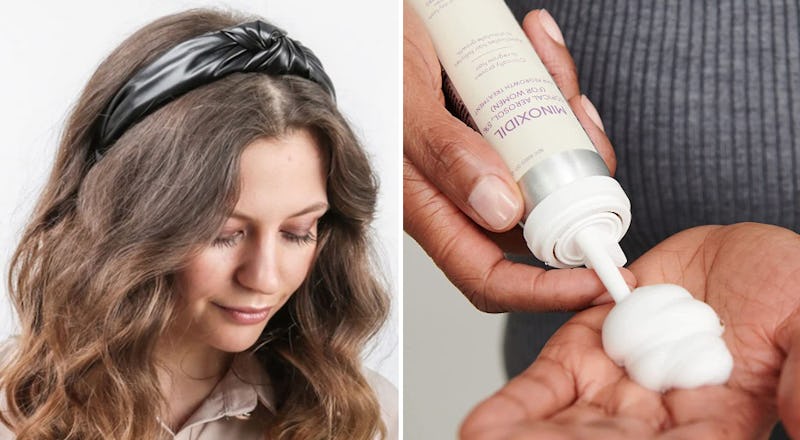 Amazon
When it comes to effectively slowing hair loss, there's a lot of advice out there, so it can be difficult to separate the helpful tips from the not-so-effective ones. In order to help you find a hair-growth regimen that works for you, Bustle reached out to the following experts: Angie Seelal, PA-C at Advanced Dermatology PC; Shelly Aguirre, stylist at Maxine Salon in Chicago; Hadley King, MD and board-certified dermatologist, and Dominick Pucciarello, a celebrity hairstylist. And according to these experts, hair loss prevention is as much about the things you shouldn't do as it is the things you should.
Of course, you can opt for topical solutions (usually oils, serums, shampoos, or medicated treatments) that promote new hair growth. You can also stimulate the scalp with gentle brushes or massagers. That said, new growth takes time; according to Dr. King, "Because of the hair growth cycle, any effects on hair growth may take 6 months to show up," so you'll need to be patient.
In the meantime, it's a good idea to implement habits that minimize unnecessary stress on the hair you currently have. Whenever possible, cut out products or habits that cause friction, pulling, or breakage. That could mean protective hair products when you're heat styling it or opting for air-drying your hair altogether, or it could mean switching to gentler, silkier materials for your hair ties, sheets, headbands, and towels.
Scroll on for expert-sourced tips to prevent hair loss, as well as the products (both direct recommendations and reviewer favorites) that help you implement them into your own hair-growth regimen.
Experts:
Angie Seelal, PA-C at Advanced Dermatology PC
Shelly Aguirre, stylist at Maxine Salon in Chicago
Hadley King, MD and board-certified dermatologist
Dominick Pucciarello, celebrity hairstylist