Pandora Is Releasing 3 New Mandalorian Charms – EXCLUSIVE
The new, limited-edition line uses black ruthenium plating for the first time in Pandora's history.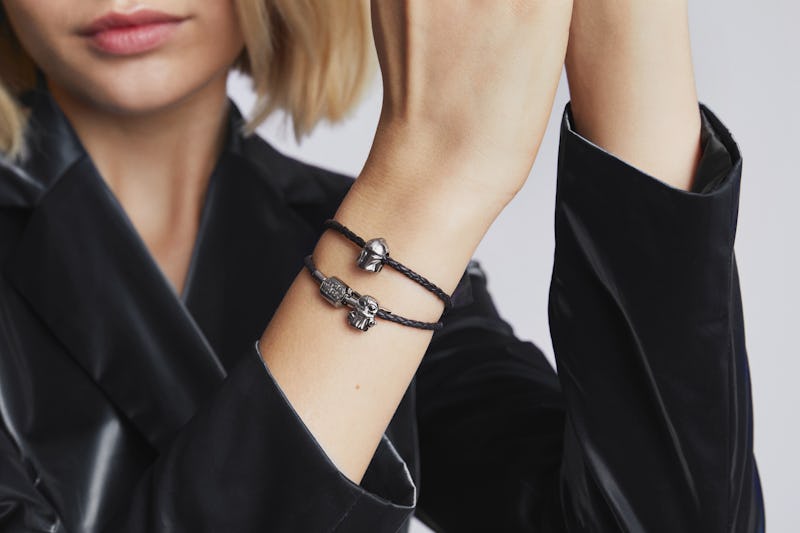 Pandora
Pandora jewellery is known for its brilliant collaborations. Some of the most exciting in recent years were its Disney collab, which flew off the shelves in no time, and its Harry Potter collection, which millennials went wild over. In October last year, the brand treated customers to a Star Wars jewellery collection (featuring charms of Darth Vader, baby Yoda, C3PO, and Chewbacca) and now they've kicked things up a notch with three new pieces that pay tribute to Disney+'s much-loved spin off, The Mandalorian.
The new, limited-edition line includes two charms and one bracelet, each of which feature black ruthenium plating for the first time in Pandora's history. The brand's VP Creative Directors Francesco Terzo and A. Filippo Ficarelli have said they chose to go with this unique silvery-black finish as they felt it represented "the balance of the dark and light side that defines the Star Wars stories and reflects the idea that we all have many sides."
The two new charms – one of Grogu (AKA Baby Yoda) and one of the Mandalorian helmet – are intricately decorated. The underside of the helmet charm, for example, has been engraved with "This is the way," which fans of The Mandalorian will recognise instantly.
The three new pieces will be available on Pandora's website from tomorrow (November 11, 2021) and range in price from £55 to £60.
The original collection that debuted in October 2020 is also still available to buy online at Pandora, and features a bracelet, charms, and a collector's item featuring beloved Star Wars characters and symbols. The charms range in price from £35 to £65 and are made from 71% recycled materials.
Pandora has said that they worked closely with Lucasfilm to ensure the pieces were designed perfectly, for "style-driven jewellery that is ideal for Star Wars fans to show off their fandom." Whether you pledge allegiance to the Jedis or lean towards the dark side, there's something for everyone in this 12-piece collection.
Speaking about the original collection back in October 2020, Stephen Fairchild, Pandora's Chief Creative Officer, commented: "We're honoured to bring Star Wars to life through jewellery. The Star Wars galaxy is one of extraordinary imagination, richly-detailed characters and creatures, and incredible adventures – a perfect fit for Pandora. There's nothing we love more than helping our fans tap into their favourite stories and worlds, so we can't wait to see how they'll express their passion through these artfully stylish accessories."
If the force compels you to purchase these beauties, then you can check out shop the items on the Pandora website.
Additional reporting from Rebecca Fearn.
This article was originally published on