5 Women On The Beauty Treatments They're Most Excited To Get After Months Of Staying At Home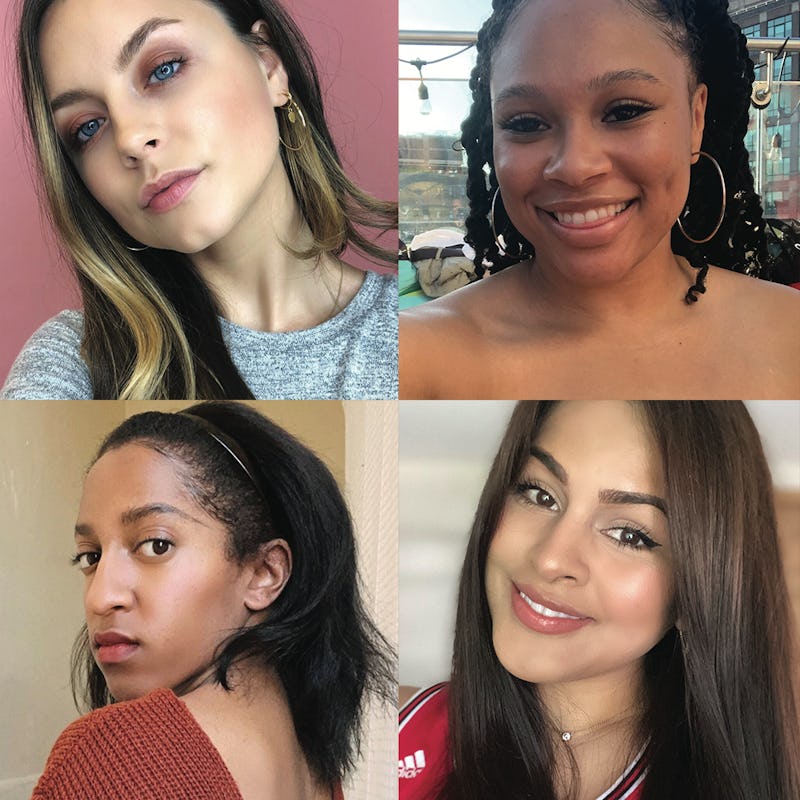 After several months of being at home, people are seriously starting to miss the things we humans tend to take for granted in life. We're talking carefree morning coffee runs, workout classes, weekend brunches with friends, and of course, all of the beloved beauty treatments we're used to getting done on a fairly regular basis. Most of us haven't stepped foot in a hair or nail salon — let alone a dermatologist's office or waxing center — since early spring, and it hasn't been easy. And not just for seemingly superficial reasons, either. We sorely miss our trusted stylists, aestheticians, and technicians, many of whom we've built real bonds with over the years. We also crave the unapologetic self-care aspect of beauty treatments and that blissful feeling of treating ourselves "just because."
With this in mind, Bustle teamed up with Restylane Kysse to share the beauty treatments four women are most eager to get once they've got the green light and it feels safe. Not only are these women's revelations a reminder that we're all in this together, but hey, they might just inspire you to try a new treatment you've never experienced before.
Shyema
"I really miss getting laser hair removal. I used to get waxed regularly but decided to invest in laser treatment for the long haul. It's cut down my shaving time tremendously and leaves my skin so smooth. I was only halfway through my package when the pandemic started, and I'm trying not to wax in between, so I've been patiently waiting. Now that it's summer, I'm feeling even more eager to get back to it."
Kaleigh
"While I've never been one to get lip filler on a regular basis, the newest FDA-approved lip filler, Restylane Kysse has me re-thinking things. The hyaluronic-acid-based injectable was designed specifically for the lips with XpresHAn Technology, which melds into the lips for a natural look and feel. The innovative formula not only softens vertical lip lines and fine lines lingering on the edge of the upper lip, but it also offers a slightly plumper appearance. That makes it a great option for anyone like me, who's more of a beginner when it comes to aesthetic injectables. The best part? The results can last up to a full year. Needless to say, I can't wait to try it out for myself once I get the go-ahead from my dermatologist."*
Yendi
"Although I have become quite the expert when it comes to using the flat iron, I still cannot wait to be able to get a silk press done by a professional again. A silk press is essentially a very thorough hair-straightening process created only with heat, and I love the results. Experimenting with styling has been fun, but avoiding heat damage has definitely been tough this summer."
Teryn
"After being stuck at home for so long, I'm really looking forward to finally getting a good massage. Working out four to six days a week makes me pretty sore, so getting massages not only helps ease the tension in my muscles by getting a good stretch in, but it's also a great form of self-care that always leaves me feeling relaxed."
Irma
"I can't wait to treat myself to a professional facial (once it's safe, again!). I've been religiously keeping up with my 5-step skin-care routine over the last few months, and I try to incorporate a weekly chemical peel. However, nothing compares to spa-grade facial. Not only does it make my skin feel amazing, but it's also a real self-care moment."
*References:
Restylane Kysse. Instructions for Use. Galderma Laboratories, L.P., 2020.
Data file. Fort Worth, TX: Galderma Laboratories, L.P.
Segura S, Anthonioz L, Fuchez F, Herbage B. A complete range of hyaluronic acid filler with distinctive physical properties specifically designed for optimal tissue adaptations. J Drugs Dermatol. 2012;11(suppl 1):s5-s8.
Philipp-Dormston WG, Wong C, Schuster B, Larsson M, Podda M. Evaluating perceived naturalness of facial expression after fillers to the nasolabial folds and lower face with standardized video and photography. Dermatol Surg. 2018;44(6):826-832.
Hilton S, Sattler G, Berg AK, Samuelson U, Wong C. Randomized, evaluator-blinded study comparing safety and effect of two hyaluronic acid gels for lips enhancement. Dermatol Surg. 2018;44:261-269.
Important Safety Information
Indication: Restylane® Kysse is indicated for injection into the lips for lip augmentation and for correction of upper perioral rhytids in patients over the age of 21.
Restylane Kysse contains traces of gram-positive bacterial protein and is contraindicated for patients with allergies to such material or for patients with severe allergies that have required in-hospital treatment. Restylane Kysse should not be used by patients with bleeding disorders, with hypersensitivity to amide-type local anesthetics, such as lidocaine, or by women who are pregnant or breastfeeding.
Use of Restylane Kysse at the site of skin sores, pimples, rashes, hives, cysts, or infection should be postponed until healing is complete. The most commonly observed side effects are swelling, tenderness, bruising, pain, and redness at the injection site. These are typically mild in severity and usually resolve within 7 days after treatment. Serious but rare side effects include delayed onset infections, recurrence of herpetic eruptions, and superficial necrosis and scarring at the injection site. Do not implant into blood vessels. Use with caution in patients recently treated with anticoagulant or platelet inhibitors to avoid bleeding and bruising.
Treatment volume should be limited to 1.5 mL per lip per treatment and 1.0 mL for upper perioral rhytid correction, as greater amounts significantly increase moderate and severe injection site reactions. The safety or effectiveness of treatment in areas other than lips and upper perioral rhytids has not been established in controlled clinical studies.
Restylane Kysse is only available through a licensed practitioner. Complete Instructions for Use are available at www.RestylaneKysse.com.
This post is sponsored by Restylane® Kysse .