23 Little Ways To Improve Your Relationship, According To Experts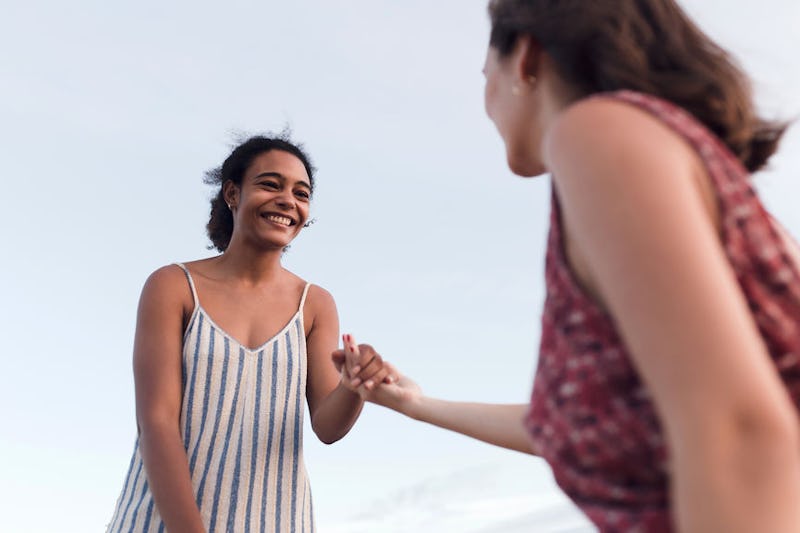 Lucas Ottone/Stocksy
No matter how strong your connection is as a couple, maintaining that spark is crucial. Without ongoing effort, you and your partner might eventually find yourselves stuck in a loop of recurring problems, or living in a boring routine that winds up driving you apart. But all of that can be prevented if you look for little ways to improve your relationship, every day.
"A healthy relationship is one based in trust and security, [which is why] small gestures are a great way to keep these two things strong," Dr. Kristie Overstreet, a relationship expert and certified sex therapist, tells Bustle. Unlike grand, sweeping gestures that happen once a year, frequent, small moments of love show that you're always prioritizing each other.
It's often in the seemingly insignificant moments that you feel closest. "For example, during the workday, checking in with your partner, sending them an emoji, or taking a few minutes to chat," Overstreet says.
Continuously making an effort also means you get to create the type of relationship you want, Jeni Woodfin, LMFT, a licensed marriage and family therapist, tells Bustle. They offer the chance to be intentional every day, instead of letting your relationship happen to you, over time.
If you want to stay happy and connected, remember it's the little shifts — the small moments — that make the biggest difference. Here are 23 ways to make your relationship stronger, according to experts.
Even if you've been together for a long time, there are always new ways to make your relationship stronger and bring you closer together — so you can both feel happy, supported, and ready for the future.
Experts:
Dr. Kristie Overstreet, relationship expert and certified sex therapist
Jeni Woodfin, LMFT, licensed marriage and family therapist
Deborah E. Dyer, PhD, psychologist
Sameera Sullivan, psychologist
Beverley Andre, LMFT, licensed marriage and family therapist
Michelle Gallant, relationship and dating coach
Susan Trombetti, matchmaker
Dr. Jennifer B. Rhodes, licensed psychologist
Tiffany Toombs, relationship expert
Kate Ecke, LCSW, licensed clinical social worker
Jennifer Weaver-Breitenbecher MA, CAGS, LMHC, psychotherapist
Tracy K. Ross, LCSW, couples therapist
Tyra Berger, MSMFT, LCPC, licensed clinical professional counselor
Dr. Erika Martinez, licensed psychologist
Aimee Hartstein, LCSW, relationship therapist
Joshua Klapow, PhD, clinical psychologist
This article was originally published on