An OB/GYN On The Vaginal Exercises That Will Transform Your Sex Life
A whole new muscle to flex.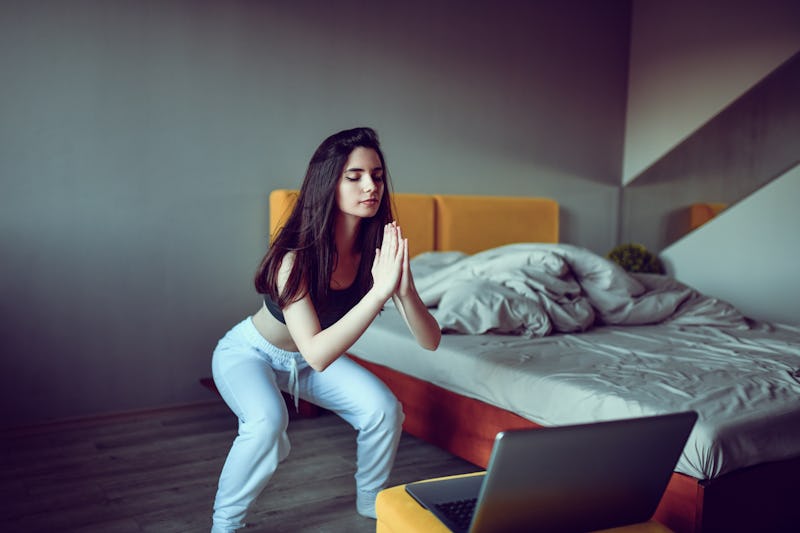 AleksandarGeorgiev/E+/Getty Images
Even if you aren't the biggest fan of exercise, it probably won't take much convincing to give your vagina a workout. Not only does it feel good to pay attention to this area of your body by making little moves throughout the day, but it can also improve your sex life too.
To "work out" your vagina, what you'll really be doing is focusing on your pelvic floor muscles. "Your pelvis is home to muscles and ligaments, forming a stretchy structure for your reproductive system, urinary organs, and the lower portion of your digestive tract," Dr. Sarah de la Torre, an OB/GYN at Joylux, tells Bustle. "While it may seem complicated, it really is just a system of muscles that act as a hammock to support your pelvic organs."
Exercising this area will give you more muscle control, which can play a role in having stronger orgasms and feeling more confident. However, you won't want to get too hung up on the idea that having a "tight" vagina is somehow necessary or better.
"When people talk about vaginal tightness, they're often talking about feelings of snugness during penetration (for both the vagina and the inserted object/body part)," Dr. Jess O'Reilly, a relationship therapist and resident sexologist for ASTROGLIDE, tells Bustle. "However, tighter is not always better when it comes to pleasure or orgasm."
Sometimes tightness can be uncomfortable — even painful — so you'll want to check with your doctor if that's the case. "Instead of worrying about how 'tight' your vagina is," O'Reilly says, "consider what feels good for you. What types of touch turn you on? What fantasies get you going? What types of connection are erotically arousing?"
With that in mind, here are a few exercises that might be fun to try.
Experts:
Dr. Sarah de la Torre, OB/GYN
Dr. Jess O'Reilly, relationship therapist and sexologist
Nicole Brodie, pre-pregnancy fitness expert
This article was originally published on