4 Vitamin & Mineral Deficiencies That Can Mess With Your Sleep
You don't have to be tired all the time.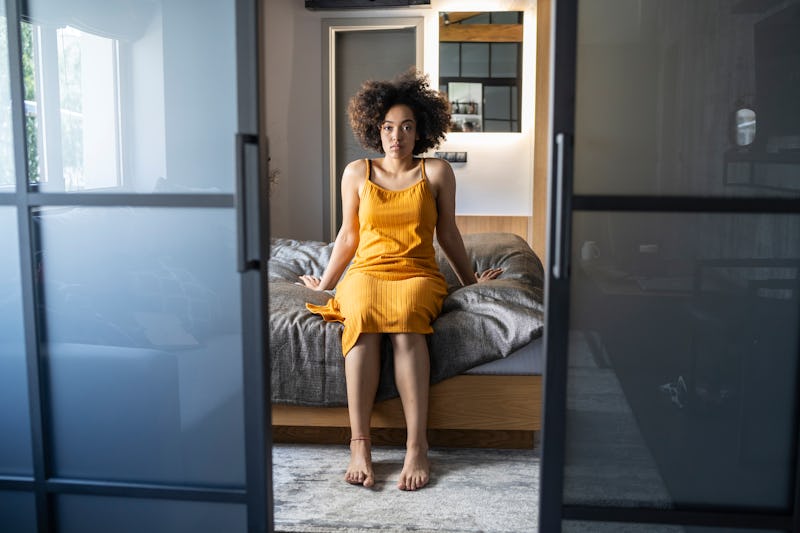 Vladimir Vladimirov/E+/Getty Images
Sleep is crucial for your physical and mental health, but many factors, both internal and external, can impact how well you sleep at night. For one? Vitamins. You probably didn't know that vitamin and mineral deficiencies can be linked to insomnia, but the relationship between vitamins and sleep is complicated.
"Nutrients are the building blocks of calming neurotransmitters that help our brains settle down, so not getting enough of those key nutrients can make it difficult to get really solid sleep," Robin Foroutan RDN, a registered dietitian, tells Bustle.
The body needs a wide variety of vitamins and minerals to function properly. You get them from your diet, the environment, and your body's own internal processes.Having a vitamin or mineral deficiency can cause different health issues, with sleep problems as a side effect, but supplements aren't always the way to go. It's worth getting a full health check to see if the issue is that you're not getting enough of a sleep-enhancing vitamin, or if your body isn't processing that vitamin correctly (or, you know, if your sleep issue is something else entirely). Your doctor can confirm many potential deficiencies through a blood test, and then work with you to find a treatment plan to combat any symptoms, including poor sleep.
Here are four vitamins and minerals that are linked to sleeping badly.
The key thing to remember with vitamin deficiencies is that they might not be treated with supplements alone; the deficiency could be caused by your body not absorbing the vitamin properly, or other reasons. It's best to check in with your doctor if you're having trouble sleeping and think vitamins and minerals might be the cause.
Experts:
Robin Foroutan RDN
Shana Minei Spence RDN CDN
Studies cited:
Gao, Q., Kou, T., Zhuang, B., Ren, Y., Dong, X., & Wang, Q. (2018). The Association between Vitamin D Deficiency and Sleep Disorders: A Systematic Review and Meta-Analysis. Nutrients, 10(10), 1395. https://doi.org/10.3390/nu10101395
Ji, X., Grandner, M. A., & Liu, J. (2017). The relationship between micronutrient status and sleep patterns: a systematic review. Public health nutrition, 20(4), 687–701. https://doi.org/10.1017/S1368980016002603
Lichstein, K. L., Payne, K. L., Soeffing, J. P., Heith Durrence, H., Taylor, D. J., Riedel, B. W., & Bush, A. J. (2007). Vitamins and sleep: an exploratory study. Sleep medicine, 9(1), 27–32. https://doi.org/10.1016/j.sleep.2006.12.009
McCarty, D. E., Reddy, A., Keigley, Q., Kim, P. Y., & Marino, A. A. (2012). Vitamin D, race, and excessive daytime sleepiness. Journal of clinical sleep medicine : JCSM : official publication of the American Academy of Sleep Medicine, 8(6), 693–697. https://doi.org/10.5664/jcsm.2266
Pereira, N., Naufel, M. F., Ribeiro, E. B., Tufik, S., & Hachul, H. (2020). Influence of Dietary Sources of Melatonin on Sleep Quality: A Review. Journal of food science, 85(1), 5–13. https://doi.org/10.1111/1750-3841.14952
This article was originally published on