Adidas & Muslim Hikers Have Teamed Up For Ramadan
The collab is making the outdoors more inclusive.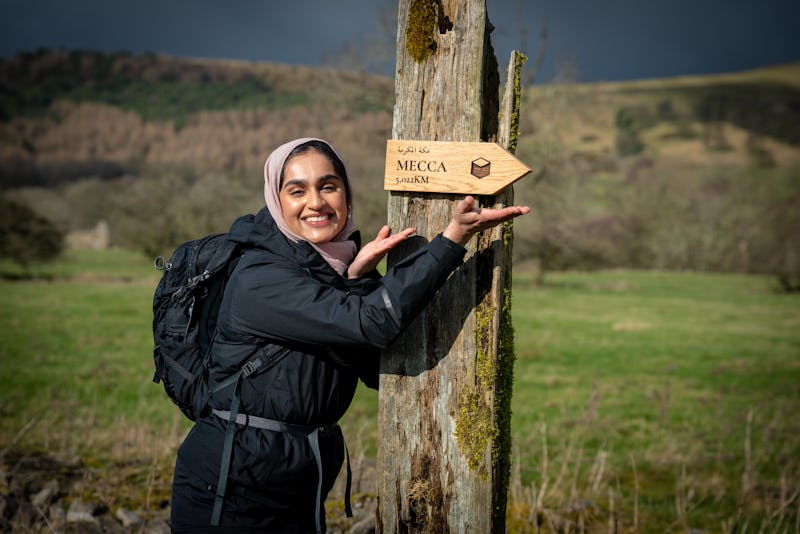 Adidas
Like many things in our society, the outdoors is not equally accessible to all communities. In fact, according to research by Campaign to Protect Rural England, only 1% of visitors to UK national parks come from "Black & Minority Ethnic" backgrounds. And that's where Muslim Hikers come in. Founded by Haroon Mota, Muslim Hikers sets out to inspire and empower Muslims to get outdoors through organised hikes and events. And now, its partnered with Adidas and Wiggle ahead of the Muslim holy month of Ramadan to continue its mission.
This collaboration is all about removing barriers for Muslims who want to engage with the outdoors but perhaps haven't felt able to. It has involved the creation of prayer mats that are designed to be both portable and withstand the outdoors. They have small pockets in all its corners so that heavy objects can be used to keep it flat when used for prayers, and then can be rolled up so that it can be put into bags and rucksacks when not needed.
Signs pointing towards Mecca have also been put up along the Peak District's most popular routes that will allow Muslims to easily identify in which direction to pray, as we pray five times a day in the direction of Mecca. But it also has a symbolic meaning, too — signalling that the outdoors is for everyone and not just the select few.
Speaking about the partnership with Adidas, Mota, the Muslim Hikers founder, said: "Working with Wiggle and adidas TERREX has allowed us to take a huge step in the right direction when it comes to promoting inclusivity in the outdoors. Everyone should feel empowered to get outside and enjoy nature, and the prayer mats and signs have made it easier for us within the Muslim community to do this without having to worry about the practicalities of prayer."