These Are The Best Apps For Finding A Threesome & You May Use Some Of Them Already
Finding a third or matching with a couple has never been so easy.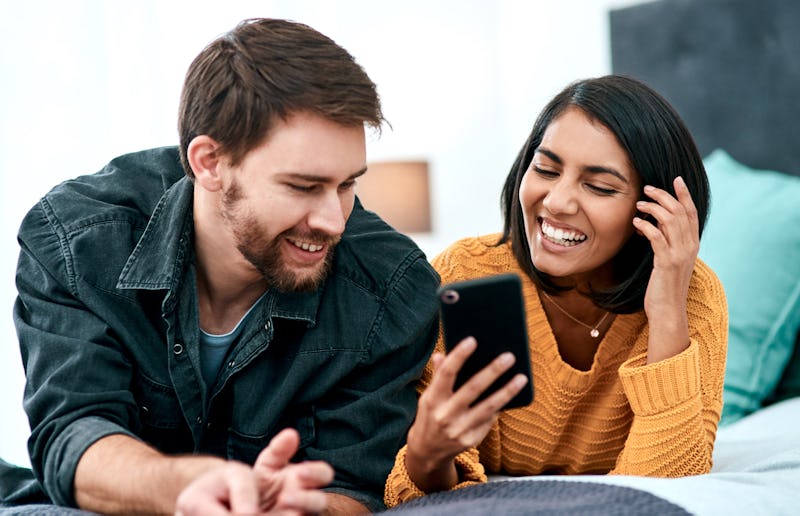 PeopleImages/E+/Getty Images
There seems to be a dating app for everyone, whether you're looking for something serious, a friends with benefits arrangement, or a casual hookup. There are even apps for threesomes — one of which you might already have on your phone. And for anyone interested in finding (or being) a third, that's really great news.
While it hasn't always been the case, conversations around sex and desire have really opened up over the past couple of years as people feel more empowered to explore what they like. In fact, according to Psychology Today, threesomes are one of the most popular sexual fantasies — and a 2020 study published in Archives of Sexual Behavior noted that the desire to have one only seems to increase with age.
If you've had a threesome, or are dreaming about having one, you aren't alone. However, as with any relationship, it's all about being clear about what you want from the beginning. Remember, no matter how casual the situation is for you, there are multiple people's feelings to consider.
With that in mind, learn more about these popular threesome apps, try them out — and have fun!
Whatever your kink, desire, or preference there will absolutely be someone out there who shares it with you. If you've never had one before, looking for a threesome can be really baffling and a little intimidating. But these apps make it super simple to start chatting with people near you who want the same thing.
Source:
Thompson, A. E., Cipriano, A. E., Kirkeby, K. M., Wilder, D., & Lehmiller, J. J. (2020). Exploring Variations in North American Adults' Attitudes, Interest, Experience, and Outcomes Related to Mixed-Gender Threesomes: A Replication and Extension. Archives of Sexual Behavior.
This article was originally published on