The 9 Most Challenging Glute Exercises You Can Do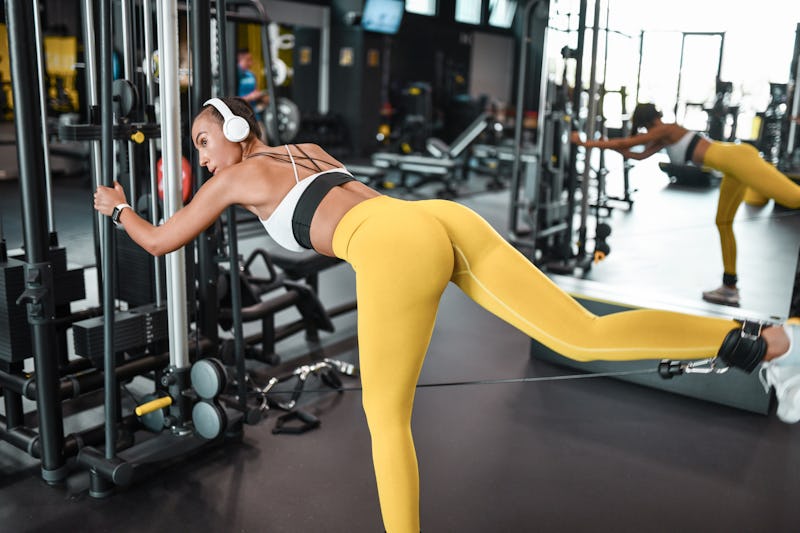 AleksandarGeorgiev/E+/Getty Images
When it comes to glute exercises, the simplest moves always do the trick. Squats, lunges, glute bridges — these OGs will never steer you wrong. But when you want to take things to the next level, that's when you can add extra weight into the mix or try more complicated movements to really bring the burn.
Some glute exercises feel harder than others depending on the resistance you use, says Brittany Bowman, a celebrity trainer based in Los Angeles. Add a little something like a light barbell or a band, and suddenly a simple squat feels tougher. Working unilaterally with a single leg is also harder than working bilaterally with both legs, Bowman says, so keep that in mind when choosing your moves.
To build your way up to challenging glute exercises, start with just your body weight. "Effectively working out is all about mastering form, so once you feel confident with your form using body weight, you can introduce things like bands and light dumbbells until you feel stronger and ready to move on to a new level of challenge," Bowman tells Bustle.
From there, each time you work your glutes, gradually increase the weight. "If doing a bodyweight exercise feels easy after 12 to 15 reps, try placing a 10 to 20-pound dumbbell on your hips," Bowman explains. "Once you get to a point where you are doing 12 reps easily and could continue past 12 with that weight, you are ready to increase the resistance to something more challenging that feels hard in the 10 to 12 rep range."
Ready to rock that peach? Keep scrolling for some of the most challenging glute exercises you can do, straight from the pros.
Studies referenced:
Eliassen, W. (2018). Comparison Of Bilateral And Unilateral Squat Exercises On Barbell Kinematics And Muscle Activation. Int J Sports Phys Ther. PMID: 30276019; PMCID: PMC6159498.
Sources:
Brittany Bowman, celebrity trainer based in Los Angeles
Amanda Brooks, running coach
Mary Sabat, ACE-certified personal trainer
Aaron Burgess, head coach at Built 180 Strong
Taylor Reyanne Sherak, fitness pro