The Church Of Scotland Votes To Allow Same-Sex Marriages
The historic ruling enables same-sex couples to marry in church services.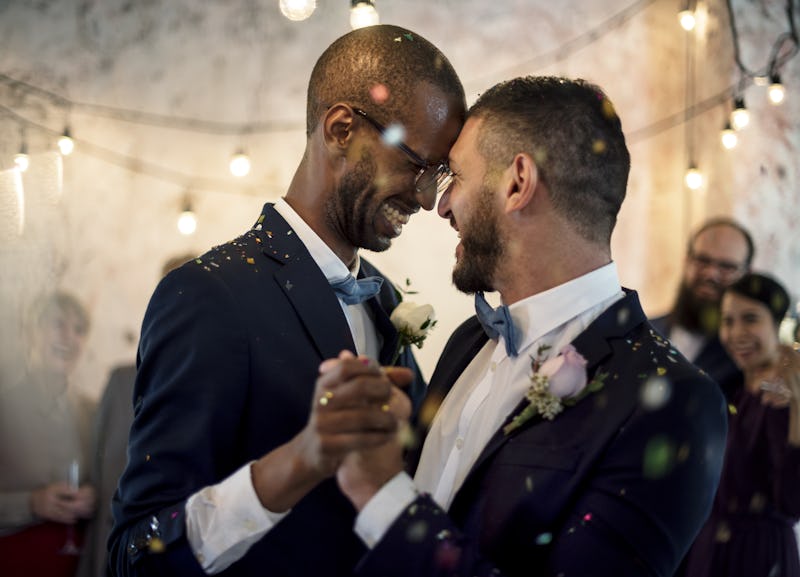 Shutterstock
The Church of Scotland has voted to allow same-sex couples to marry. As per the BBC, members of the General Assembly in Edinburgh voted in favour of changing the church law on Monday, May 23, with 274 votes for and 136 against. The historic ruling will enable same-sex couples to marry in church services conducted by ministers and deacons, who can apply to become celebrants of same-sex marriage. However, they will not be required to marry a same-sex couple if they choose not to.
Following the landmark vote, the moderator of the General Assembly, Rt Rev Dr. Iain Greenshields, described the Church of Scotland as "broad" with "diverse views on the subject of same-sex marriage among its members."
"There has been a lengthy, prayerful and in-depth discussion and debate about this topic for many years at all levels of the Church to find a solution that respects diversity and values the beliefs of all," he added in a statement.
Speaking to the Evening Standard, Reverend Craig Dobneyg of the Church of Scotland said he had witnessed firsthand the "heartbreak of those in same-sex relationships" who were previously "unable to marry in their home church." He continued, "To be married, in front of their church families, would mean everything to them but they were not able to do so."
Influential religious, political, and LGBTQ+ figures have welcomed the result of the General Assembly vote, including the openly-gay former leader of the Scottish Conservative Party, Ruth Davidson.
"Delighted to see that the general assembly of the Church of Scotland has voted for ministers to be able to conduct same-sex weddings," she wrote in a tweet.
As PinkNews notes, same-sex weddings conducted by the Church of Scotland have not been permitted until this vote, despite same-sex marriage being made legal in Scotland in 2014.
Meanwhile, the Church of England does not allow same-sex marriages. However, most English Anglicans now support same-sex marriage. In the Church of Wales, same-sex marriage is also not permitted, despite a vote in September 2021 that allowed "blessings" of same-sex unions.