2 Friends Reflect On The Opposite Ways They Handled The Pandemic
"I think I just said 'love you' back to your message. I didn't want to get political."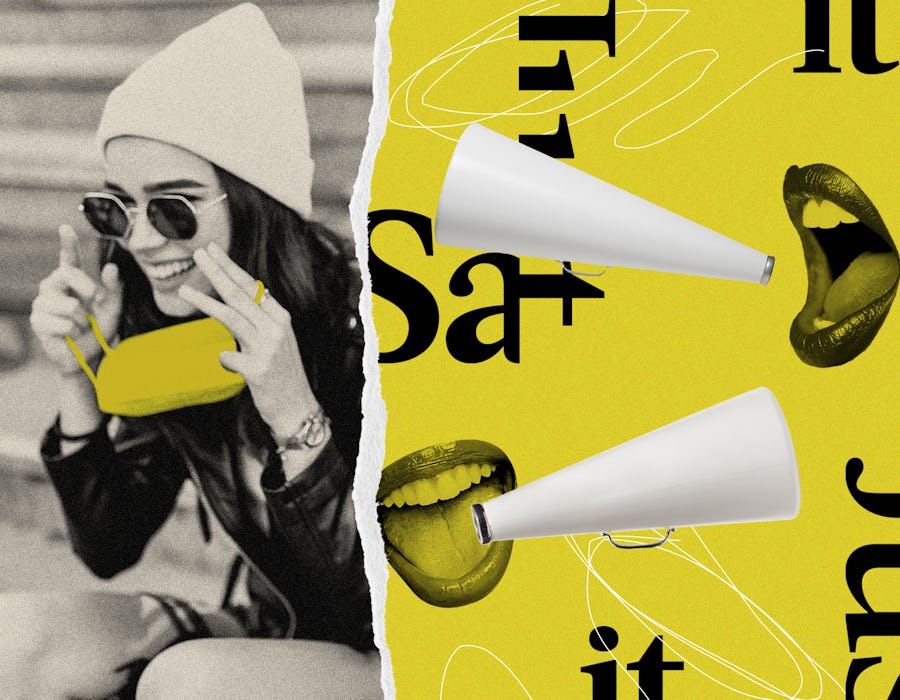 AleksandarGeorgiev, Holger Scheibe, Delmaine Donson, PM Images, DNY59/Getty
In "Just Say It," two friends, partners, or family members take us behind the scenes as they have a difficult conversation. Here, two friends discuss how their differing COVID habits have affected their friendship.
The Issue
Jamie Kurtzer, 22, a film producer, and Gigi Robinson, 22, a content creator and advocate for mental health and body image, have been friends for eight years. They went to high school together and grew closer while at college, Jamie in New Jersey and Gigi in Los Angeles. In 2020, the two were set to reunite in their hometown of New York City post-graduation. Then the pandemic hit — and the recent grads couldn't have handled quarantine more differently.
The Convo
Gigi: I've been inside, living at home for a year. When I moved back to New York at the start of the pandemic, I was having flare-ups with my chronic illness. It brought up a lot of old mental health and eating disorder patterns that I'd had in high school. Being a 22-year-old in the city, you're supposed to be going to bars, meeting new people, having these great life experiences. Being immunocompromised has prohibited me from doing all of that. I saw you twice over a year.
Jamie: For me, the pandemic was a smack in the face. I was in school, interning, going out with friends — and then it was suddenly all taken away. For the first two months, I was isolated in quarantine. It wasn't until the summer when I moved back to the city and slowly started having the same group of friends over on my outdoor patio where we were socially distanced. It was helpful in returning some sort of normalcy because I felt like I was losing all my social skills. I got to a point where I wasn't as worried for my own safety; I was more afraid of giving [COVID] to someone. It was important for my mental health to be around a few people and to get some sunshine and fresh air. We've got to find some balance, some normalcy while staying safe.
Gigi: That one time that I saw you and the girls this summer, after we went out to dinner and then to your patio, I nearly had an anxiety attack. You all were like, "Are you OK?" It was literally the first time that I'd seen any friends in the pandemic. I remember how many people were out in the East Village that day, and it gave me so much anxiety. I wore my mask but others didn't. I feel like I've developed a small bit of agoraphobia. As a 22-year-old, that's really challenging.
I've been out and about, but I've been careful and I haven't gotten COVID yet.
Jamie: I didn't know what to do because we were on my patio and we had friends there. I couldn't leave with you. I couldn't really do much except say, "You need to do whatever makes you most comfortable." We were sitting outside, and that to me was OK, but I could totally understand how — especially being out for the first time — you may have felt uncomfortable.
Gigi: I wish I could snap my fingers and COVID could go away — or everybody would just wear their godd*mn mask. I live in an apartment building in the Bronx and it says, "no entry unless wearing masks." But people come in every day without masks, and it's frustrating.
Jamie: I take the necessary precautions of wearing a mask. But it got to a point where the COVID police came out this summer. I was getting messages from people on Instagram that were like, "Why are you out? What are you doing?" And I was like, you do what you need to do, but I'm also living my life and being safe. I'm not going to stop my life entirely. I don't think people who are being extra cautious should be coming at others for their actions. I've been out and about, but I've been careful and I haven't gotten COVID yet. I just got a test two days ago.
Gigi: My mom's a health care worker, so she's in the hospital where they can have COVID outbreaks — and that's not something I can control. I'm trying to focus on the things that I can control. Luckily I've gotten my first vaccine now. Once I get my second, I'll feel more comfortable going out.
Jamie: Back to the party girl you are. We're grabbing margaritas.
Gigi: And if you want to go out, power to you. I'm not going to say, "That was really dumb of you." It's not my place to tell you that. You're living your life; I'm living mine and doing it safely. That's how people should react to this. The one place I would say something is if you're out not wearing a mask and it's on social media —
Jamie: You did message me one time. I was with two of our friends. I was literally just sending you a picture to be like, "We miss you" or whatever. I don't think I even put on social media. I texted you and you were like, "Masks?" And I was like, "I forgot."
Gigi: I'm forgetting when that was, but —
Jamie: This summer. I thought it was a little dramatic. It's kind of people to worry so much about my safety, but people messaging me don't necessarily know the situation — I could be living with this person who I'm next to. I think I just said "love you" back to your message. I didn't want to get political.
I think it was a lot of my anxiety doing the talking when I sent you that message.
Gigi: I don't remember the full interaction. But both of us know that at the end of the day, we're not going to create drama for no reason. We're already big personalities when we're together.
Jamie: We're powerhouses.
Gigi: I think it was a lot of my anxiety doing the talking when I sent you that message. I was like, "If I'm going to come actually out with the girls, can you be safe and wear a mask?"
Jamie: It's also hard; you're seeing your friends hanging out and you can't be there. It sucks. I would be angry too, in a way.
Gigi: There were definitely times this summer where I had FOMO. You guys were great about inviting me. But because of my chronic illness I was like, how much can I emotionally and physically take of hanging out and socializing before my body starts to fatigue me and give me a panic attack? It's helped me figure out my boundaries more, but I don't know what it's going to be like to have conversations with people in person and have nights out again. I know that the girls all love me, but there's only so many times they're going to ask me to come out when they know I'll say no.
Jamie: I don't think I could do what you are you're doing. I was quarantined for a long time and mentally, it's really difficult. I give you a lot of credit.
Gigi: In a way, [our differing COVID habits] make us even stronger because we've been able to still catch up — and your zest for going out has entertained me a lot. It's good to know that people are still out there doing their thing. I'm just doing mine — and it's in a modified way. This year has taught us to get close with and be more compassionate with the people we care about, even if they're doing things that we wouldn't do ourselves.
Jamie: I completely agree — it made us stronger. We're living in times where everything is black and white: You're Democrat, you're Republican. You wear a mask, you don't. But it's not as simple as that. You can have differing opinions and still be friends. We're doing our different things, but we both respect each other and we can still talk and hang out on FaceTime and other platforms. We don't have to be the exact same type of person to get along. You're somebody I can always speak to and doesn't take everything so d*mn seriously. Sometimes we use humor to deal with tough conversations.
Gigi: Ultimately COVID is a temporary thing. We coped this one year. It just comes down to respect. You're vegan. I used to not be vegan. I have been making the switch. I'm almost there, which I'm sure you're like —
Jamie: I had to put up with you. That was huge.
This interview has been edited and condensed for clarity.