5 COVID-19 Testing Myths, Debunked By A Doctor On The Frontlines
Your results are only accurate to the moment you got swabbed.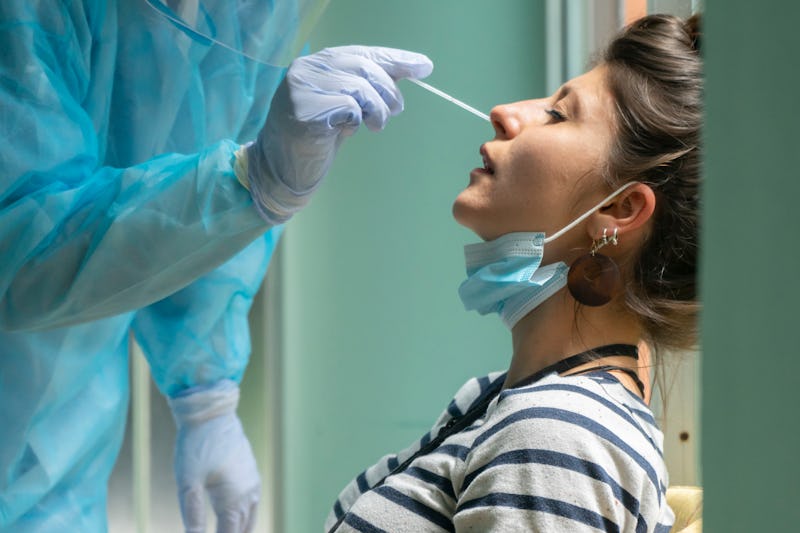 Shutterstock
After many months of testing shortages, delays, and restrictions on who can be tested, COVID-19 testing in the U.S. has become more available to symptomatic and asymptomatic patients alike. Still, there are a lot of myths about coronavirus testing and what the results indicate.
According to internist Dr. Sunitha D. Posina, M.D., people have become a little too quick to think that testing negative for the virus, or testing positive for the antibodies, means that they are free to mingle and throw caution to the wind. "A lot of people are getting mixed information about COVID-19 testing and the various interpretation of the results." Dr. Posina worked on the frontlines of the coronavirus crisis in New York, managing the treatment of COVID patients that were admitted to the hospital. "During those few months (from March to June), I would at maximum see one or two patients that didn't have COVID-19; the rest of the patients I was treating were all COVID-19," she says. Though the situation has improved since those early days, it's important to really understand what your test results do and don't mean, so you don't accidentally put someone else at risk.
Here are a few coronavirus testing myths, and the reality behind them.
Expert:
Dr. Sunitha D. Posina MD, a board-certified physician of Internal Medicine in Stony Brook, New York.
Study cited:
Kucirka, L., Medicine, J., Lauer, S., Johns Hopkins Bloomberg School of Public Health, Laeyendecker, O., Boon, D., . . . M. Centor, R. (2020, June 16). Variation in False-Negative Rate of Reverse Transcriptase Polymerase Chain Reaction–Based SARS-CoV-2 Tests by Time Since Exposure. Retrieved August 18, 2020, from https://www.acpjournals.org/doi/10.7326/M20-1495