10 Common Myths About The COVID-19 Vaccine, Debunked By Doctors
Talk to the vaccine skeptic in your life about these myths.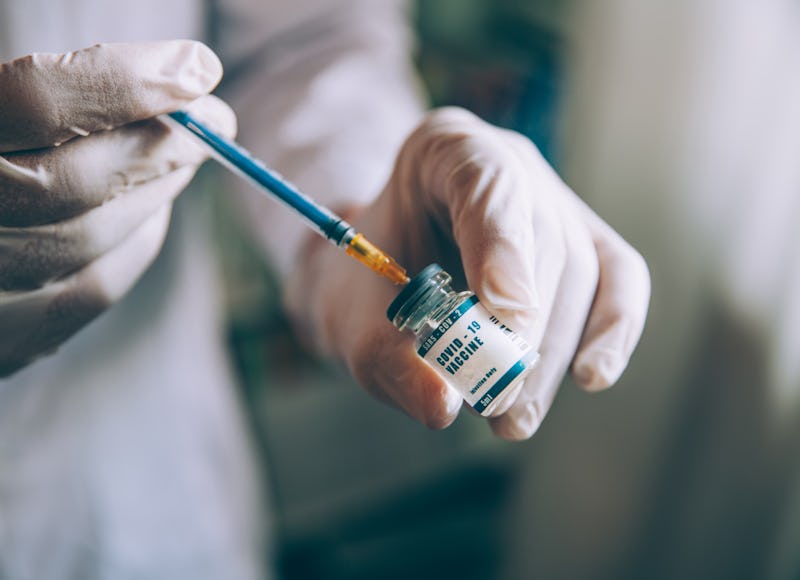 Chalffy/E+/Getty Images
Health experts have said that a COVID-19 vaccine is pretty much the only way life will get back to a pre-pandemic "normal," whatever that means. But like so many other things about the pandemic, the very concept of a vaccine has attracted myths, misconceptions, skepticism, and outright rejection. Whether you're trying to convince your vaccine-skeptical sister that the COVID-19 vaccine will be safe, or trying to manage the expectations of your BFF who thinks "it'll just make coronavirus disappear," it's good to know all the facts about COVID-19 vaccines — and how to bust the myths.
"There is a lot of information out there about a vaccine for COVID-19, but not all of it is correct," Dr. Seema Sarin M.D., director of lifestyle medicine at EHE Health, tells Bustle. A review of 30 peer-reviewed studies published as a preprint on medRXiV in January 2021 found that around 43% of the U.S. population is a little hesitant to get the COVID vaccine. A lot of that number has to do with myths about vaccination and COVID-19.
COVID jabs have joined a host of vaccines that have saved millions of lives, and attracted their fair share of misconceptions. "Vaccines have saved thousands upon thousands of lives over the years, and have prevented severe disease and disabilities like polio, hepatitis, and meningitis," emergency physician Dr. Janette Nesheiwat M.D., tells Bustle. "The vaccine may be our greatest hope to save lives and return to normalcy."
Here are some of the most common myths about the COVID-19 vaccine, and what doctors want you to know about them.
Experts:
Dr. Teresa Bartlett M.D.
Dr. Janette Nesheiwat M.D.
Dr. Seema Sarin M.D.
Dr. John A. Sellick D.O.
This article was originally published on