7 Dangerous Myths About The Flu Shot We Need To Debunk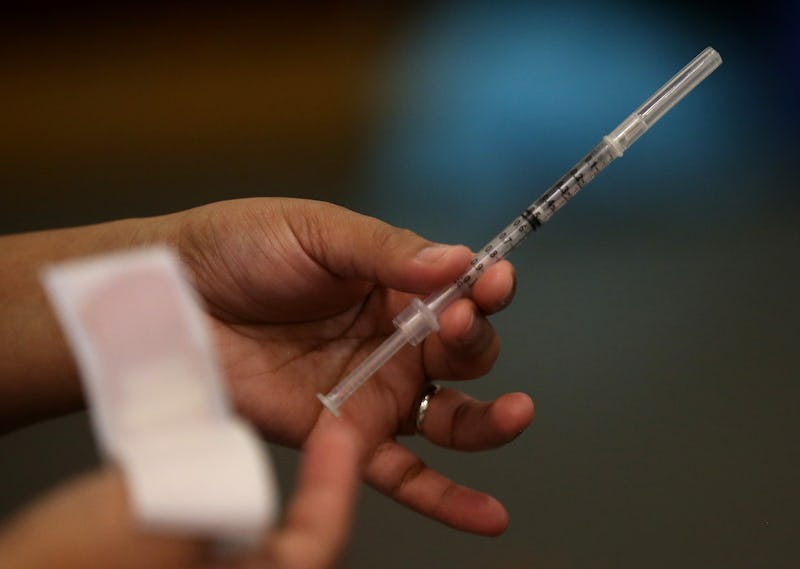 Justin Sullivan/Getty Images News/Getty Images
It's the beginning of October, which means two seasons are quickly approaching: The holiday season, and unfortunately, the beginning of the 2018-2019 flu season. Though many people do not understand the safety and efficacy of the flu shot, it is the best protection against the dangerous infection. In fact, many of the rumored side effects you've probably heard about the flu vaccine — like that the shot can cause the flu — are actually not true at all. These flu shot myths contribute to misinformation about the flu, leading people to not get the shot, which is not only dangerous for those people who are vulnerable to the flu, but even worse for people who are already immunocompromised and unable to get the shot — and who are relying on others to get the shot to prevent the spread of the disease.
As fellow Bustler Mia Mercado reported last week, the CDC discovered over 80,000 people in the United States died from the flu in 2017 — the highest mortality rate that's been recorded in over four decades. Meaning, prepping ahead and protecting yourself from the flu with the vaccine is going to be crucial to staying healthy during this season. Experts have predicted that this year's flu season won't begin to peak until December, so you still have a window of time to get your flu shot before your coworkers, friends, and family start calling in their sick days. (Of course, you should get your vaccine any time, even if you can't sneak it in until after December.)
If you still have concerns about the shot, here are seven myths it's time to debunk about the flu vaccine.