13 Easy Plyometric Exercises To Add To Your Routine
Run faster and jump higher.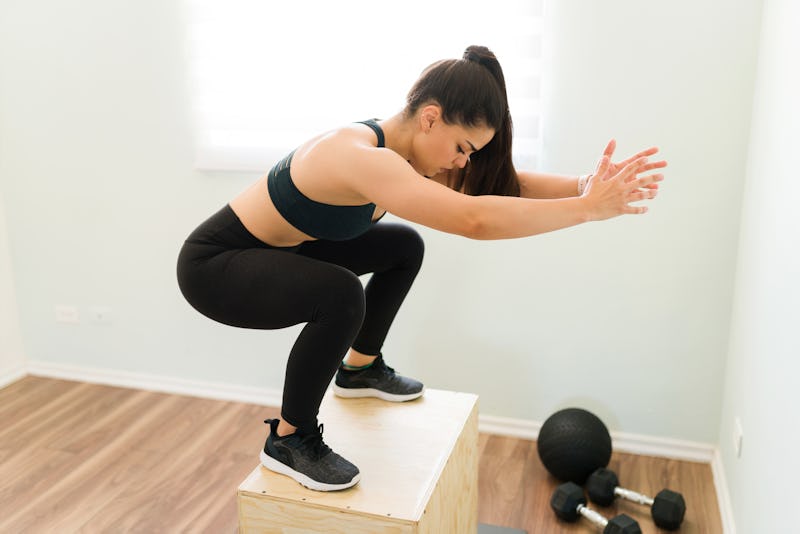 Shutterstock
If you're looking for easy plyometric exercises, look no further than moves that have you hop, skip, or jump. Think jump squats, jumping jacks, jumping rope, or any other move that has a bit more impact. Mountain climbers also count as plyometric training, because the move requires you to give it your all.
It all counts as plyo, aka "exercises specifically designed to help an individual jump higher and run faster," says Dr. Kellen Scantlebury, a doctor of physical therapy and CEO of Fit Club NY. "This is accomplished through quick, ballistic movements that require maximum — or close to maximum — effort for short bursts."
By moving quickly through an exercise, you effectively train your type II muscle fibers. "These are the muscle fibers that are our fast-twitch muscle fibers, and specifically help with explosive power," Scantlebury says. This is why athletes tend to include plyometric exercises in their training routines, adds trainer Rob Wagener. "The benefits of plyometric training include increased strength and improved heart health, as well as improved agility and coordination," he says.
Because it'll also increase your heart rate, plyometric exercises tend to be a good mood booster, says Ellen Thompson, a certified personal trainer with Blink Fitness. But because they're high-impact and require a lot of effort, Thompson recommends only doing plyo once or twice a week to reduce your risk of injury. Here are some easy plyometric exercises to add to your routine.
Studies referenced:
Bogdanis, GC. 2018. Muscle Fiber and Performance Changes after Fast Eccentric Complex Training. Med Sci Sports Exerc. 2018 Apr;50(4):729-738. doi: 10.1249/MSS.0000000000001507.
Willadsen, EM. 2019. What Is the Most Effective Training Approach for Preventing Noncontact ACL Injuries in High School-Aged Female Athletes? J Sport Rehabil. doi: 10.1123/jsr.2017-0055.
Sources:
Dr. Kellen Scantlebury, doctor of physical therapy
Rob Wagener, trainer
Ellen Thompson, certified personal trainer
Sandra Gail Frayna, physical therapist
Polina Andre, fitness trainer