12 Flirty Texts To Send To Your Long-Term Partner
#2 can highlight the passion in your partnership.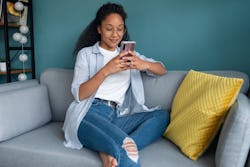 Shutterstock
In romantic partnerships, sharing how you feel about your partner is key to fostering a healthy dynamic. For many couples, there can be a tendency to pass up these opportunities, Erika Kaplan, a professional matchmaker and VP of Membership at Three Day Rule, tells Bustle. "Couples run into trouble in long-term relationships when they start being so comfortable in their relationship that they assume their partner knows how they feel," Kaplan says. "Communication — and sometimes simply validation — goes a long way."
Showing your partner you care about them doesn't have to be a grand display of affection, but it's also a good idea to not let those feelings go unspoken. Sending a sweet or flirty text to your partner can be a good way to start. "It's important to ensure you are sprinkling in some affirmative words of love in your day-to-day texts and other conversations," says Kaplan. "Try not to let the mundane day-to-day usurp the fact that you two really do have a romantic connection. Putting the work in is important!"
Making an effort to share these feelings with your partner can easily become a habit with a little consistency. Below, Kaplan shares some examples of flirty texts to send to your long-term partner.
Expert:
Erika Kaplan, professional matchmaker and VP of Membership at Three Day Rule