13 Flirty Voice Notes To Send Someone You're Dating
#7 will definitely have them blushing at their work desk.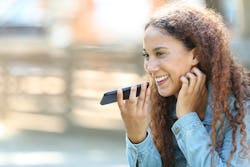 Shutterstock
When you first start dating someone new, seeing their name pop up in your notifications can bring on those fluttery feelings. After a while, however, texts from your partner can start to feel somewhat mundane. In those moments, it's a good idea to find alternatives, says certified relationship coach and TikTok creator Asia E. Smith, who goes by @itsasiaelaine on the app.
"Most people text as their main form of communication but voice messages are a unique and underrated tool that people should take advantage of more," Smith tells Bustle. "It's more convenient than being tied to a call, but more intimate than sending a text. Voice messages allow your personality to shine through — your tone of voice, your laugh, your sass, your charm, your wit are all on display." Once enough time has passed in a partnership, it's possible to forget to keep "wooing" each other from time to time. Sending a meaningful voice note can encourage that to change.
Sending a message using your voice can also promote a deeper connection with your long-term partner, says Smith. "Sending voice notes throughout the day when you're apart is a better way to communicate because hearing your partner's voice is much more intimate than reading a text. It's all about building, but also maintaining that intimacy and connection."
If you're worried about sounding awkward or aren't sure what to say, below, Smith shares 13 ideas for voice notes to send to someone you're dating.
Expert:
Asia Elaine Smith, certified relationship coach and TikTok creator