5 Uni Students Explain What The Past Year Has Been Like From Inside Halls
Denied of crucial support and crippled with unfair costs, students up and down the country are calling for change.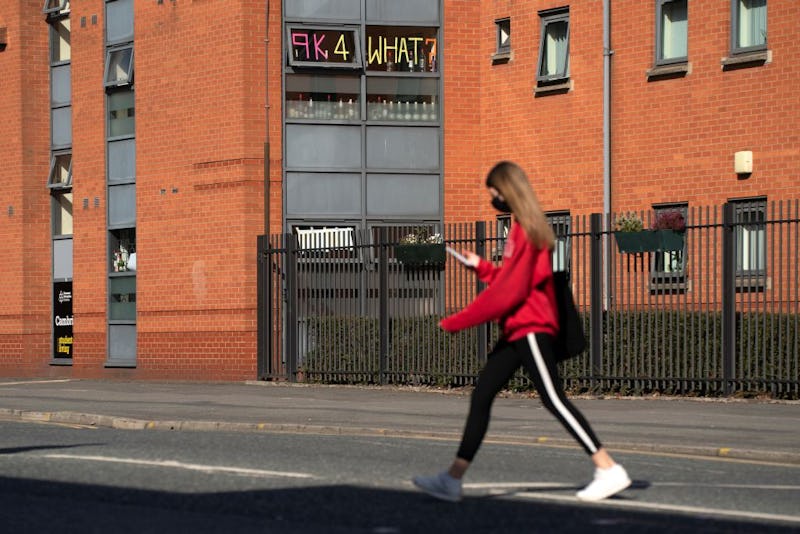 Xinhua News Agency / Getty
Trigger warning: This article contains references to domestic violence, sexual assault and harassment, as do many of its outbound links.
When COVID-19 first hit, universities could have been forgiven for erratic responses to what was an unprecedented situation. The move to online learning was abrupt and destructive in many ways, but it also offered new ways of working. So, with a new academic year upcoming and after a month of #EatOutToHelpOut, students were encouraged to migrate across the country (and the world) for a blended-learning approach. It offered the potential of a worthwhile learning experience.
For many first-year students, this academic year follows a horrific summer of the A Level results controversy, which saw 39% of student results lowered by at least one grade, before an abrupt U-turn reinstated predicted grades. Then the COVID spike predictions made by student unions, such as the University & College Union (UCU), from as early as August started to come to fruition. Two weeks in, University of Manchester saw the highest affected student rate per capita, as reported by the Guardian.
The situation was exacerbated by universities failing to uphold the promises made to students prior to their return. Blended-learning swiftly becoming online-only tuition, the failure to offer regimented health and safety procedures, and a lack of wellbeing support services suitable for the extreme circumstances contributed to a perfect storm of unmet expectations.
The disparity between the level of education promised and the 2020 reality has led to calls for tuition fees to be either reimbursed completely or lowered, until online-only teaching ends. Petitions such as Georgia Hendersons' garnered over 100,000 signatures; a subsequent debate was led by Labour (Co-op) MP Chris Evans on Nov. 16 with the Parliament Petitions Committee.
#StudentsDeserveBetter is another example, led by the National Union of Students (NUS) in coalition with different student groups across the country. "Students at the margins have been heavily impacted by the digital divide," explains NUS President, Larissa Kennedy. This campaign aims to build a new strategy for education, and move towards free, democratised, decolonised education.
Here, five students from around the country tell me about life in higher education during a global pandemic.
If you or someone you know is experiencing suicidal thoughts, call the Samaritans on 116 123 or email jo@samaritans.org. You can also call the mental health charity Mind on 0300 123 3393. And if you or someone you know has been sexually assaulted call Supportline on 01708 765200 or Email: info@supportline.org.uk.
If in the U.S., call the National Suicide Prevention Hotline at 1-800-273-8255 or text HOME to the Crisis Text Line at 741741. You can also reach out to the Trans Lifeline at 877-565-8860 or the Trevor Lifeline at 1-866-488-7386, or to your local suicide crisis center. Or call the National Sexual Assault Telephone Hotline at 800-656-HOPE (4673) or visit online.rainn.org.
Some names have been changed to protect the individual's identity