How To Help Your Grandparents Cope With Loneliness During The Pandemic
There are ways you can offer support safely.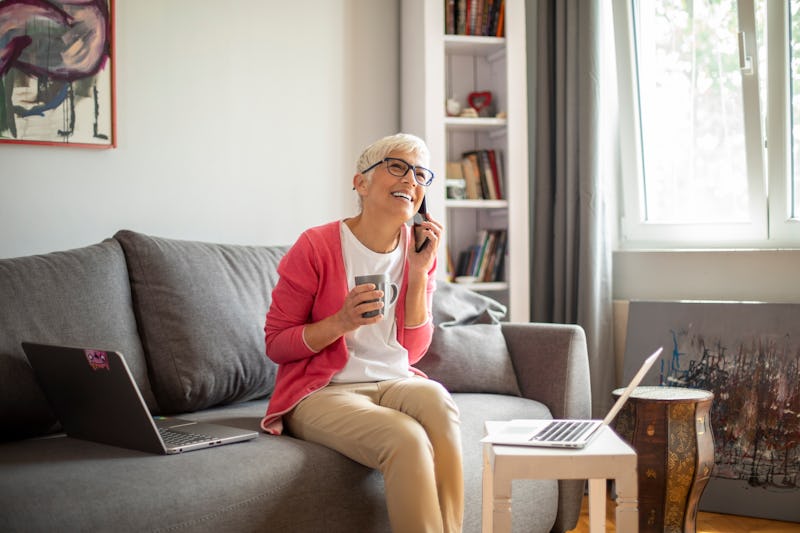 Nikola Ilic/E+/Getty Images
On March 23, when England first went into lockdown the government outlined that people over the age of 65 may be the most vulnerable to severe symptoms of COVID-19. Since then older people have advised to stay indoors and avoid meeting with people from outside their household. This has cut them off from loved ones and any face-to-face social life they may have had before. Charities have outlined that this has had a massive impact on older people's mental health. If you're worried that your grandparents may be feeling isolated there are resources and ways you can help.
On Dec. 27, Dr Adrian James, the president of the Royal College of Psychiatrists said the pandemic has posed the greatest threat to mental health since the second world war, with the impact to be felt for years to come. Leading mental health charity, Mind detailed that 60% of adults and over two thirds of young people (68%) have said their mental health has got worse in lockdown. However, further research found that isolation during the pandemic could be more difficult for older people and not being able to see loved ones may be exacerbating existing mental health conditions.
It's estimated that 2.8 million people over the age of 70 live alone in the UK and Age UK have reported that the number of over-70s who have reported feeling depressed has doubled since the start of the pandemic. Changes to restrictions over Christmas may have meant you couldn't be with older relatives. If you're worried that they're feeling lonely or down and want to support them, here's how you can help.