7 Team Sports You Can Play Solo In Quarantine
Summer softball must go on.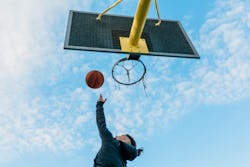 Willie B. Thomas/DigitalVision/Getty Images
If you're missing your summer softball league because you can't social distance on first base, you might still be able to get your competition on. You can play team sports during quarantine — you just have to get a little extra creative.
When you play sports on your lonesome, no one will know if you have one of those days where you can't even hit a single free throw. It will truly be just you and your sport. "It's a judgement-free zone," says Sara Haley, a coach for home fitness company MYX Fitness. Plus, she adds, you can take as many turns as you want (sometimes, not sharing is caring for yourself).
Want to add a competitive spice to your skill-honing sessions? Keep track of how many three-pointers you can make in a row and swap notes with your teammates. Mark how many ground balls you can throw yourself in two minutes and see who among your baseball pals gets the highest score.
Just because your team can't get together for physical practice doesn't mean that staying at the top of your game is hopeless. Maintain your love of competition and refine your skills by playing these seven team sports all by yourself.
Experts:
Sara Haley, coach at MYX Fitness