Here's What To Say When A Date Bails On You
Give them the benefit of the doubt if you still want to meet up.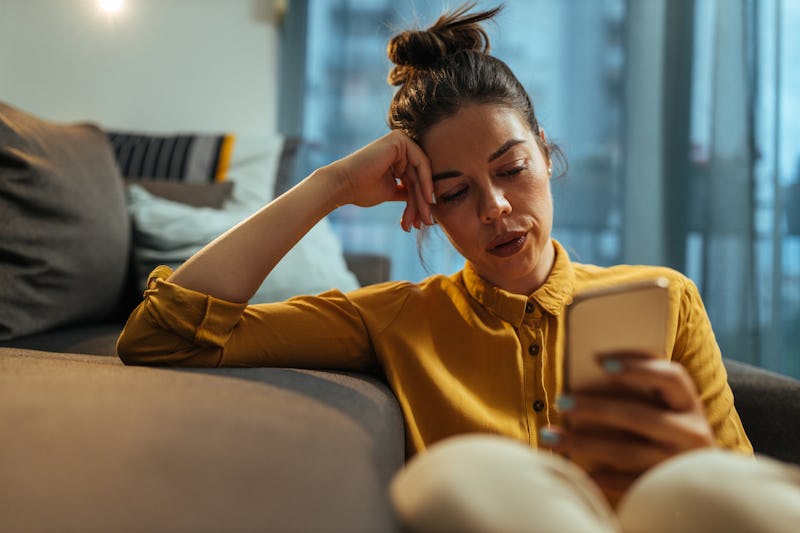 Dimensions/E+/Getty Images
If you've spent hours going back on forth about which outfit you're going to wear, or took time to get into the right mindset for your date, the last thing you want to see is a text on the day of telling you that your plans have been cancelled. When this happens, it's totally normal to feel bummed out, mad, confused, or disappointed. While you know you should say something back, it can be tough to figure out exactly how to respond to a cancelled date. And according to experts, the way you answer will determine whether you'll end up actually going out with them or not.
"Every situation is different," Laurie Berzack, MSW, matchmaker and dating coach, tells Bustle. "Whether it's a first date or you've already been out a few times, you should always take a cancelled date at face value, approach it with kindness, and don't take it personally."
As Nancy Ruth, breakup coach and relationship expert tells Bustle, "In an app-dating world, date cancelations happen all the time; maybe they genuinely were sick, or had a work meeting come up. You may have previously been cancelled on and assumed this person is doing the same, but that can jeopardize relationship potential if we paint everyone with the same brush."
If you're struggling to figure out what to say back, go with your gut, and answer in a way that aligns with what you're looking for. Below, you'll find the best responses to a cancelled date.
How To Deal When Someone Cancels A Date
It's easy to get down about yourself after a cancelled date. If you're someone who takes things personally, it can be hard to break out of a negative mindset. But shifting your outlook to one that's more positive can help you through the many ups and downs of dating.
"It's all a matter of taste," Dr. Carla Marie Manly, clinical psychologist and author, tells Bustle. "I like to use this metaphor: Imagine that you're ordering ice cream and you have 20 flavors to choose from. The fact that you choose chocolate chip doesn't make the other flavors 'bad' or undesirable. It simply means that on that day you wanted chocolate chip. Dating is much the same — there are a lot of flavors of people out there, and if someone isn't drawn to your awesome flavor — imagine you are chocolate raspberry swirl — they are missing out."
If you notice negative thoughts popping into your head, practice self-care. "This is an opportunity for you to pay attention to your limiting beliefs around love and worthiness," Christine Scott-Hudson, licensed psychotherapist who specializes in relationships, tells Bustle. "Learn to validate your own worth, and you'll be ready for a partner who validates it, too."
Experts
Laurie Berzack, MSW, matchmaker and dating coach
Nancy Ruth, breakup coach and relationship expert
Christine Scott-Hudson, licensed psychotherapist
Emily L. Depasse, sex and relationship expert
Caroline Madden, PhD, licensed marriage and family therapist
Holly Schiff, Psy.D., licensed clinical psychologist
Dr. Isabelle Morley, PsyD, licensed clinical psychologist
Arian S. Elfant, Ph.D., clinical psychologist
Dr. Carla Marie Manly, clinical psychologist, speaker, and author of upcoming book, Date Smart
Laurel House, eharmony's relationship expert
Michelle Mouhtis, licensed therapist and relationship coach
This article was originally published on