Why It's So Important To Set Boundaries In Your Relationship & Stick To Them
Otherwise, you'll end up with a whole lot of bottled-up resentment.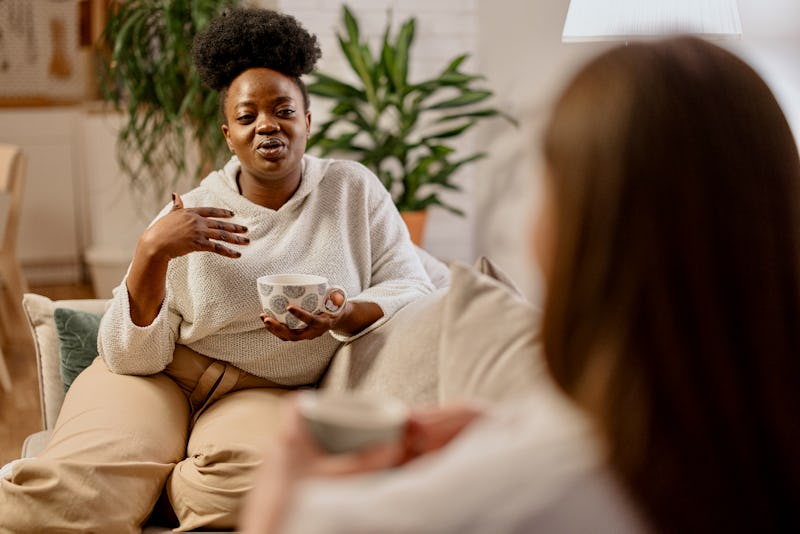 Anchiy/E+/Getty Images
Boundaries are part of every relationship — romantic and otherwise — whether you formally establish them or not. Sometimes, they're laid out step-by-step, while other times, they're born of habits that stick and become the norm between you and the other person. Setting boundaries in dating is key to healthy communication and feeling mutually supported, and the absence or negligence of them can lead to serious stress in a relationship. But to set boundaries, you have to first talk through them with your partner. If you're ready to create relationship boundaries, starting the conversation is the first step, but the real work lies in seeing them through.
"All personal relationships require boundaries," Tina B. Tessina, Ph.D., psychotherapist, and author of How To Be Happy Partners: Working It Out Together, tells Bustle. "Boundaries are the limits you place on how much others can ask of you, verbally or otherwise. If you don't discuss boundaries in advance, resentment builds up, and that can cause arguments and fighting."
Even if you and your partner already have relationship boundaries in place, there's nothing wrong with refreshing them or checking in to make sure your expectations are aligned. Below, relationship experts give ideas on how to create and maintain boundaries.
As you can see, creating boundaries in your romantic relationship may not always be easy, but it's essential. "If you want a happy relationship, then you will need to have some boundaries," Preece says. "That's not because you're holding anything back, but because you are showing respect and support to your partner. All you're doing is setting some ground rules that will help you grow stronger together." And who doesn't want that?
Sources
Tina B. Tessina, Ph.D., psychotherapist, and author of How To Be Happy Partners: Working It Out Together
Stef Safran, matchmaking and dating expert
Dr. Suzana E. Flores, clinical psychologist and author of Facehooked: How Facebook Affects Our Emotions, Relationships, And Our Lives
Kali Rogers, life coach at Blush Online Life Coaching
Rachel A. Sussman, LCSW
James Preece, dating coach & relationship expert, speaker, and author
Thomas Edwards, founder of The Professional Wingman