7 Things To Do If You're In The Mood For Sex & Your Partner Isn't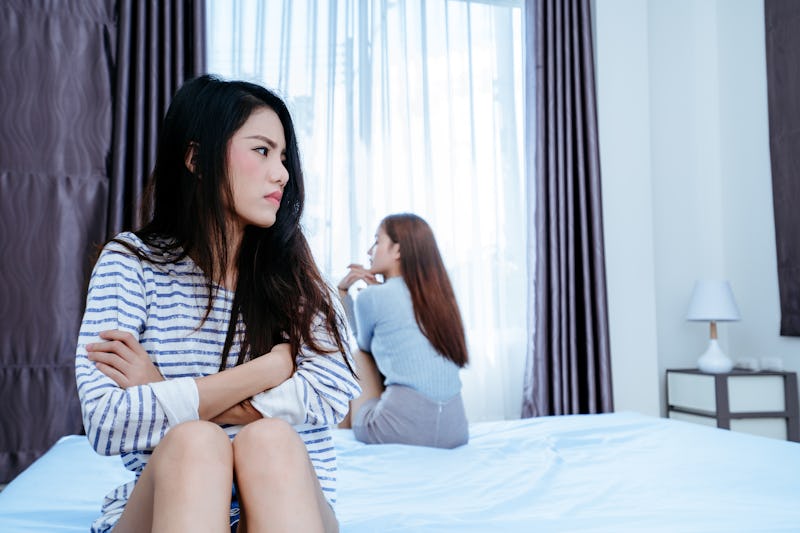 Kiattisak Lamchan / EyeEm/EyeEm/Getty Images
You've been feeling frisky all week, and now that it's Friday evening, you're ready to get it on. You send your partner a suggestive text right when you get home, put on your sexiest lingerie set, and light some candles. Once they finally make it home, though, it's clear the only thing they want to do is sit on the couch, eat tacos, and watch Netflix — a good night to be sure, but not the romantic rendezvous you'd envisioned. When you try to put the moves on them, they brush you off and make it clear they just aren't in the mood for sex.
If you've been in a relationship, you've probably encountered a similar situation, where one partner wants to get hot and heavy and the other just isn't feeling it. In fact, in relationships where one partner has a higher sex drive, this may happen often. The good news is, this isn't necessarily a cause for concern as experts say there are many ways to work around it.
First thing's first: While it may be frustrating to have to go without sex or resort to masturbation when you're craving that intimacy with your partner, it's important to never put any pressure on them or make them feel guilty.
"Your partner is not required to meet your sexual needs," Astroglide's resident sexologist, Dr. Jess O'Reilly, tells Bustle. "You do not want to pressure them. You need to find out whether they're not in the mood and they want you to back off, or they're not in the mood but they welcome your efforts to help spark their interest."
Besides, a partner's lack of arousal doesn't mean you have to abandon the topic of sex altogether. So here are a few things you should do if your partner isn't in the mood for sex but you are.
Sources
Dr. Jess O'Reilly, resident sexologist at Astroglide
Christina Steinorth-Powell, licensed psychotherapist
Piri Miller, sex expert and founder of sex toy company ComePlay
This article was originally published on